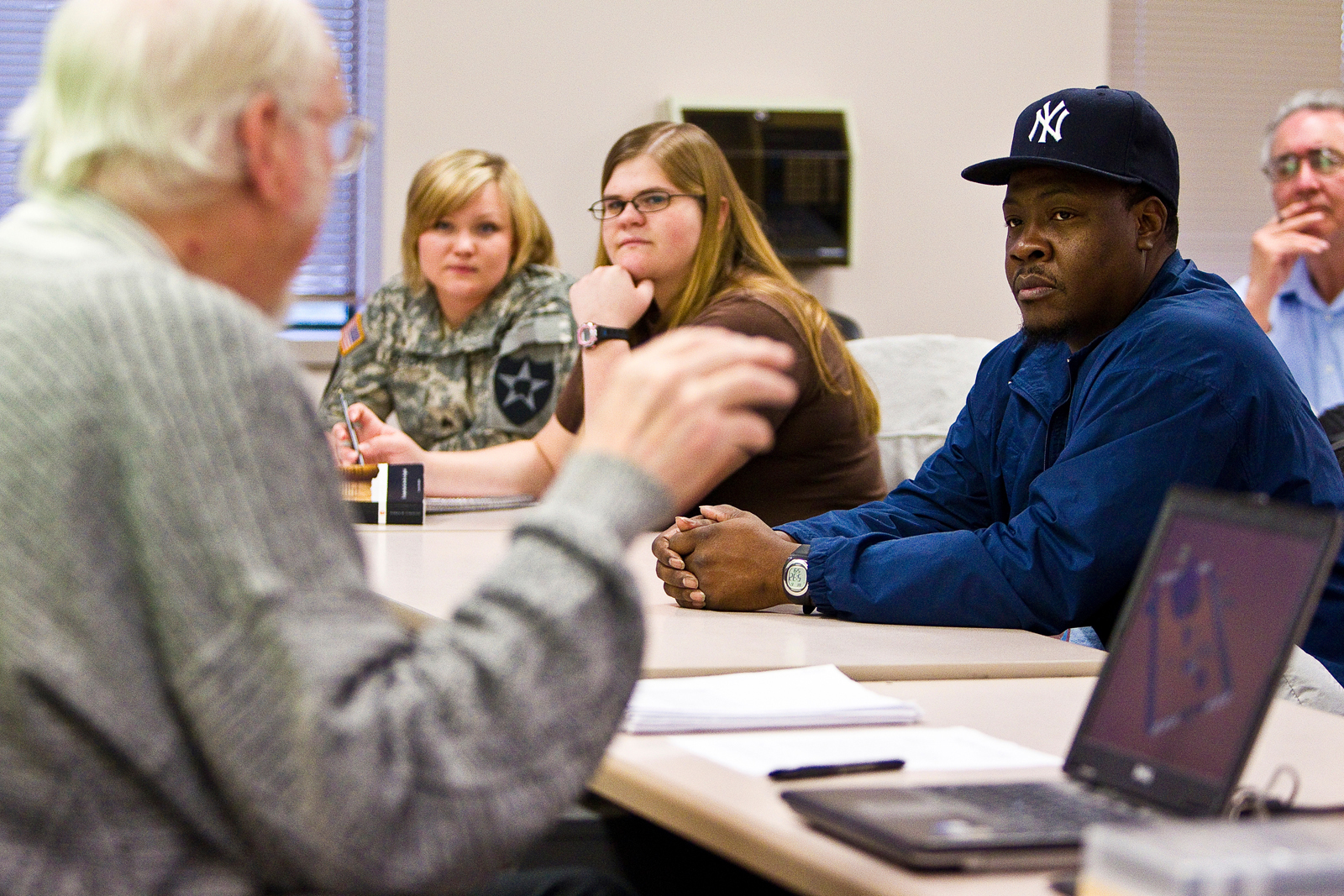 By Stacee Sledge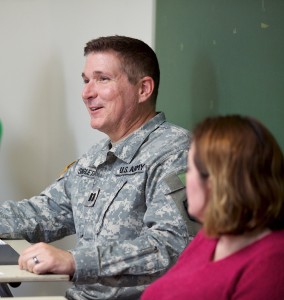 "It's not your father's night school," says Cruz Arroyo, Director of Extension Programs at Saint Martin's University in Lacey, with a laugh.
"There are no such things as night schools anymore," he continues. "They became these active, vibrant, dynamic campuses that are available for the full-time working man and woman, the mom and dad, the military members."
Saint Martin's has four distance learning campuses that offer evening and online courses: two at Joint Base Lewis-McChord (JBLM), one in Everett, and one in Centralia.
And this year marks the 40th anniversary of Father Richard Cebula introducing Saint Martin's College degree completion programs for military members and their families at what was then Fort Lewis. A McChord Air Force Base campus soon followed.
The JBLM campuses are now made up of the JBLM Main campus and the JBLM McChord Field campus.
As of 2010, more than 4,000 military affiliated and other non-traditional students have graduated from Saint Martin's University over these last 40 years.
"Father Cebula was the father of the extension campuses," says Arroyo. "This came from the Benedictine vision of being a good neighbor. Being this close, the Abbey decided we should share what we have here with service members. "
Saint Martin's University's JBLM Main campus is part of a beautiful brick building at JBLM (Stone Education Center) built specifically for education.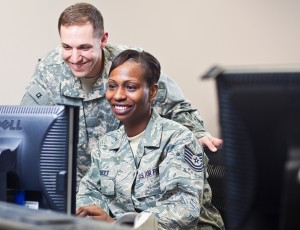 The facilities have come a long way since 1972, when those first Saint Martin's satellite classes took place in old wooden barracks.
Saint Martin's building is joined on a college mall with several other colleges and universities that operate at JBLM. These institutions all work together to make sure the courses they offer complement one another with no duplications.
"It's a model lots of universities have," explains Radana Dvorak, Associate Dean of Extended Learning at Saint Martin's University. "You have your main campus, with the traditional student ages 18 to 22, and then you have the non-traditional students, with evening and online courses. We also teach unit courses, which are only for the Air Force or Army."
Saint Martin's currently offers seven undergraduate majors through its Extended Learning Division: accounting, business administration, computer science, criminal justice, political science, psychology, and special education.
It also offers graduate degrees in business administration (MBA), education (MED and MIT), and engineering management (MEM).
There are also post-baccalaureate certification programs for elementary and secondary education teacher certification.
"We also now have a new nursing program at the main campus, designed for working professionals," says Dvorak. "This has just started and it's quite exciting."
"We admit students to full programs, like here on the Lacey campus," says Dvorak. "Then we have students who just want take courses from us, but already have a degree or just want to enhance their knowledge or are required by their profession for continuing education."
It takes 128 semester hours to complete a bachelor's degree. If a student comes to Saint Martin's with 64 semester hours from another institution – having already completed an associate's degree, for instance – the remaining 64 semester hours can be done through its Extended Learning Division.
"We don't work with students who come in with zero credits," explains Arroyo. "We just don't offer enough courses to do that."
But the university does have great partnerships with other colleges at JBLM, two-year schools such as Pierce College and Central Texas College, and students wanting to complete a bachelor's degree can start there, and finish with Saint Martin's.
Saint Martin's Distance Learning Programs are online courses managed by McChord Field staff.
Using an online learning program called Moodle, professors and instructors create and lead virtual classrooms, with forum discussions, real-time chat, posted lectures, PowerPoint notes, video, and more.
"It's a much fuller experience," says Dvorak. "Everything you'd do in a classroom is online."
The quality of courses offered through any of Saint Martin's extended learning campuses or online programs is equal to any given on-campus at Saint Martin's in Lacey – meaning students can expect challenging classes taught by exceptional professors and instructors.
Adjunct professors and instructors are professionals in their fields. Many spend daylight hours working in the field in which they teach. Some have retired from full-time teaching and now teach part-time for different universities.
The real-world experience these professors bring into the classroom is priceless.
"Right now, we have an adjunct professor who is an economist working in the governor's office and another who is filling in right now as the state economist," says Arroyo. "They bring contemporary, up-to-date, fresh information into their classrooms."
"In our criminal justice program, we have attorneys who work during the workday and are teaching criminal justice in the evening," says Dvorak. "It's invaluable."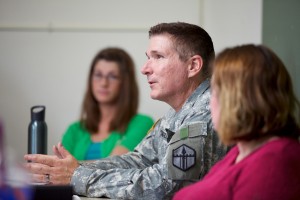 Imagine taking a criminal justice course taught by a prosecutor who can give you the real-time, inside scoop. Or police officers or sheriffs who have law degrees and teach at JBLM.
"They can speak to the drug trade," says Arroyo. "They bring guest speakers dressed in ninja uniforms because they don't want to give away their identity. Those are the kinds of experiences we have out there."
Students in Saint Martin's Extended Learning Division (which encompasses the Everett, Centralia, and both JBLM campuses, plus its Online Program) follow a different academic year from students at the Lacey campus.
"We go year-round and we have an accelerated program.  Our terms are eight weeks and offer around 100 courses each term, combining face-to face courses, hybrid courses (online and face-to-face) and only online courses." says Dvorak. "That means full-time for a student is six to nine credit hours. We offer them constantly and admit students into any term. We can admit when students come to us. That's really important for our  military students."
In the traditional 16-week program on the Lacey campus, students go into a classroom for 50 minutes, five times a week.
"You can't do that with a working professional," says Arroyo. "So we have students go in for 2 ½ hours an evening, twice a week."
This affords students at JBLM, for instance, the ability to do complete their normal daytime work, and then take a class at 5:00 p.m. or 7:50 p.m.
"This fits the student's work schedule, it fits the Army and Air Force's work schedule, and their demands for going out in the field. Or when they're deployed."
Distance learning at Saint Martin's began in 2006 as more military members came to Arroyo, explaining that, although they were deployed, they wanted to continue their education with Saint Martin's.
"And now extended learning campuses are such an integral component of this university," says Arroyo.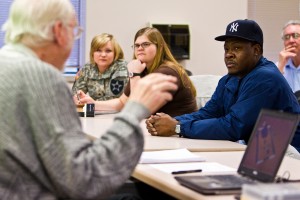 "We want to continue to grow and support more non-traditional students, especially our military men and women," says Dvorak.
Saint Martin's was selected for the 2006 Ray Ehrensberger Award for Institutional Excellence in Military Education – named the best school out of 2,800 Servicemember Opportunity Colleges.
The impact Saint Martin's has on its military students is remarkable. Arroyo has many moving stories to share.
"It's more than just academic," he says, handing this writer a copy of an email Saint Martin's received in October 2009 from deployed student Eugene Hicks, a First Sergeant member of a Stryker Brigade (A Company 1-17th INF REGT) taking online courses.
In the email, he talks about the difficulties his unit had seen. At the time of his writing the email, his unit had had 15 killed and more than 20 wounded in action.
"I can't wait to start the class," he writes. "Being deployed, as you know, means limited connectivity time and bandwidth. I hope you will be patient with me (as you always have been), but I will do the work."
In another case, SGT Dale Griffin who during a pre-deployment visit said, "'I'll see you next May, because I'm going to finish my classes online and I look forward to walking [graduating] in May."
A month after writing that email, SGT Griffin was killed, along with his entire Stryker crew, by an IED.
"This university – the Board of Trustees, everyone – made sure he graduated," says Arroyo, his voice filled with emotion. "That's what we're here for. It's not about courses, it's not about  graduating students; it's about serving those who serve us.