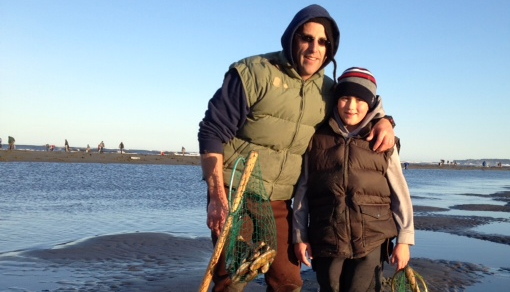 By Amy Rowley

Which tastes better clam chowder or fried clams?  What's your tool of choice – clam shovel or clam gun?  Do you dig an hour before or after the low tide?  And, just how do you spot those darn holes?
Dan Ayres, the Coastal Shellfish Lead Biologist for the Washington Department of Fish and Wildlife, spent some time clearing up (or maybe adding to the long-standing debates) some of the questions above.
Ayres predicts a promising razor clam season along Washington's coastal beaches.  "We are noting really strong populations on all the open beaches.  Twin Harbors beach is the largest population recorded in at least the last sixteen years and we are noticing a similar density at Mocrocks," notes the biologist.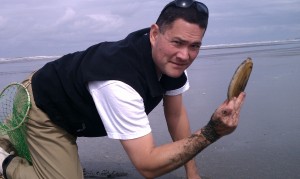 "Razor clam digging is not difficult.  You don't need a lot of knowledge or specialized gear.  And it doesn't take a lot of practice to get the hang of it," explains Ayres.
The key to finding your limit of clams (15 per person) is to know what to look for.  Ayres boils the lesson down to two key points:
1. Tune your eye to the show.
Figure out what a clam hole looks like.  "Some days it's a doughnut shape hole and other times it may be much smaller, like someone jabbed a pencil into the sand," describes Ayres.  "The trick is to know that clams will show in a similar fashion each dig."  Once you find the pattern, watch for the holes on the beach.
2.  Have the right shovel or tube.
Skip a garden shovel and rake and swing into a nearby hardware or sporting good store to pick up a legitimate clam shovel (also referred to as the clam gun) or the clam tube.  Ayres notes that the clam tube is typically easier for beginning diggers.  New models are even designed so that you can pull it up with one hand and avoid the back-breaking labor of digging.
A comprehensive tutorial on how to dig razor clams using either a clam shovel or clam gun can be found on the WDFW website.
You will get wet and sandy, regardless of your tools and technique.
Ayres may be the 'official' Grays Harbor expert on razor clam digging.  But, talk to many long-time Harborites and you will get your own set of instruction.
Harborites dig razor clams – and they dig them religiously often in nasty conditions.  It's with a sense of pride that many bring home a limit of clams, while battling the surf and rain pounding sideways.
Take, for instance, Aberdeen resident, Erik Kupka.  "I have been digging all of my life.  One of my most memorable clam digs occurred the morning of May 18, 1980.  I was nine years old, clam digging in Ocean Shores with my family.  It was a beautiful morning and the razor clam holes were showing everywhere.  A little after 8:30 a.m., I could hear a thunderous boom in the distance followed by a few more.  I did not think much about it because Navy jets from Whidbey Island often practice off of the coast and it is not uncommon to hear planes breaking the sound barrier.  The only difference this morning was that all of the clam holes disappeared following the first boom.  When we arrived home, we learned of the 5.1 magnitude earthquake caused by the cataclysmic eruption of Mt. St. Helens.  I have not had clam dig quite like it since!"
Another Harborite, Jim Boora, has also been digging since he could walk.  Boora suggests being at the beach early, about two hours before low tide.  "Drive the beach slowly and look for diggers that are getting clams," he suggests.
Kupka and Boora are devoted clam shovel users.  They also carry a clam net attached to chest waders and have their shellfish license in a pocket..  "My best advice is to stay dry," says Kupka.  "I always wear chest waders, a short sleeve shirt, and a vest.  If it's really cold, I will also wear a stocking hat."
Razor clam digging is an activity suitable for the whole family.  Ayres notes that as long as children under age 15 are participating in the dig, they are permitted to get a limit without a license.
"In practice, kids need help to learn how to dig clams so a certain degree of assistance from an adult is OK," says Ayres.  "But if you are allowing your child to attempt to get some clams,  the kid should be old enough to reach down, get sandy and wet, and at least grab the clam to bring it up." And working toward learning out to dig the clam themselves.
Boora and Kupka agree that the best role for kids just learning to dig is to help spot the clam hole.
So, where do the locals dig?  "My first choice is Moclips, followed by Roosevelt Beach and then Iron Springs," says Kupka.  Boora adds, "we enjoy digging all the beaches but if I had to pick one, it would be Iron Springs."
Each of these beaches are part of Mocrocks Beach, located north of Ocean Shores, just off the 18-mile stretch of State Highway 109.  A map of Washington beaches that permit razor clam digging can be found here.
Ayres' best advice to novice razor clam diggers – "Go with someone who has done it before,  or don't be afraid to watch a nearby experienced digger and ask for some pointers And, if the weather is really stormy, skip the dig and wait for better conditions."
Thanks, Dan – that's just what Harborites like to hear… leave the clams for the serious diggers.