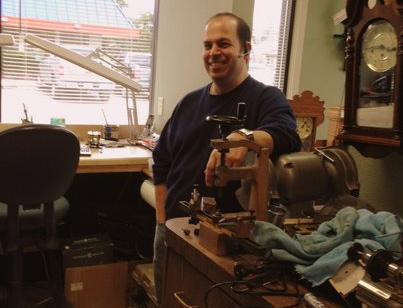 It only takes a moment after walking into Benjamin & Sons, to realize that time is valued here.  We check the time on our phones and digital signs around town and rush through the day.  Digital time is displayed without much thought of the history and invention that took place to gain such precision.  Benjamin & Sons is a local shop that specializes in repairs and maintenance of antique and modern timepieces and is a link to this old world craft.
Keeping Time Since 1972
Ben Morales was born in Santa Ana, California where he grew up and began work in the insurance business.  After a 23-year career, he decided to turn his passion of working on watches and clocks and join his wife Traudie in opening the Friendly Clock Shop in 1972.  The family moved to Chehalis, Washington in 1978 where they opened Benjamin & Sons Clock and Watch Shoppe in Centralia.
The Morales' family opened their second store at 528 South Capital Way in Olympia in 1983.  The family decided to consolidate into one location in Olympia a year later.  Currently, the showroom and repair shop is located at 3533 Martin Way East.
Members of the Morales family were always active in various phases of the family business, taking over increasing responsibilities as Ben aged.  Ben Morales retired in July 1991, and his sons continue the craft.  Tim Morales has been around clocks his whole life and inherited his father's ability to figure out how things work.  When he was three years old, Tim decided to dismantle his jack-in-the-box toy just to see how it worked.  Tim is the current owner of Benjamin & Sons clock service center and Jonathan Morales is the owner of Benjamin & Sons Watch Company.  The family carries on the tradition of great customer service and expertise.
This year the business is celebrating their 40th anniversary.  Through 2012, every 40th customer will receive 40% off their invoice of a clock purchase or repair.  "I've had a few surprised people," Tim smiles, when a customer looks at the bill and we make their day.
Tick Tock Stopped?
Whether it was handed down through the generations, found at a local estate sale or from travels abroad, clocks come with a history.  Tim enjoys listening to these stories and getting to know his customers first hand.
Tim and Jonathan specialize in repair and restoration of antique or modern timepiece, mechanical or battery operated.  Their open work space allows you to watch the process of dismantling, cleaning, repair and testing of the clocks.  If you have a grandfather clock that is too large to transport, make an appointment for your clock to be serviced in your home.  Tim makes daily house calls to most of Western Washington.
Benjamin & Sons offers appraisals and expertise in maintaining your timepiece.  "What we like to do is try and refurbish things back to their original functionality without having to modify things," comments Tim.
The antiquity and condition of the clock is paramount in order to preserve the value of the timepiece.  During any repair process they repair parts only when requested or absolutely necessary.  Unlike other jewelry stores, customers deal directly with the owner and the clock repair technician.  Tim recalls being able to repair an ailing 120 year old clock and getting it within three seconds after a week of testing.  A quick look inside these clocks, and you can appreciate what a feat of craftsmanship that is.
A family tradition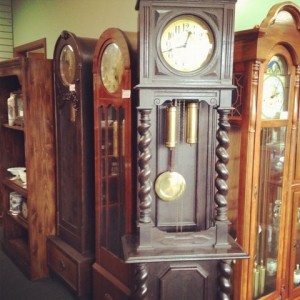 People buy clocks as heirlooms, to pass on through generations.  Listening to the chimes and the tones of the clocks in the storeroom, you can understand how calming and beautiful the clocks are.  Surrounded by digital technology, these clocks are a nod back to a traditional style.
The showroom has a wonderful selection of vintage and antique clocks for sale.  Most noticeable are the beautiful grandfather clocks that you see as you enter which are surrounded by new and antique wall clocks, mantle clocks, cuckoo clocks, and table clocks.  You can inspect the superb quality of the craftsmanship with your eyes, ears, and hands.  Benjamin & Sons is an authorized dealer of Howard Miller and Ridgeway clocks.
Benjamin & Sons is located at 3533 Martin Way East, Suite B where you will hear the clock chimes welcome you as you enter the store.