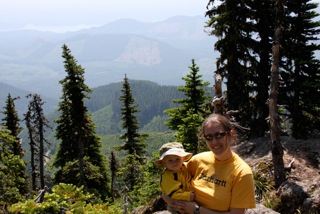 I kick my kids outside every chance I get.  I don't care if they are riding a bike, climbing a tree, chasing the dog, or creating general pandemonium that irritates my neighbors.  Let's be honest – sometimes I do it just to finish an article or get dinner on the table.  I am not always channeling great parenting ideals like 'kids need physical activity every day.'  Frankly, tasks move along faster when the kids are outside.
So, when I heard about National Get Outdoors Day (aka GO Day) I decided that I should share the campaign with our Thrifty Thurston readers.  For one day, Saturday, June 9th, state parks are waiving all day use fees.  Capitalize on this chance to visit iconic locations like the Nisqually National Wildlife Refuge, picnic at Millersylvania State Park, or take a short hike in the Olympic National Forest are all free on Saturday.
Introduce your family to a new park, rekindle memories from a favorite visit, or check something off your bucket list.  Whatever your motivation, grab your nature journal from last week and get outside to play on Saturday, June 9th.
GO Day encourages healthy, active outdoor fun.  Diverse partners join together to offer opportunities for families to experience traditional and non-traditional types of outdoor activities.
"GO Day is about reconnecting youth with the outdoors.  It's important to the Forest Service to instill a love for nature because the future of the National Forests will be determined by how much American's care about them," reports US Forest Service Recreation Director, Stephanie Neil.
"Families are invited to visit the Olympic National Forest for a picnic, a hike or any other activity to celebrate the great outdoors," says Olympic National Forest Supervisor Dale Hom.
The national campaign has attracted attention from local community members who have a great interest in children's physical activity.
Dr. Diana Yu, Thurston County's Health Officer and member of the Healthy Child Weight Coalition says, "we live in a uniquely beautiful place that provides so many opportunities for families to get outside and play.   Families that walk, bike, and hike together build not only fun memories, but also healthy bodies and minds."
Dr. Bridget Sipher, a pediatrician at Olympia Pediatrics, also believes strongly in outdoor activity.  "As many know, there is an epidemic of childhood obesity in this country. It is recommended that children get 30-60 minutes of active play everyday. Luckily, when you get a child outside, they are almost guaranteed to be physically active."
Need some inspiration for what to do with your family?  Neil suggests a short, easy hike in the Lake Quinault area.  "The Quinault Rain Forest Nature Trail #855 includes several big trees on an accessible trail," says Neil.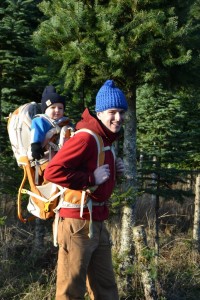 She also recommends Lake Cushman, in Mason County, as a great place to spend the day and enjoy a picnic.  Try Big Creek Campground Trail #827 or Dry Creek Trail #872 in the Cushman area.
Click on this link for specific hike information.
ThurstonTalk has also published some great local outdoor activities.  Filed in our Thurston Activities tab, check out our post on the Chehalis Western Trail, Nisqually National Wildlife Refuge, Priest Point Park trail walk, and McLane Creek Nature Trail.
"Some of our very best childhood memories grow out of the times that families share adventuring together. Exploring and engaging with the natural environment gives us a greater appreciation of the world we live in," says Malcolm Dunn, REI Olympia's Outreach Specialist.
"Another bonus is that getting outside as a family allows for important family bonding time that so often gets forgotten in today's busy world," adds Sipher.
"I think getting outside and exploring, as cliché as it sounds, really opens the mind to a larger world," comments Dunn.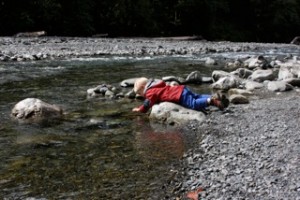 Catch you at the trailhead!
If you are thinking about staying closer to home this weekend, look at our packed events calendar.  A few Thrifty Thurston highlights that likely deserve a post of their own (but I can only pick one – next year…).
The Pride Festival occurs downtown all weekend.  All kinds of family friendly activities are planned throughout the weekend, including a fan-favorite dog show.
Round out your weekend with a free film festival at Capitol Theater celebrating World Oceans Day.  Sea Cinema begins at 5:30 pm on Saturday and includes a large number of films focused on educating people and inspiring each of us to protect and restore creeks, streams and Puget Sound.