By Amy Rowley
Robots are taking over – at least that was the scene on Wednesday at the Knox Gymnasium for Avanti's third annual STEM Robotics Invitational.
With robots buzzing around the gym, the energy was catching.  Screens showed the upcoming matches and the latest standings.  Students cradled their robots and cheered teammates while others made last minute adjustments before the next bout.
Casey and Aaron built "Wally" a sumobot during an after-school program at Washington Elementary School in Centralia.  "We participated in mini-challenges to see who would get to advance to this competition," said the pair.
Aaron is optimistic about their sumobot, which will compete in an arena to disable another robot.  "Our sumobot has claws and it's lower to the ground which makes it harder to flip.  But, that means that our wheels don't provide much traction," he says.
Eleven local schools brought over 150 introductory robotics students to compete in head-to-head challenges that test their robot building and programming skills.  In just its third year, the program has continued to double in size.
Two years ago, a few local schools had robotics kits.  Olympia School District's Randy Steele saw an opportunity to develop a technology curriculum using these kits.  Under the Career and Technical Education (CTE) program, Steele created a robotics curriculum that was first used at Jefferson Middle School in 2010.
The following year, Steele received a grant from the National Science Foundation Project to expand the curriculum online and to begin training additional teachers.
"The goal of our STEM curriculum is to take classroom math and science skills and give them an application," says Steele.  "Our mission statement is to grow students from being consumers of technology into being creators of technology."
To this extent, the program includes a citizen advisory panel.  "We are basically a steering committee made up of professional business people.  We guide the CTE program to ensure that the educational courses are meeting the needs of the business community," says advisor Richard Corn.
Corn also serves as a volunteer to help organize the competition and mentors students and teams from Capital, Black Hills and Avanti high schools.
"During the ramp up to a competition, I visit the school two or three times per week.  I am available to provide onsite, technical help and also moral support," adds Corn.
What happens at a robotics competition?  "Expect to see hundreds of kids having a ball," says Corn with a chuckle.
Here are the basics.  A pair of students competes in up to two events.  Students enter a robot into one of three competitions:
Sound Activated Dragster
Design, build and program a robot to drive straight and fast through a course and then stop on a finish line using a light sensor.
Line racer
Engineer a robot with a wired remote control to perform two laps around the course.
Sumobots
Throw your robot into an arena and be the first to flip the competitor, push the other sumobot off the mat or disable it.
Steele mentions that each event is double elimination.  "Kids are doing so much work that we want them to have two shots," he says.
"Students learn how to adapt to issues happening 'on the fly' such as repairing a broken robot or altering the programming," describes Corn.  Jacob, a Jefferson Middle School student, was making a last minute repair to his sumobot after it had been accidentally hit by another student.
Allie and Kaitlyn, from Marshall Middle School, built a dragster.  "It's not built to go fast, but straight," the team reports as they describe the rationale they used to design their robot.
A four-some from Chinook Middle School, which includes Cole, Andrew, Dylan, and Tanner, built a dragster.  "We think our robot is superior because we built gears.  So, it has torque and speed and we've only lost once," said the crew.
Nine community members judged and refereed the events.  Awards will be given to first and second place in each event as well as an overall school award.  STEM Pals, a booster club for the program, donates funds to cover most of the costs associated with the awards.
Wednesday's robotics invitational is an introductory competition.  Any school using the STEM Robotics 101 curriculum is invited to attend.  Corn hopes that this local competition will inspire kids to advance in the program and ultimately progress to competing at the state level.
"It's refreshing to see kids experiencing first time discoveries.  I get a thrill watching students solve complex problems," describes Corn.
Later in June, additional teachers from Olympia, Tumwater, North Thurston, Shelton, Lakewood, Yelm, and Onalaska are registered for STEM Robotics 101 training.
"We hope to see next year's invitational have even broader participation from around the South Sound," says Steele.
"Your first idea probably won't work.  You have to keep failing before you find success," says Aaron, spoken like a true engineer.
Here are the results from the competition:
Dragster 1st Place: Capital High School Futbol
Dragster 2nd Place: Chinook Middle School Robo-Warrior
Line Racer 1st Place: Washington Middle School WMS-3
Line Racer 2nd Place: Black Hills High School Bell Bottom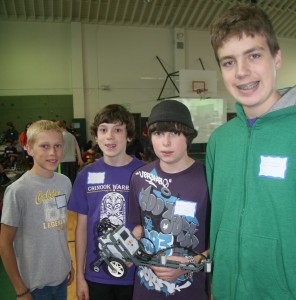 Sumo 1st Place: Bush Middle School PatWerch
Sumo 2nd Place: Olympia High School Manbears
Overall High School 1st Place: Olympia High School
Overall High School 2nd Place: Black Hills High School
Overall High School 3rd Place: Capital High School
Overall Middle School 1st Place: Washington Middle School
Overall Middle School 2nd Place: Marshall Middle School
Overall Middle School 3rd Place: Washington Elementary School