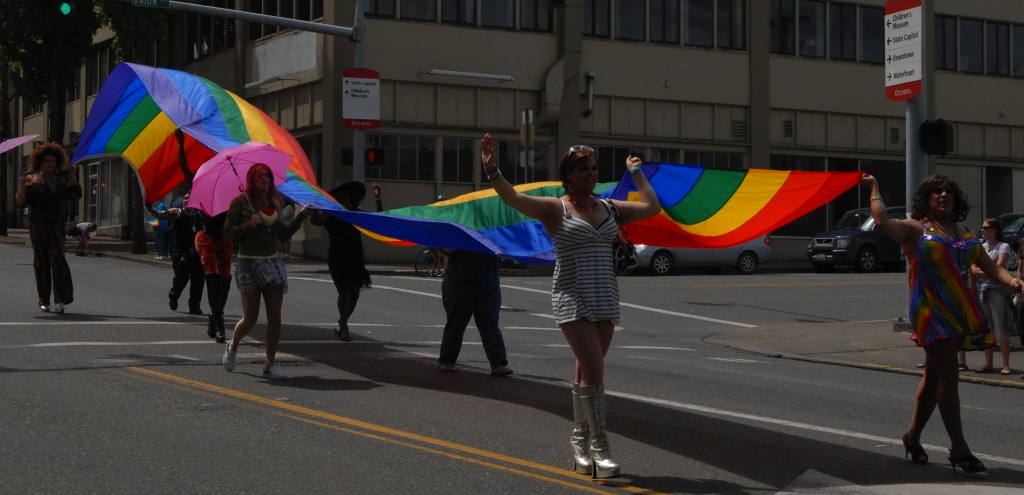 By Alec Clayton
When the first Pride parade was held in Olympia in 1991 only 400 people took part. "Many came from Seattle and Tacoma, a gesture of solidarity to offset the low number of local people who felt safe enough to attend," said Capital City Pride co-founder Anna Schlecht. Now, with more than 15,000 participants last year and even more expected this weekend, it is the second largest Pride festival in the Northwest — even larger than the event in Portland.
Much has changed in those 21 years, mostly in terms of growth and popular community acceptance. In the beginning, folks were afraid to be seen coming out in support of an event that celebrated gays and lesbians. Now local businesses proudly display their rainbow flags and local churches and civic groups march in support.
One thing that has not changed in all those years is the guiding hand of Anna Schlecht. In various roles over the years — chair person, co-chair, emcee, publicist and a variety of other responsibilities — Anna has been the force behind the growth and success of Capital City Pride. This will be her last year to work with Capital City Pride. Her co-chair, Matthew Shrader, will also leave after this year to go to college at the University of Washington. He graduates from South Puget Sound Community College this summer.
Throughout the years the local Pride festival has remained family friendly. Capital City Pride prohibits some of the provocative dress and behavior that is sometimes seen (and which gathers most of the press coverage) in larger cities. Participants in the parade must sign an agreement that includes the following statement: "Full or partial nudity or sexually suggestive behavior is strictly prohibited. Violations will lead to non-participation or
removal from the parade. Capital City Pride reserves the right to prohibit any material which it deems objectionable or otherwise in conflict with the event."
Shrader said, "We're proud that it's still a small town Pride that's on the cutting edge. We keep it family friendly, but it's not a small, boring festival."  This year he says they'll be "reaching out to LGBTQ youth more than ever."  Among the ways they will be reaching out to youth will be the inclusion of a separate youth entertainment segment. For this they held tryouts and picked seven individual performers: a singer, two spoken word artists and four drag queens.
Also returning this year will be a special fenced-off children's play area on the grass in front of the Office of the Superintendent of Education run by volunteers and staff from the YMCA. (The supervised play area came from the suggestion of  local businesswoman Jamie Lee.)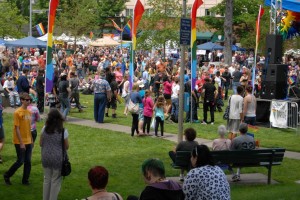 The first celebrations throughout the nation of what would eventually become known as Gay Pride, or simply Pride, began to take place in New York, San Francisco and Los Angeles in the late 1960s and early 1970s. Soon it became common for cities to hold these celebrations on or near the anniversary of the Stonewall Riots in New York's Greenwich Village in the summer of 1969, the single event that became known as the beginning of the modern gay rights movement.
Olympia's Capital City Pride celebration takes place every year in June. This year it will kick-off Friday night, June 8th, with a champagne toast and wedding cake at 7:30 p.m. at the Urban Onion, 116 Legion Way in downtown Olympia. The wedding cake is symbolic of and in celebration of the marriage equality law that was passed by the state legislature and signed into law by Gov. Gregoire earlier this year.
"Equality is the big push," Shrader said. "We're preparing to fight for marriage equality. We want the entire Olympia community to come out and see how they can get involved."  Equal Rights Washington, Washington United for Marriage and the Human Rights Commission will be in the park both days of Pride.
The two-day festival kicks off Saturday morning, June 9, at 10 o'clock in Sylvester Park. There will be food vendors and informational booths from area non-profits; there will be vendors selling items ranging from buttons and bumper stickers to items of clothing and other arts and crafts. And there will be speeches and entertainment galore. The headline entertainer will be singer Brian Kent. Saturday's entertainment will begin with Bruce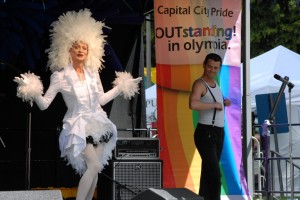 Haasl, a popular actor and singer seen in many shows at Capital Playhouse and winner of last year's Pride Idol. Following Bruce will be speeches by area politicians and entertainment by Olympia band Hey What & the Shut Ups. Sunday's performers include the Kim Archer Band, Shameka Gagnier and Saul Tannenbaum and Friends.
There will also be a beer garden and a parade. The parade starts at noon Sunday at the State Capitol and will go down Capitol Way to 4th Avenue, then one block east to Washington Street, and from there back to Sylvester Park. The parade will include both marching and riding contingents. Festival emcee Gregory Conn and drag queen Kimber Lee Tempress will announce parade entrants from the roof of the Governor's House Hotel. "We're happy and proud to have Gregory Conn back as emcee," Shrader said. Conn is a popular area entertainer seen in many musical productions in Olympia, Tacoma and Seattle, named Most Outstanding Singer in a Musical or Music Review by The News Tribune.  The parade grand marshall is Rep. Laurie Jenkins.
For more information including the weekend's packed schedule, click here.
And, especially for families (and well-behaved dogs) – check out the Zany Dog Show on Saturday at 6:00 pm.  You can read more about it here.