Whether you are a frequent diner or have never stepped through the doorway, Cynara Restaurant & Lounge has an invitation to you. For the regulars, it's a thank you. You already appreciate the food and comfortable atmosphere. For others, it's a reason to come inside.
For an astonishingly low price of $3 a plate, you can introduce yourself to the fun of hanging out and dining at Cynara. The new Happy Hour Eats menu has a few thoughtfully-selected items plated specially for the bar service.
Cynara's Values Remain Intact
Cynara and Iron Rabbit are both owned by Christian Skillings, an Olympia local. Since opening, he has held to his values of sourcing ingredients close to home; being a thoughtful steward of the environment; paying employees well; and staying involved in the community. There's been seismic shifts in the restaurant business and the world since 2005, and he has remained steadfast in bringing food and comfort to diners. Now there's a Happy Hour Eats menu.
Restaurant in Olympia Serves Epic $3 Burger
Let's start with the grilled onion burger. The meat originates from Royal Ranch in central Washington. This family farm leads the way on sustainable and regenerative agriculture. Cattle are born on the property and stay there, eating food without artificial hormones or unnecessary antibiotics. The burger sits on a bed of arugula with peppercorn aioli. Muenster cheese is melted over the top. With a crown of grilled onions, it's a mouthful. It's also not alone. Sitting next to this luscious sandwich is a pile of crispy shoestring fries with ketchup for dipping. It's all made for your delight. It is even better with your drink of choice.
Olympia Happy Hour Menu is Comfort & Fun
Maybe you're in the mood for something a little lighter that still offers the comforts of home. How about macaroni and cheese? Raclette cheese is made specifically for melting. Long ago cow herders carried cheese with them as they moved their cattle around. At night, the cheese was brought out and put near a campfire for softening. Then it was easily spread on bread. French style is putting the cheese over potatoes. Raclette comes from the French verb 'racler,' which means to scrape. That surely means people wanted to get every savory, last drop. Campanelle, cone shaped pasta with a ruffled, bell flower-like edge, is designed to be served with a thick sauce – a perfect match for the raclette.
An outstanding paring with the mac-and-cheese is choice #3, the Pork Belly Candy. It's meat but goes down as easily as candy. Pork belly is rich meat from the underside of a pig. It's uncured and often sold in slabs. Bacon comes from pork belly, but pork belly has other uses. It gives a recipe that bacon-y yum factor without the nitrates or nitrites. The fat results in fall-apart tender pieces that practically melt in your mouth. Tossed in a spicy harissa and honey sauce, it's a natural with the mac-and-cheese.
The fourth option on the Happy Hour Eats menu is patatas bravas, a popular Spanish tapa. Everyone has their own unique take on them. Cynara's has chunks of potatoes are fried in oil and topped with sauce. Cynara's own romesco sauce makes it unique.
Find Your Happy during Cynara's Happy Hour in Olympia
The Happy Hour Eats menu gives you a two-hour window to try these dishes from 3:30 p.m. to 5:30 p.m. Bar seating is first come, first served. The bar has limited space and is first come, first serve, so get there early!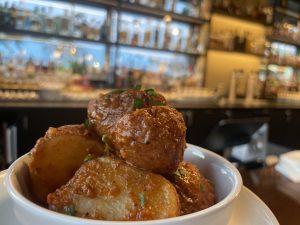 The other decision you'll need to make is your cocktail choice. Glance over to the wall of spirits. It's a world tour of whiskeys, bourbons, scotch and about anything you can think of. There are a few Cynara designed drinks to get your imagination started. Of course, if you have a favorite drink, your decision might be easy. They also have a great selection of Old and New World wines. The rest of the restaurant is fully open with its complete menu throughout the day.
Casual & Convenient Downtown Olympia Dining
Cynara is located across from the boardwalk in downtown Olympia. It's come as you are – you don't have to dress up. The casual atmosphere is for family and friends. You can celebrate an occasion there, and you can also just stop in on a whim for a bite to eat and a fun cocktail.
Stop in any day of the week for a sampling of the Happy Hour Eats. Keep a little room left for a house-made dessert and a glass of port. Cynara works to exceed your expectations. See for yourself. You can book a table and learn more on the Cynara website.
Cynara Restaurant & Lounge
500 Columbia Street NW, Olympia
360.764.7326

Sponsored