A reporter in the Daily Olympian newspaper on June 15, 1938, in celebration of the upcoming debut of the film, "Adventures of Robin Hood" at the Liberty Theater, wrote: "Robin Hood! How strange the fascination, how thrilling the sound of these two words—the legendary name of a hunted outlaw—beloved by thousands of Englishmen." He was also beloved by many in Olympia.
Robin Hood is a legendary character from medieval Britain, an outlaw who stole from the rich to give to the poor. A fantastic archer, he led his band of Merry Men in Sherwood Forest. Many variations of the story developed over the centuries and people like to debate if he actually existed. He probably did not.
But that did not stop people from celebrating his story over the years. For example, books about him were widely available and popular in turn-of-the-century Olympia. The "Merry Adventures of Robin Hood" by Howard Pyle (1883) was part of the Olympia public library's collection and was put on display as a good book for children in 1922. A Robin Hood Reading Club was even created by the Regional Library in the summer of 1956 to encourage children to visit the library and its bookmobiles at school playgrounds.
Robin Hood Loved by Children
Robin Hood has always been particularly popular with children. Skits featuring the outlaw and his band were popular choices at Cub Scout meetings. Girl Scouts got into the fun too. In 1947 the Girl Scout camp at Kennydell Park on Black Lake held a "Robin Hood Week" by wearing feathers in their caps and pretending to be in Sherwood Forest.
Characters from the Robin Hood stories were popular parts of school carnivals and festivals. In 1928 Roosevelt Elementary School held a May festival pageant of song and dance that included a May Queen, Jack-in-the-green, sheriff, jester and, of course, Robin Hood. Lincoln Elementary School went even farther on the Robin Hood theme, performing a three-act Robin Hood operetta in 1953 for parents.
Other times, people brought Robin Hood to the students. Olympia Junior Programs, an organization whose continuing mission is to bring educational theater to students in the area, arranged for a Robin Hood ballet at the Olympia High School auditorium in 1941. In 1950 they booked the University of Washington Touring Theater to perform a Robin Hood play.
Robin Hood On Screen and Off
Older audiences could listen to the story of Robin Hood through music. Reginald De Koven's comic opera "Robin Hood" (1890) was very popular. While the opera itself was not performed in Olympia until it was put on as part of the Chautauqua program in 1924, the Capital City Military Band regularly played selections from the opera in their weekly, open-air concerts in 1900 and 1901. Songs from the opera were also sang at other events.
Many people have discovered the story of Robin Hood through film and television. Numerous films have been made over time about the story and its characters. The tale first arrived on Olympia screens with the silent movie "Robin Hood," starring Douglas Fairbanks (Senior) and Enid Bennett, in 1923 at the Ray Theatre.
By far the most popular Robin Hood film of all time was "The Adventures of Robin Hood," starring Errol Flynn and Olivia de Havilland. Rather than appearing in one theater in Olympia, it played at both the Liberty and Capitol Theaters, instead of the more typical showing at a single venue.
Robin Hood stories proved especially popular for children's matinees, probably none with as much longevity as the now little-known film, "Son of Robin Hood," starring David Hedison and June Laverick. Although – spoiler warning – Robin Hood's son turns out to be an imposter, the film introduces Robin Hood's daughter, Deering Hood. This film debuted in Olympia in 1959 as a co-feature with "Blue Denim" at the State Theater and played at the Capitol Theater a year later as the B film for "Wild River."
But the film's Olympia run was not done. Capitol Theater brought it back for several children's matinee showings.  In 1962 it was shown with a Little Rascals comedy and two cartoons. In 1966 it appeared with the movie "Fluffy," a comedy about a tame lion.
Other would-be sons and daughters of Robin Hood could find options at the toy store. A Robin Hood castle set was available at the Olympia Supply store for Christmas 1958 for $6.95. Or if they dreamed of becoming archers, a Robin Hood Jr. Archery Set sold for $3.47 at SeaMart in 1960.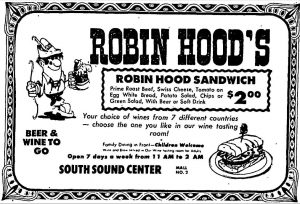 Later Robin Hood fans could visit Robin Hood's at South Sound Center in Lacey. Opening in 1974, the short-lived restaurant served sandwiches, spaghetti, cheesecake, pizza and snacks. People could try themed sandwiches, like the Little John, which consisted of thuringer and braunschewiger sausages, Swiss cheese, sweet onion and tomato served on sourdough bread.
And with so many trees in our area, people can be expected to think that this might be a place that Robin Hood could have lived. There is a Sherwood Drive in southeast Olympia (as well as Sherwood Glen Apartments). Nottingham neighborhood nearby was named after the city associated with Robin Hood's archnemesis, the Sheriff of Nottingham.
Fans of Robin Hood might be disappointed that "Robin Hood Park" was rejected by the city as a name for Sunrise Park in 1994. Children at a local daycare had included the name in a list of ideas for the park's name. Still the story of Robin Hood remains appreciated by many. As one 1999 advertisement for a home in Nottingham neighborhood noted, "Robin Hood lives." Indeed, the legendary character lives on in the hearts of those who admire him.