You don't need special knowledge or an educated palate to enjoy wine. You can just show up at Cynara Restaurant & Lounge. Owner, Christian Skillings, has done the preliminary work for you. With over 100 bottles on hand, there's been a lot of tasting and then a lot thought put into offering a diversity of wines, from close-by wineries to wineries across the globe. "I'm a wine geek," says Christian. But his philosophy is simply, "It's juice in a bottle."
The wine menu has the expected divisions including red, white and sparkling. There's also the delineation of Old and New World wines. Generally, it's geographic. Europe and northern Africa are Old World, places where modern wine making traditions originated. It can refer to the tendencies of the wine. Old World wines can have lighter body, lower alcohol, higher acidity, and less fruity flavor with more minerality. The New World wine can have fuller body, high alcohol, lower acidity and pronounced fruit flavors. However, there are plenty of exceptions. Some say The Old World/New World is about tradition vs. modernization. You might just want to explore all the worlds. It really only matters if you like it, or you don't.
The days are longer and warmer, which invites you to drink a little wine on the patio. The outdoor tables are made available whenever the weather permits. It's an excellent time to order a glass of Anne Amie's rose. "It's stellar," comments Christian, who favors red wines but likes this rosé, which is a French style: dry, crisp and fruity. The Oregon winery is both Salmon Safe and LIVE certified. The estate vineyards are free from synthetic herbicides and glyphosate. Water conservation methods are used, and they strive to grow fruit with maximum depth and complexity.
Cynara selects wine and food with care. Intention has been given to selecting wines that complement the Mediterranean-leaning menu. You can ask your server for suggestions or look on the menu for pairing ideas. Don't get deterred by thinking you'll make a wrong choice. Wine is personal. Christian says he's happy to drink a red with any meal. Someone else might be happy with a white. The old maxim of red with meats and white with fish need not apply. Wine has other characteristics like body that might merit consideration. "I've tasted everything," says Christian, who wants you to feel good about whatever wine you choose. "Wine needs to be fun and approachable. It changes with the tasting of food," he adds.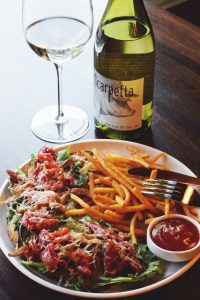 Christian has been interested in wines for over 30 years. "I had my first restaurant job in college," he recalls. One weekend his boss asked Christian and a friend to house sit while he was away. The boss left two bottles of wine. "Open this bottle a half hour before you drink it," he said upon departing. Christian took his advice. The two young men opened the bottle, let it air and then smelled and sipped. "It had a finish that lasted for minutes," Christian says wistfully, still remembering that sensation from all those years ago. That was a big discovery. Now he loves looking for gems in the wine world. "I know they're out there," he says confidently. A gem is a memorable wine where the enjoyment and taste of the wine exceed the price. Even the 'same' wine is different from year to year. Weather conditions change everything. Lately, he's found a few Rhones to his liking.
Wines go well with an appetizer like the cheese and charcuterie board. Consider another with your entrée. Look for an expanded menu as more seasonal options become available. The mushroom risotto, a popular cool weather choice, will remain on the menu, as Cynara has perfected its recipe, and customers keep requesting it. Don't be surprised if it arrives in summery garb of pea pods or other fresh produce. Yum.
Look for Cynara's new wine tasting events. This will be an elegant solution to sampling four wines in one sitting along with selected appetizers. It will be a fun way to spend time with friends while discovering new wines. Check out the website for times and reservations.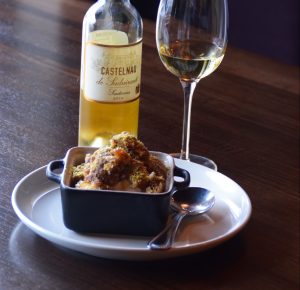 Cynara is located across from the boardwalk in downtown Olympia. The casual atmosphere makes it easy to unwind. Check out the wine list or order your favorite cocktail. Bring a friend or two or three. Peruse the menu. Order an appetizer. Share. Stay for dinner. Consider a sweet dessert like the baklava with glass of port or sauterne or finish your meal with the new cheese plate. Cynara works to exceed your expectations. Enjoy!
Cynara Restaurant & Lounge
500 Columbia St NW, Olympia
360.764-7326
Sponsored