Bottom lines matter. Doing the right thing is Cory and Janette Eckert's bottom line. They are in the business of being energy efficient, and environmental consciousness is one of their core values. The Eckerts own Alpine Ductless Heating and Air Conditioning in Tumwater and have decided that their core principles take the lead. Recycling every eligible scrap is a daily practice for every employee. Very little of the recycling is actually required but keeping recyclables from the landfill is a choice the Eckerts make quite easily.

Recycling has been a priority from the beginning, and the Eckerts celebrated 10 years of their business practices in March 2022. Cory says they knew they could either recycle or throw things away. Thurston County Solid Waste offers a business assessment service and guidance on business place recycling. The Eckerts reached out to Thurston County for further support who introduced them to Dart, a Styrofoam recycler in Tumwater. In-house recycling falls in line with the larger, energy efficiency and conservation theme of the Eckerts' business.
"The environment has always been one of our core values," Cory says. "Choosing ductless was easy. A ductless heat pump uses so much less electricity. The reason the utilities will give you a rebate to use less electricity is because it is cheaper for them to get you to conserve than it is for them to go and try and make more, especially when you are looking at nuclear or a new dam and windmills. Seventy percent of all the new power in the last 10 years, and 40 years going forward, is coming from conservation. So, if you use less, then they have more to use for new subdivisions being built."
The Eckerts' environmental concern over that of cost is genuine. When asked if expenses are higher to recycle than throw scraps away, Cory says he never worked out the actual costs and believes that the environmental concern outweighs that cost.
Conservation and less waste are a theme at the Alpine warehouse and workshop. Installers unpackage new heating and cooling units that are encased in Styrofoam blocks and packaged inside large cardboard boxes. After unpackaging a new unit, an installer flips the box over to become a bin for scraps and garbage. Routine makes for a systematic, streamlined sorting when employees return to the shop. Collected materials from the previous day are sorted by installers and repair technicians, and large recycling receptacles are conveniently lined up for that daily process.
Every scrap is tossed in its designated bin. Two cubic yards of cardboard and four cubic yards of Styrofoam are recycled each week. Metal is one material that businesses can recycle, which does provide a financial return, and the Eckerts are able to send several hundred pounds to a recycler per week. "We knew we could recycle metal, but as we took it in, we discovered how we can do a better job, making it easier on the metal recycler," Cory says. "They give us more money for keeping it clean." Copper, steel, aluminum and brass bound together in a heating and cooling unit are considered dirty metal until they are separated into their unique elements, or made clean.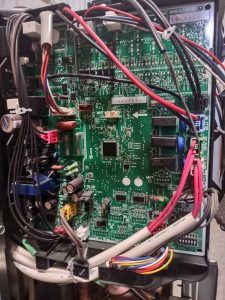 Scrap metal comes from the entire heating and cooling unit, the fan motor and compressor within. "If we have a heat pump, old furnace or duct work, we bring it in and tear it down," Cory explains. "We cut all of the steel away from the copper and aluminum. We try and scrap it all out ourselves so that when we take it to the recycler, we get maximum dollar for it." Scrap is collected from the piping and ductwork between an indoor and outdoor unit. Lengths of extra wiring, copper piping stripped of its insulated cover, brass caps and connectors and the metal housing of the outdoor unit are all recycled. Old motors are dismantled, and oil from inside compressors is drained out and taken to the Thurston County HazoHouse in Lacey. Even blades from hole saws are collected and unit motherboards are removed and sent to a recycling resource.
Only one element is required recycling. Federal law requires refrigerant gas to be recaptured in designated bottles and turned in for proper processing. Old refrigerants, such as R22 were outlawed due to their ozone damaging properties. Newer R410A are more environmentally friendly. Alpine uses the even newer R32 and was one of the first heating and cooling companies in Washington state to do so. Unfortunately, not every item is recyclable yet. Plastic covers of indoor units, plastic straps from around cardboard boxes and foam coverings from around copper pipe do not have a recycling destination.
Recycling is a natural partner to the type of equipment that Cory and Janette's company installs. Both aim to conserve energy. Cory feels that the company has saved enough electricity to power 1,100-1,300 homes of about 1,200 square feet from the estimated 3,500 installs they have done. Alpine's mini duct heating and cooling systems as well as their recycling practices help reduce human impact on the environment and support the reuse of viable materials. For more information, visit the  Alpine Ductless Heating and Air Conditioning website.