This February, love isn't the only thing in the air, at least not in Yelm. Promotions and unique offers abound, from events with live music to specialty dinners, massage and everyone's favorite, coffee. Business owners throughout the town are coming up with creative ways to celebrate the holiday, with some specials running all month and others that end on February 14.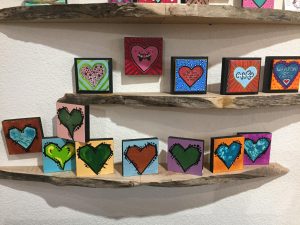 It's a good opportunity for people to shop locally, says Yelm Chamber of Commerce Executive Director Line Roy, or as she puts it, "Love Local." The chamber is providing a local Valentine's Day shopping guide full of specials from area businesses.
Ingenious! Local Artisan Gallery & Boutique is hosting multiple events on Sunday, February 13. From 12 p.m. to 3:00 p.m., Jenny Bourdon of Wild Heart Sipping Vinegars and Sandstone Distillery will be on hand to share samples and explain the best way to use their vinegar products. Along with samples of items like shortbread cookies made with pear, cardamom and rosemary sipping vinegar, Bourdon will hand out recipe cards so guests can try making them at home.
Between 1 p.m. and 2 p.m. musician and keynote speaker Kate Anderson will share songs and stories in the inaugural live performance at the gallery. Anderson overcame serious health challenges to become a singer at age 70 and went on to win Best Speaker at the Fearless Speaker Academy contest. Local artists such as Bee Forever Apiary and Hummingbirds Haven will offer Valentine-themed gifts such as owlentines, Valentine bath bombs, heart-shaped pendants and soap, poetry, greeting cards and original ink drawings.
At Mat Magick, owners Ian and Jennifer Brooks are opting not to promote the traditional couple's massage but to instead provide encouragement for people to love and nurture themselves. "We wanted to come up with something a little more unique and more our style," says Jennifer. "We're going to focus on the individual and caring for their heart."
Both Ian and Jennifer will offer a variation on a 90-minute massage. In Ian's case, that looks like three 30-minutes segments, one of Reiki/ energy work, one of heart-opening massage focused on the arms, chest and back, and an astrology reading using the client's birth chart. "He's been doing astrology and chart readings for years," says Jennifer.
She, meanwhile, will begin with 30 minutes of massage centered on the heart chakra center, followed by a 60-minute massage. At the end, she'll give clients honey rose elixir tea along with other items to open the heart center. Clients will also receive a green candle as a focus for the specific intention of their session, which they can then use all month as a reminder to hold that thought. Each massage costs $140.
For those looking for a romantic evening, Jerk Juicy BBQ is offering a Sweetheart Dinner which includes an eight-ounce smoked prime rib, shrimp with vodka shrimp sauce, potatoes au gratin, vegetables and cornbread. Individual dinners are $80 and dinner for two is $150.
For an additional $75, customers get chocolate-dipped strawberries in a heart-shaped box, votive candles and holders, and a dozen roses with suggestions about where to place them. Customers should pre-order the meals, says Debbie Wilson, who co-owns Jerk Juicy with Brian Pillsbury.
Brian, an experienced barbecue pit master and graduate of Le Cordon Bleu, brings 32 years of experience to every meal. "He's an amazing cook," says Debbie. "He's French culinary trained, so his potatoes au grain and prime rib are incredible."
At nearby Shiplap Shop & Coffee House, a rotating list of weekly specials includes items such as mocha chocolate cheesecake, lovender matcha, love muffin lattes, lotus pierced heart and strawberry shortcake lattes. Customers are enthusiastic about the products and the play on words, according to barista Riley Yount. "We have people coming in all the time wanting to try something new," she says. "We have new and seasonal flavors throughout February."
Another current promotion at Shiplap is a $499 gift certificate that entitles the buyer to one fritter and one 16-oz drink every day for an entire year. The certificate has a $3,200 value, so the savings are substantial.
Follow the Yelm Chamber of Commerce on Facebook or visit their website to learn more about offerings from Yelm businesses this month.
Sponsored