When you are ready to step into an exquisite massage experience, book an appointment at Ballaura Wellness Spa in Olympia. Founder and owner Nicole Chryst goes to detailed lengths focusing on a client's experience from the first touch. "How can I help this person?" is the initial thought that comes to Nicole's mind. People may be coming in for stress reduction or pain relief. Your entire visit is meant to relax and revive your senses through sight, sounds, smells and careful touch.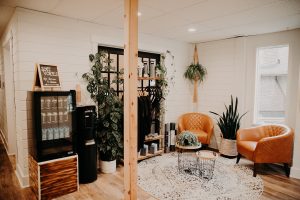 Maybe you have had a hundred massages or maybe you are thinking about getting your first one. Ballaura tailors the visit to you. The competent front desk will hear your concerns and desires and can help you select the appropriate therapist. "Therapists are all very different," suggests Nicole. The goal is to make a good match. Ballaura can also set up a pregnancy massage with a trained prenatal massage therapist. Couples massage has grown in popularity. People have discovered how important quiet, soothing time together is for the relationship. You get to unwind at the same time.
Your massage is your time. Even if you are a regular customer, your body is different on any given day, and different areas may want more or less attention. You'll enjoy a heated table, hot towels, warmed oil, dry brushing, and transdermal magnesium, if you like. Lotions are hypoallergenic, cruelty-free, and locally and sustainably made in the Northwest. They are also organic, vegan and nut-free.
You can ask about advanced techniques and modalities. They are at no additional charge, but it is important to tell your scheduler what you want ahead of time. Ballaura offers cupping, gua sha, Lomi Lomi, craniosacral, intraoral, myofascial release, passive and active stretching, deep tissue, lymphatic drainage, trigger point therapy, pin & stretch, and relaxation with guided breathing. That's a lot of options.
Ballaura is pleased to have an infrared sauna, which can be experienced on its own or before a massage. It is a fabulous way to warm up your muscles ahead of your massage.  There are various settings to personalize your time in the sauna. You'll be relaxed even before for your massage!
Nicole has been able to grow her business while being a busy mom to three boys. Her husband has a career of his own as a Union Steamfitter in Tacoma. Ballaura is her other baby. Her drive and determination are awesome. I don't know when she can find time to sleep, but she does. Nicole is a 2000 graduate of North Thurston High School and opened Ballaura in 2008.
"I've been an entrepreneur all my life," says Nicole who now owns the free-standing building on 4th Avenue in the near heart of downtown Olympia. "It's the best thing we could have done," she recalls. Built in 1915, the building's interior spaces have been thoughtfully updated keeping the character intact. Colors are subdued and the lighting is natural. I could feel myself relaxing as soon as I opened the front door. Nicole's team of 15 employees keeps busy seven days a week. I'm not surprised.
Jenny Virivong, massage therapist, has been at Ballaura for over three years "It's the best place I've worked," she said. Her husband is retired military, and she has lived and worked in many different places. She appreciates that Nicole is also a therapist and knows what that entails. "I like all the attention for the therapists," she says noting the hydraulic lifting tables as an example. Jenny is able to work a flexible schedule, which is helpful for many reasons. Her thorough and skilled massage melted the tensions in my neck, back, and hips. My whole body was remarkably calm as I left.
I appreciated that my 60-minute massage meant 60 minutes on the table. The time checking in with your therapist and getting onto the table are not part of your hour. Massages can be set up for 90 minutes, a luxury within reach.
Ballaura has a few suggestions to maximize your services.
Ballaura massage therapists can help you with relaxation, pain relief and stress reduction. Who can't use a little of that?! Photo credit: Ali Meliah Photography

Get plenty of sleep the day before and after your massage to help your body get the most from your treatment

Come and go hydrated. That means drink plenty of water.
Communicate with your therapist. They are not mind readers and letting them know what you want is important. It is also highly encouraged to give feedback during the session, for example, if the pressure is too much or too little, or if you are uncomfortable in some way.
Take time to stretch when you get off the table. It improves circulation and continues the release of tension.
Be present for your massage. Enjoy every moment. Your life will wait for you.
Bring comfortable clothes to wear home in and consider taking it a bit easier for the rest of the day. I like scheduling later in the day, but in truth, any time is a good time for a massage.
There is ample parking for customers behind the building, which can be entered from Eastside Street and a ramp to the door. Read more about available services and various rates on the Ballaura website or Facebook page.
It's time to make an appointment!
Ballaura Wellness Spa
1017 4th Avenue E. Olympia
360.539.7726
Sponsored