The South Puget Sound Community College (SPSCC) men's soccer team certainly had an international feel to it this season as five players, including the Clippers' top two scorers, hail from outside the United States.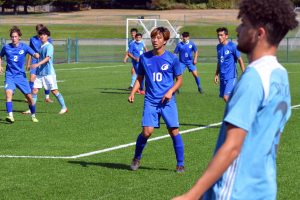 Sophomores Francisco Ojeda (Buenos Aries, Argentina) and Saloum Malang (Republic of The Gambia) and freshmen Yuta Shimazu (Sanda City, Japan), Dylan McKay (Franschhoek, South Africa) and Joshua Coetzee (Durban, South Africa) all contributed greatly to South Puget Sound Community College's season, making a combined 43 starts with eight goals and two assists.
"Each of these players certainly has their own playing style. I can honestly say no two of these players are similar in terms of playing style," said SPSCC Head Coach Jeremy Richtmyre. "That being said, just like team chemistry, these players have done well in adapting to the playing style that I have asked them to employ. I think that one of the great things about this game is that although skill levels, strategies, and resources change from location to location, the game is still played more or less the same around the world. It can be a powerful uniting force no matter where you are from."
Despite the change of scenery, both Ojeda and Shimazu settled into their roles, finishing the season as the community college's top offensive threats.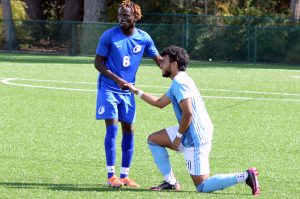 "Coaching Yuta and Cisco has been a pleasure this season. Cisco is a bit of a jokester, but when he gets serious he is dangerous in possession," Richtmyre said. "Yuta on the other hand is much more reserved, but a player who demands respect from anyone who competes against him."
Ojeda was the Clippers leading goal scorer with four tallies with the sophomore forward appearing in 13 games, making eight starts.
"The part of Cisco's game that impresses me the most is his work ethic and ability to consistently do the work required to be successful in games," Richtmyre said. "When he is on the field, he is one of the hardest working guys out there and always has an eye for the goal."
Shimazu was right behind Ojeda this season in goals scored, adding three while starting all 14 matches for SPSCC this season at center.
"(Yuta is) perhaps the most technical player I have had the privilege of coaching," Richtmyre said. "Yuta's ability to possess the ball, even with multiple defenders all over him, is better than anyone else I have ever coached. He is capable of providing a spark at any time."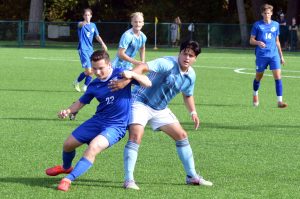 While Ojeda and Shimazu provided the offensive punch during the year, Coetzee played a large role in the backline, appearing in 11 matches, all of which were starts, and finishing with an assist.
"It didn't take too long," Coetzee said about adjusting to his new surroundings. "I think after a couple of the pre-season friendlies I had learned a lot about how, particularly strikers, play here. But soccer is a process. It is not linear so it's always changing and I am always having to adapt and learn new things."
Olympia was just the latest location Coetzee was played in as the defender toured throughout Europe extensively during 2019, playing in the Netherlands, Belgium and France.
"South Puget Sound has been a good experience so far and I look forward to staying with the program another year," Coetzee said. "There is a lot of work that goes on behind the scenes that not everybody sees and I would keep an eye out for the all the South Puget Sound athletic programs in the future and I would recommend South Puget Sound as a well-rounded school that treats their students well."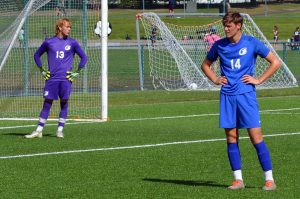 "I didn't consider myself a Clipper until I understood the environment and culture at South Puget Sound," Coetzee said. "I would now call myself a Clipper, someone who is actively involved in the community. My story is still in the making, I think there are bigger things to come and I plan to leave a legacy at South Puget Sound."
Out of the five, Malang was the only returning player, having been a member of the Clippers' 2019 squad. The forward appeared in 30 matches, making 21 career starts during his two-year community college career.
"I think the positive attitude that they have brought with them is what I'll remember best," Richtmyre said. "Saloum always has a smile on his face and is nice young man. Yuta has been a model of consistency since day one, missing only one or two practices all season. Cisco is always trying to lighten the mood by joking with the guys. Joshua is a bit quiet, but he is smart and a natural leader on the field. And Dylan has done everything I've ever asked of him without question – just an all-around good guy. Each of them seems to have adjusted quite well to life here in Olympia."
Sponsored