Although artist Nancy Romanovsky and her husband, Dr. Andrej Romanovsky, just recently moved to Thurston County in 2020, they have been small forestland owners in Washington State for over a decade. They would spend summers and school breaks up here, tending to their tree farm. So, it shouldn't be a surprise that this forest-owner would also be an artist, and that her chosen subject is nature.

"Almost every painting of mine begins with a moment spent in the outdoors, the moment that takes my breath away," Nancy explains. "A subtle curve of a branch. A reflection rippling on the river surface. The way the light filters through the leaves. These designs create moods and become the source of my inspiration. My goal is to capture on canvas and interpret both nature's grandeur and its subtleties."
Nancy has been painting since she was nine, when her parents started taking her to semi-private painting lessons, instead of to sports like her other siblings. She is grateful to this day to her parents for allowing that choice. "The weekly lessons were in oil painting, and I remember choosing images of cute furry animals from a giant box of greeting cards and calendar pages to paint," Nancy shares. "Choosing what I wanted to paint was a gift – there was never a set assignment that the whole class was expected to reproduce. And although it was basically copying, my copies were unique, not exact, and the process instilled in me a love of creating"
The classes taught her the basics of oil painting, she says, but also taught her the importance of creating her own compositions using her own photos references. Back then, she painted a lot of animals, including horses, kittens and raccoons.
In high school and college, she experimented with other mediums, but always came back to oil painting. "Oils are my first love," Nancy shares. "With variety of brushwork, thick and thin, loose and detailed, oils give me the opportunity of portraying the breadth and scale of nature. Recently, I have been toying with gouache as well while doing small studies for larger oil paintings."
But Nancy did not immediately jump into being a fulltime landscape artist. Instead, after studying art at Arizona State University and Scottsdale Artists' School, she held a job as a graphic designer and marketer. But in 2012, with the birth of their youngest child, Nancy made the decision to stay home and become a painter fulltime. "That time was perfect for me to make a transition to painting as a career choice," she shares. "Obviously, while our daughter was small, all focus was on her. But when you have a passion, somehow you find the time to make it happen. It is only because of my husband's encouragement that I was able to leave my 'other career' and focus on my art. He supports me in every aspect of being an artist; he even often titles my works!"
Drawing Inspiration from Thurston County
Moving to Thurston County was an easy choice for the couple, who has loved the area for years. "We love the convenience of the location and the proximity to beautiful trails, parks, and the Sound," Nancy shares. "We love the small town feel with big city amenities such as a symphony and performing arts center. This summer we walked the entire Western Chehalis Trail, a true gem of Thurston County."
And this love has inspired many of her artistic works. "One of my favorite nearby places to paint is Brewery Park," she says. "The Deschutes River, the falls, the old brewery building are just minutes away and offer a beautiful, ever-changing subject matter to paint. Percival Landing, the Western Chehalis Trail, the cherry trees in bloom on the Capital Campus, vistas of Mount Rainier, and the amazing evening sky are also sources of inspiration for my paintings. But our Douglas Fir tree farm, an idyllic forest property, is probably the main source of visual nourishment for me. This is where new ideas for paintings are often born."
An award-winning artist, Nancy has accumulated many accolades for her works over the years. Her favorite, she says, is one painting, "A River Runs Through It," which features a stop along the river on her very own tree farm here in Thurston County. "It has won two awards and was purchased by one of the founders of the Scottsdale Artists School," says Nancy. "When a well-known artist purchases your work it is really the greatest honor!"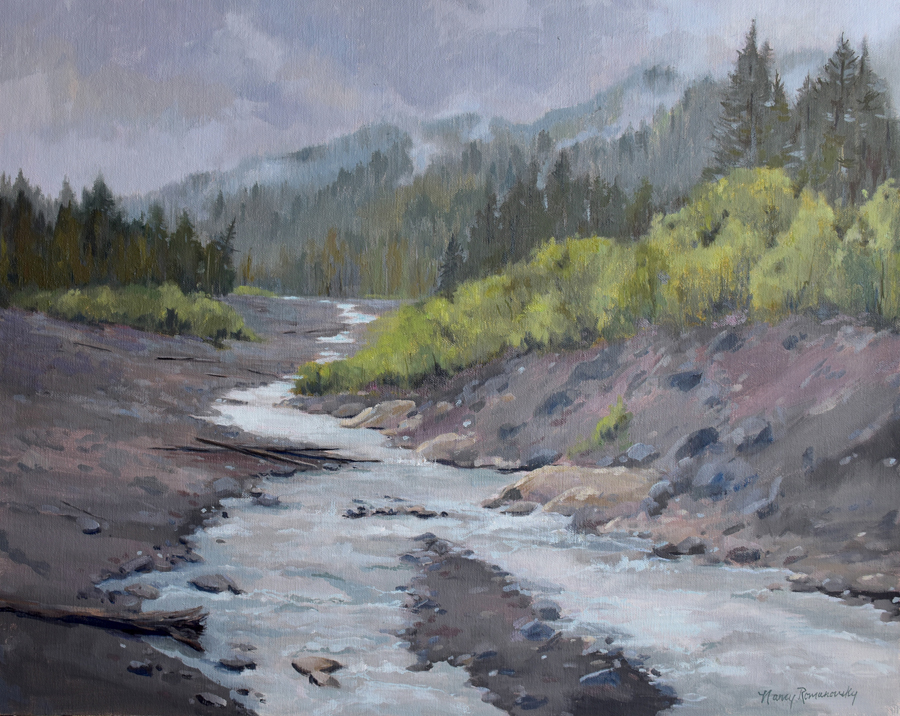 Nancy plans on continuing to paint what she sees, the way she sees it. You can find her art locally at The Artist's Gallery in West Olympia, the Childhood's End Gallery in downtown Olympia, and the Union City Marky in Union. Follow her on Instagram or on the Nancy Romanovsky website.