The westside's Capital Mall is harnessing the power of local to offer a premiere shopping destination that engages its surrounding community. Locally-owned businesses that use many locally-sourced products are shining stars for area shoppers, diners and anyone looking for entertainment. You'll still find big name stores like Macy's, JCPenney and Old Navy, but you'll also find a wealth of local treasures. "The mall – it's more than just shopping," says Marketing and Business Development Manager Stefanie Muegel.
With a mission to improve businesses and create thriving environments, Capital Mall has been listening to the needs of our community. General Manager Kevin Johnston has been at the helm for the past seven years, remaining after several ownership changes. "I'm very happy to be part of it all and the focus on local," says Kevin. Capital Mall wants you to know that now 'going to the mall' means a lot more possibilities are in store for you.
Did you know that Timberland Regional Library has a new space where you can drop off books, get a library card or use the wi-fi? Maybe you'll drop your child off at Rising Tide Karate for a class while you get your Hawley's gelato. Capital Mall encourages incubating businesses and entrepreneurs. "Whether it is their first venture into brick and mortar, or they are looking to expand, Capital Mall is invested in supporting our neighbors who source, make and sell locally through our Live Loc-OLY program," explains Stefanie. Another option is pop-up opportunities or maybe a short-term cart, also called RMU (Retail Merchandising Units).
Another exciting addition is the new event venue, GATHER LOC-OLY, for your next party or meeting. It is a flexible space of 1,344 square feet that could easily be decorated for family birthday parties and baby showers. It would be an excellent place for a business presentation or seminar. The mall staff can help arrange all you need for a successful time. The mall provides the following:
A hassle-free space including tables, chairs and meeting equipment
Set-up, tear-down and clean-up
Plenty of parking
Private restroom
Dedicated Wi-Fi
Smart TV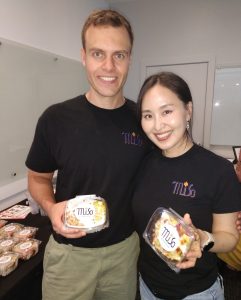 Food is important. There are plenty of near-by food options with tasty menus. Capital Mall recognizes its local owners of restaurants and eateries and the places that source local products including Braganza Tea, Fujimaya Japanese Steakhouse, Hawley's Gelato, Fudge and Coffee, MiSo and Stack 571 and i.talia Pizzeria. Whether you want snacks, light meals or full-on dinners, you have choices including the ability to serve alcohol.
When you have other celebration requirements, here are nearby businesses:
The Thurston County Chamber of Commerce recently hosted a membership event in GATHER LOC-OLY. "It's a great space," says Ashley Chandler, who supports membership and engagement for the Chamber. "The mall is being revitalized by the local focus." MiSo provided poke nachos and chicken teriyaki bowls. Owners Ryan and Leena Rommann are mostly relieved that the worst of the pandemic challenges are in the rearview mirror. "If we can make it through COVID we can make it through anything," smiled Ryan. Currently they, like many businesses, are facing supply delays and shortages but they are open and thrilled to see their customers and be in the Capital Mall family. As restrictions are eased and more people getting out and about, MiSo is looking for more people to work with them in several aspects of their growing business.
These are business owners and entrepreneurs with locally focused and sourced products.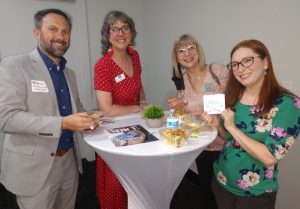 You can find more about each of them on the mall's website.
7 Imports
Alayna Beauty
B Natural Nails & Spa
Charlie's Jewelry & Watch Repair
Design Customs
Five Star Workwear
Homeport Foot Massage
Kamila
Laura's Alterations
Lavelier
Livit Mobile
Massage Envy
My Salon Suite
Noy Designer Inc
Pro Image Sports
The Artist Gallery
Tokoyo Anime
Capital Mall values its relationship with the Olympia community, offering a mix of more than 100 shops, diverse eateries, a 14-screen movie theater and other unique businesses. It's a place to find shopping, dining, and entertainment. It's a big piece of property that includes buildings around the main mall. Take a drive around and see what you might have been missing.
Capital Mall
625 Black Lake Boulevard, Olympia