Submitted by South Puget Sound Community College
South Puget Sound Community College (SPSCC) will celebrate more than 1,300 graduates at the 2021 Commencement Ceremony on Friday, June 18, at 12 p.m. in a virtual ceremony and an on-campus parade from 4 p.m. to 7 p.m.
For its 56th commencement ceremony, the college will award 1,205 associate degrees and 254 certificates to the graduating class. Additionally, the college will award 133 GED awards and 138 high school diplomas.
The virtual ceremony will premiere to the public at 12 p.m. on June 18 via the SPSCC YouTube and Facebook channels.
It will commence with messages from SPSCC's president, Board of Trustees chair, faculty speaker, and student speaker, followed by a message from Gov. Jay Inslee and the 2021 Outstanding Student awards. The virtual ceremony will end with photos and video messages from graduates and faculty, and the ceremonial turning of the tassel. Reading of graduate names will be organized by degree Pathway and available to watch after the ceremony.
This year's student speaker and ASB President, Nadaa Elbarbary, will share how her college experience was impacted by the pandemic. Her speech praises graduates' resilience, stating, "I refused to accept failure, and so did you. I want to congratulate you, class of 2021, on your hard work and dedication toward graduating."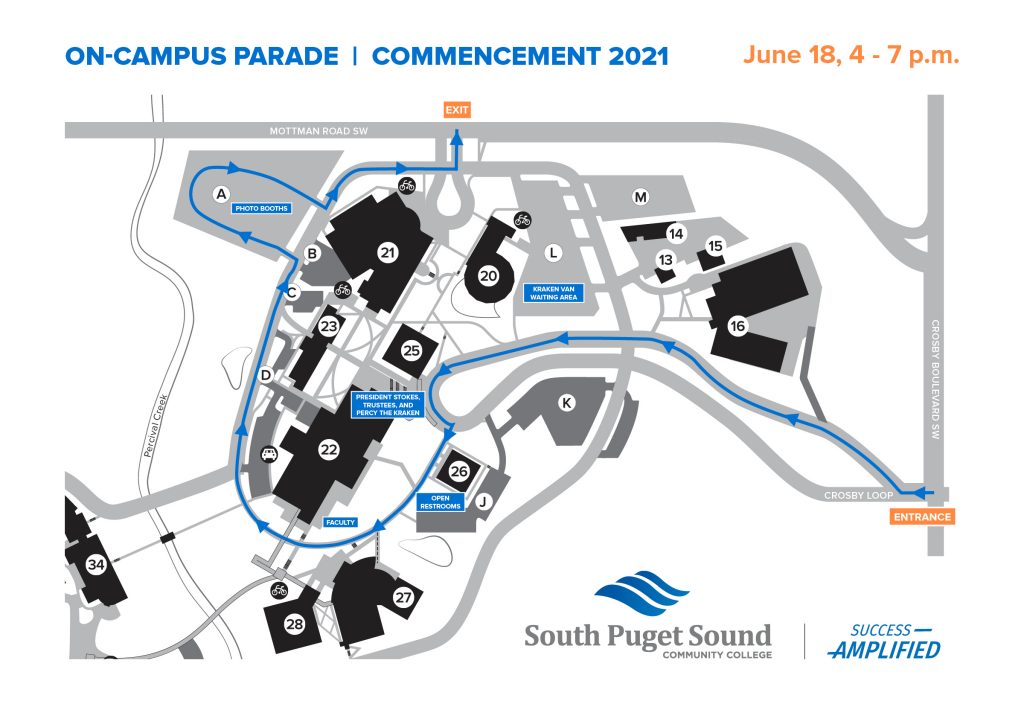 The on-campus parade is a drive-through event running from 4 – 7 p.m. on June 18 at the SPSCC Olympia Campus. Graduates, families, friends, and guests are invited to drive through campus on the parade route at any time to wave to college administrators, pick up celebratory swag, stop at a photo backdrop, meet Percy the Kraken, and more.
More ceremony information can be found on the Commencement webpage.
Graduates, family, and friends can help share the success of SPSCC's class of 2021 on social media with hashtag #spscc.