Response, recovery and resilience are the driving energies behind the Community Foundation of South Puget Sound's new grant program called the Resilience Fund. It is poised to fund local organizations and programs that are recovering from the wide-spread impacts of COVID-19. Acting swiftly and thoughtfully, the Resilience Fund can reinforce the desirability, livability and strength of our community. Applications are now being accepted.
The Resilience Fund may be smaller compared to national programs, but it is mighty. With long-term and up-to-date information about the situations here, the group can target specific needs and gaps in other funding avenues. Since October $900,000 has been raised including a generous gift from the Bruno and Evelyne Betti Foundation augmented with matching funds from Puget Sound Energy and All In WA. The fund will continue to accept donations. Grants are expected to remain open on a rolling basis through 2023.
"The pandemic amplified a lot of long-standing community problems—problems like a lack of affordable housing, unequal access to healthcare and technology, racial inequity, and food insecurity," says Daisha Versaw, Community Foundation's director of community programs. "Last year not only showed us how important it is to continue working on those problems, but it also challenged us to keep seeking more thoughtful, creative, and effective solutions so that we can all do this work better."
The Community Foundation is seeking diverse requests from Thurston, Lewis and Mason Counties. The intention is to attract proposals that support multiple or interconnected needs that reach a broad cross-section including concerns such as racial equity, recovery for low-income workers, mental wellbeing, or the arts. Organizations that are already established and serving people are encouraged to apply. It is possible to apply for grants that will range from $2,500 to $30,000.
The Community Foundation realizes many agencies are experiencing funding shortages while at the same time faced with growing needs for services. Because the Resilience Fund is local and not constrained by outside regulations, there is great ability to act swiftly and to tune into specific needs within our community and provide support that has not been otherwise available.
"The Resilience Fund resulted from a truly collaborative effort by people from many backgrounds who reflect the spirit of generosity that defines our communities," says Mindie Reule, president and CEO of Community Foundation of South Puget Sound. "This fund brought together family foundations, corporate funders, and individual donors who gave what they could to help build the world they want to live in, whether it was a few dollars or hundreds of thousands. Now, we're thrilled to be able to get these funds out into the community where they're most needed."
The Community Foundation of South Puget Sound has been active in philanthropy since 1989, awarding more than $15 million in grants and scholarships. Nonprofits have turned those funds into meals, winter coats, medicine, therapy, shelter, solar panels, forests, farmland, music, art and more to keep where we live strong. What makes our community strong is always the question to be answered. "That is the seed of all this activity," says Daisha. Hundreds of local nonprofits from youth education to salmon habitat have used their funds to do just that, bettering living conditions right here in our towns.
The Community Foundation maintains vigilance to see who is missing out on aid. For example, during financially difficult times, the arts are deprioritized. "We know from previous recessions that arts were a big part of recovery," adds Daisha. Live theater and other art make our community a good place to live and brings joy to our lives. Strong art programs have a ripple effect on local innovation and businesses such as restaurants, as well as bolster our mental health.
The Resilience Fund will get critical help into the many pockets of need. Addressing job training, the root causes of mental health, and housing issues are all important. The fund will get money out the door and into the hands of programs with speed and thoughtful intention.
Apply Today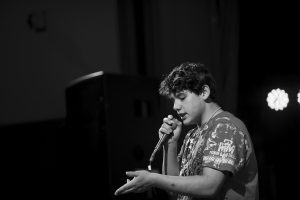 The Community Foundation has worked hard to make the grant program easy to navigate, all done online. Funding is unrestricted to make the process less complicated. Grant applications will be reviewed on a regular basis and funds distributed over time. Of course, an agency must apply to be considered.
"We remain engaged in learning directly from our communities as to how we can best serve and accomplish this work together," emphasize Amy Evans and Dan Jones, co-chairs of the grants committee that guided development of the Resilience Fund Grant Program.
You can visit the Community Foundation of South Puget Sound website for more information or call 360.705.3340. The application process can be found here.
Sponsored