While the COVID-19 pandemic has caused challenges in many facets of life for Thurston County, there are silver linings to be found if you look closely. You may have seen one while driving through downtown sometime this summer. Many restaurants have added or expanded outdoor seating in order to increase the number of tables they can serve and help more patrons feel safe while they dine.
The City of Olympia facilitated these developments early on in our reopening by way of what they call the Simplified Sidewalk program. The city temporarily removed permitting fees associated with setting up tables on the sidewalk outside of restaurants. They also worked with the Liquor Control Board to allow the use of medallions, or durable round stickers, to demark the service area around the tables.
"Every table with a customer at it counts right now," says Mike Reid, the City of Olympia's economic development director. "We've taken these efforts to help our businesses adapt." That's why, in addition to the Simplified Sidewalk program, the city designated one or two parking spots on nearly every block as stalls reserved for pick up orders. This allows restaurant patrons to get in and out of downtown with a to-go order much more quickly so they can get home and enjoy a warm meal while supporting a local business they love.
"The consumer is what's going to drive a lot of these things," Mike explains. "Even when we get to a point where restrictions are lifted, we know that there are consumers out there who, for any number of reasons, may not feel comfortable being inside of a space. So how can we support our businesses and our consumers with that request? The to-go stalls are a way we can continue to support that."
The City of Olympia didn't stop there. The most innovative development the City has supported is the creation of what's come to be known as a "streatery" outside the 222 Market on Capitol Way North. This cluster of restaurants was the perfect location to test out this set up. Mike and his colleague Mark Renfrow, the city's economic development liaison, worked closely with the owners of the building and the businesses inside, as well as the City's Streets and Transportation Team and the Liquor Control Board, to establish a right of way use agreement that meets all current compliance requirements.
The 222 Market is on a quieter side street rather than being on one of downtown's major thoroughfares. State Avenue and Fourth Avenue can often see heavy traffic including logging trucks. Capitol Way North has far less traffic, and also has a bike lane, which now serves as a buffer between patrons dining in the streatery and any passing cars. The streatery itself is set up in the parking stalls. There are six new tables total, three of which are held for patrons of Chelsea Farms Oyster Bar.
"People are so happy to have something that feels normal but that is also really safe," says Shina Wysocki, co-owner of Chelsea Farms Oyster Bar. "Everybody's at a different point in terms of what feels good for them. Giving people all the options and meeting them where they are is important."
Her restaurant took advantage of the Simplified Sidewalk program early on, and she's pleased that the city facilitated the streatery expansion as well. The streatery tables are especially helpful for her business because they help with visibility. "It helps let people know we're open," Shina explains.
"It's so nice to have more options for outdoor dining," Shina continues. "It makes the city feel vibrant and alive." She hopes the city will continue all of their efforts, regardless of the pandemic or the seasons. In anticipation of cooler, wetter weather, Mike Reid and his colleagues are working with the 222 Market to provide guidance on the placement of a large, temporary covering such as a tent or canopy, so the streatery can continue to be used.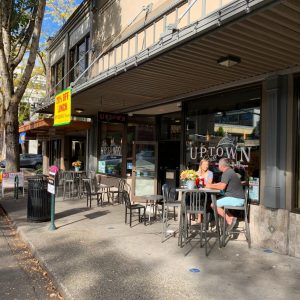 "We know that sidewalk activation is a very good thing for our downtown," Mike shares. "There is a charm to seeing people out and visibly enjoying our businesses and restaurants. There is a strong advantage to having active, vibrant sidewalks and that is something we will continue to explore and grow post-COVID. Especially in the warm weather months, this should become a part of the fabric of downtown."
Now is the time to take advantage of the last of our longer days. Pay a visit to Chelsea Farms Oyster Bar, Dos Hermanos Mexican Kitchen, Sofie's Scoops Gelateria, or the Bread Peddler and experience the charm of Olympia's first streatery. Sift & Gather is there too, serving up the occasional batch of sweet buns on Saturdays. Show your love for Olympia's downtown and support all of our local restaurants however you can!
Sponsored