Seasonal changes can be subtle. Summer days slowly lengthen as evening breezes warm. Spring arrives one tiny flower bud at a time. But autumn likes to show up with a bang. Leaves turn vibrant reds and golds overnight and tumultuous weather drives us indoors. It's now soup and bread season, boots and cardigans, pumpkin spice everything. Bundle up and head to The Park Side Cafe on Olympia's west side for new and exciting treats and opportunities.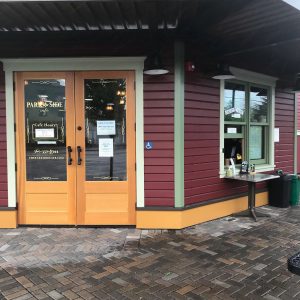 Poet George Eliot once praised "Delicious autumn! My very soul is wedded to it, and if I were a bird I would fly about the earth seeking the successive autumns." To satisfy your need for the delicious, The Park Side Cafe has plant-based goodies for all tastes, diets, meals and cravings. From coffee and pastries to a full dinner, they offer take-out, curbside delivery and outdoor al fresco seating…as the weather permits.
Menu options are seasonal and designed to include the freshest local produce and ingredients. But keep your eye out for some exciting new developments. "With the changing of the season, we are implementing some exciting changes at The Park Side Cafe as well," says the Cafe's Joanna Lopez. "We recently increased our open availability to seven days a week and added an updated online ordering system. Our menu has also undergone a few changes including bringing back the well-loved mix plate options where you can get two, three or four items at a slightly discounted cost!"
And though indoor dining is still closed due to COVID-19 restrictions, there are still plenty of ways to snag a tasty bite. "Our indoor services are still closed to the public at this time, offering only curbside pickup and outdoor dining at our nearby ground floor tables," says Lopez. "Later this fall however, we will begin offering a lunchtime delivery service in the Thurston County area. For those of you who can't get away from your office or home, but still would like to enjoy some comforting, plant-based fare, we see you!"
"We also recently got approved to serve alcohol on the sidewalk tables we have along Harrison Avenue," says Lopez. "Now you can sample some of our delicious local and organic wines, beers and ciders directly at the Cafe while you eat! Just be sure to bring your ID when you pick up your order." And to make walk-up orders less chaotic, they have relocated the order window off Harrison Avenue to the west side of the building to cut down on noise and help make in-person ordering easier, she adds.
If you'd rather enjoy a feast at home (but not cook it yourself) consider ordering online. They have an array of hot and cold items like biscuits and gravy, supreme pizza hand pies, oyster chowder, bagels and cream cheese and chocolate peanut butter pie are all available individually or as part of a mix plate.
Prefer a quick pick-me-up? The Park Side Cafe offers house-made chai lattes, hot chocolate, espresso, and treats like cookies, pies and affogato. Because nothing soothes the soul like vanilla Coconut Bliss ice cream with chocolate sauce and two hot espresso shots poured over the top. Trust me.
Before you head out into the wind, rain or snow to grab your meal, check out The Rolling Pin's new expanded assortment of kitchen gadgets and must-haves. Located upstairs from the Cafe, this gourmet chef's boutique also offers online shopping with walk-up or curbside delivery. Save a trip and check both spots off your to-do list.
Whether you're inspired by the Cafe and want to try your luck at home or looking for that perfect holiday gift for loved ones near and far, they've got utensils, bakeware, cookbooks, cutting boards, linens and accessories galore. Orders placed online or by calling 360-754-3955 can be picked up quickly and safely.
Shopping local is smart, saves money and is better for the environment. But it's also tremendously efficient. With a little planning, a savvy shopper can load up on ingredients, gifts, ready-made suppers, (hopefully motivational) kitchen tools and glossy cookbooks to give and keep for yourself. At The Park Side Cafe and The Rolling Pin, you can make a list and check it twice. Ideally with a warm, cinnamon-topped latte in your other hand and steaming take-home container of warm, nourishing soup in the other.
Follow them on Instagram for drool-worthy menu items and Facebook for the latest specials, updates, culinary offerings and so much more. Order online or call The Park Side Cafe at 360-352-8344 and they'll start whipping up autumn's best seasonal delights ASAP.
Sponsored