In 1972 Lily Tomlin, Don Rickles and George Carlin made us laugh, Elvis Presley was making a comeback and televisions across the country heard that "Mikey likes it." It's also the year that Long Beach, Washington's Bank of the Pacific began. Whatever changes have come, they've been guide, partner, advisor and advocate throughout the Pacific Northwest.
From the beginning, Bank of the Pacific focused on community. With a mission "to be the best bank for our employees, customers, investors and communities," they now have branches throughout Western Washington and Northern Oregon.
Locally, they have a mortgage and business lending office on Olympia's west side. The South Sound Commercial Banking Center advertises "Commercial Lenders specializing in Professional Office borrowing needs, Credit Lines, Equipment, Inventory, Commercial Construction, Commercial Real Estate and SBA loans as well as Consumer Real Estate (Home Loan) Professionals experienced with the Olympia market."
With current economic uncertainties, it's worthwhile to speak to a mortgage lender now as rates are extremely low. Lending sources explain that "The Federal Reserve has taken several steps to protect the economy from more damage from the COVID-19 pandemic. The result has been lower interest rates on mortgages and home equity lines of credit… Mortgage rates started falling weeks before the Fed's first emergency rate cut of the year, on March 3. Then, 12 days after that reduction of half a percentage point, the Fed announced another surprise rate cut of a full percentage point—setting a target federal funds rate to a range of 0% to 0.25%. The federal funds rate has remained near zero since then, and the central bank says it won't raise the rate 'until it is confident that the economy has weathered recent events' and employment and inflation return to normal."
Bank of the Pacific Senior Mortgage Loan Originator Ben Paylor invites anyone looking for a home loan or re-fi to call or just drop by. "Whatever is easiest," says Paylor. "I try to make it as convenient as I can for my clients when it comes to doing their banking. The mortgage process is just one more item added onto our client's plate so I want to try to ease that burden for them as best as I can. I think no matter the housing or rate environment it's always smart to speak to a professional when it comes to your options for purchasing or refinancing. It is such a personal decision to the individual or family and I'd love to help see if it makes sense."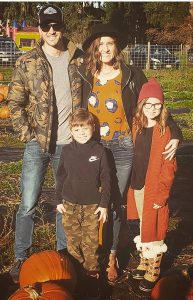 And he knows the area because he—and both his immediate and extended family—have deep roots in the community. "After graduating college at Washington State University, I started my career in banking in the Seattle area," he says. "Being from Grays Harbor originally my wife and I knew we would eventually want to move closer to family. As we started putting roots down in the Olympia area, my career continued to point me in the mortgage lending area. I knew I would eventually make it over to the Bank of the Pacific at some point in time. Growing up, my Dad was a commercial lender here and my Stepmom was in Human Resources. Being familiar with the bank for many years made it a very comfortable and natural transition. My sister actually sits one office down from me currently!"
When not working, Paylor and his wife Sheena love exploring the Westside with their two children, ages six and nine. "I enjoy getting outside for a hike, bike ride or a round of golf when we aren't visiting with family in the area or attending kid's events," he shares. "In 2020 we have been spending a lot of quality time together as a family."
But he also enjoys working to better our region. "I think the bank offers a tremendous value to our clients while still being a community bank," Paylor shares. "As a board member of Big Brothers Big Sisters of Southwest Washington the bank has been fully supportive of my involvement in the organization. It makes me very proud to wear our logo around town at different community events."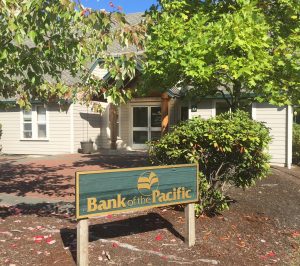 Costs, trends and regulations fluctuate over time. But choosing a bank with a long history in our area means they've stood the test of time and can handle just about anything. Whether you've got commercial or home-loan questions, Paylor and the whole Bank of the Pacific team are happy to help. Follow them on Facebook for updates and information. Read their latest Coronavirus information, restrictions and guidelines before visiting and call 360-533-8870 or 888-855-826 Monday through Friday, 9:00 a.m. until 5:00 p.m. with questions. Like Elvis, they're a timeless classic.  Bank of the Pacific is Member FDIC and an Equal Housing Lender. All loans subject to credit approval. Fees and restrictions may apply.
Sponsored