The rushing water cascading down the lush Pacific Northwest foliage and dynamic rocks is a site to behold. Chasing waterfalls in Thurston County is a great way to spend time outdoors with family and friends. Check out these five waterfall hikes in and around Olympia, Tumwater and Yelm.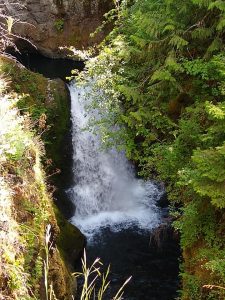 Deschutes Falls Park
A few miles up the Deschutes River visitors to Yelm can see more rugged terrain at Deschutes Falls Park. What was once a homestead from 1902 is now a recreational wonder. This 155-acre park has multiple small waterfalls along with a 27-foot falls that cascades into the river below. Thurston County Parks has added fencing in spots along some of the sheer cliffs, but otherwise this site is in a very natural state. Keep your eyes on small children and dogs! Further up from the impressive falls, visitors can bring their swimsuits and take a dip in the cooling pools below. This day-use park is an awesome spot to explore with the whole family!
Brewery Park at Tumwater Falls
Brewery Park at Tumwater Falls are the most prominent waterfalls in Thurston County. Constructed in 1962 by the Olympia Tumwater Foundation, this 15-acre park boasts beautiful waterfalls from the Deschutes River. There is a trail that leads visitors in a loop from the first falls near the old brewery to the final falls that lead into Capital Lake. It's a great spot to take a walk on a hot day as much of the half-mile trail is shaded by trees and towering boulders. The bridge that crosses here is the perfect spot for a photograph with the falls in the background.
Mima Falls
Ready for a hike? Head out to Capitol State Forest to visit the rushing Mima Falls. Just a short drive from Olympia, this forest is home to some of the most popular trails for hiking, biking, and horse riding in our area. There are a few different routes to get to the falls but one of the favorites is the Mima Falls East Trail. Just shy of 5 miles total, this hike is doable for all ages and skill levels. You will need a Discover Pass to park at this trailhead which costs $30 for an annual pass or $10 for a day pass. Much of the hike is through the green, shaded forest. There are bridges to cross and creeks to explore. Once you arrive to the falls, trails lead down to the bottom for fantastic views of the flowing falls. There is also a picnic table located here so bring a snack to celebrate your hiking victory.
Hamma Hamma Falls
Waterfalls are ample along the Hamma Hamma River but the largest one has to be Hamma Hamma Falls. Created entirely of nearby melted snowpack, the raging river makes for some impressive waterfalls. The falls here drop from 18 feet to 66 feet! Located in the Hamma Hamma Recreation Area of Highway 101, you will need National U.S. Forest Service Pass to visit. This pass is great for exploration all along the Hood Canal. The recreation area has several different fantastic hiking trails with smaller falls along the trail. Be sure to bring a cooler so you can stop at Hama Hama Oysters on your trek back to Thurston County to pick up fresh, delicious oysters and clams.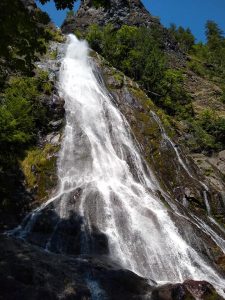 Rocky Brook Falls
If you are willing to go further than Thurston County, nearby on the Hood Canal are some of the most epic waterfalls in the state! Just a few miles off Highway 101 visitors can take a short walk into the woods to discover the awe-inspiring Rocky Brook Falls. This horsetail falls plummets down rock formations before landing in the clear pool below. This is a popular swimming spot on a hot, summer day and can get crowded quickly. Nearby Dosewallips State Park is great second to experience hiking trails and beach exploration.
Whether you have a visitor in town you are looking to impress or a day trip to soak up some of our area's natural beauty, take the plunge to chase Thurston County waterfalls!