Acme Fuel is pumped to see you at their newly remodeled and upgraded Fast Fuel station on Lilly Road. Over the past few months, Acme Fuel has worked hard to update and upgrade their Lilly Road station to match their downtown location by adding new fuel pumps and additional products to their gas station that is fully open to the public.
Acme will be celebrating the Grand Re-Opening of the station in a COVID-concious event on August 12 from 7:00 a.m. to 5:00 p.m. There will be free food and drink, gifts, prizes, and more to celebrate the completion of a station that now offers three grades of Top Tier non-ethanol gas, three grades of Top Tier E10 gas, premium diesel, off-road diesel and diesel exhaust fluid.
Yes, it's a lot to celebrate. "Our station is the only station in the area, (besides our downtown location), to offer all that we do," says Allison Dumas, Acme's fleet card program manager.
"The station is locally owned by Acme Fuel and open to the public and commercial drivers 24/7/365, she continues. "We have competitive pricing and accept Visa, Mastercard, and Voyager. Customers can also save at least 10 cents per gallon with our no-cost Fast Fuel card."
Allison explains that the Lilly Road station was originally built in 1988 and still had a majority of the original equipment. The pumps were breaking down and becoming obsolete, and while gas station equipment repair technicians are hard to come by in general, finding techs experienced on that old equipment, in addition to sourcing compatible parts was becoming quite a challenge.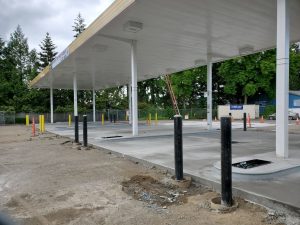 Their downtown Fast fuel location was built two years prior to the Lilly Road station and received its full facelift in 2017. Now both of the stations are fully updated and upgraded and are really beautiful—as much as a gas station can be.
Undoubtedly, any gas station can have competitive pricing and be clean and well lit. But Acme Fuel goes the extra mile with exceptional customer service in their propane and heating oil deliveries, and at their fuel stations. In addition to providing products that are hard to source, like Diesel Exhaust Fluid (DEF), Acme Fuel also provides single use gloves for when using the fuel pumps. It's a noteworthy tidbit that they provided this thoughtful extra even before the pandemic.
Because the gas stations are independently owned and don't display a big-name logo on their facades, there is a myth that perpetuates that the stations are member-only. That is absolutely not true: The stations are open to everyone including fleets, families and private individuals.
What is unique, or great, actually, about Acme Fuel, are the convenience features like ample space (especially at the Lilly Road station) to maneuver the biggest rigs and the high speed pumps to fuel them, and the regular pumps for smaller vehicles. With twenty-four-hour-access, it's an easy, and of course, fast, in-and-out when fueling. Slide into the station, slide your card, gas, and go!
The additional benefits of creating an optional free account are unmatched for business, but are also a great benefit to individuals. You get complete fuel management records of all of your fuel activity: date, time, fuel type, location, miles-per-gallon and taxes paid. It's great for expense reimbursement, fleet management and general household budgeting.
There's also the ability to set gallonage, fueling times, and product limits. (Parents, take note: you can easily control your teen's fuel usage this way). Limiting gallons-per-fill maximums and product types keep company costs down and household rules in order.
For more information on activating these free benefits, folks should call Sherry at Acme Fuel at 360-338-0641 Ext. 2, or drop her a line at sherrym@acmefuel.com. There's a reason they got voted The Olympian's "Best of South Sound – Best fuel Station" in 2019, and you'll have to take a drive to one of their fuel stations to see for yourself why Acme Fuel's pumps are primed to see you.
Grand Re-Opening Event
The COVID-concious event at the Lilly Road station is happening on August 12 from 7:00 a.m. to 5:00 p.m. There will be individually wrapped food and drink, save for a touchless coffee station provided by L&E bottling, in addition to lots of Acme Fuel swag including hand sanitizer and drink koozies. They will also be raffling off Acme/Fast Fuel gift certificates, engraved stainless water bottles, and assorted gift baskets and gift certificates from local businesses.
Join Acme Fuel at their re-opening celebration to get your questions answered in-person (from six feet away) and revel in the fact that our area has a locally-owned small business fuel company, and has for the past 95 years!
Social distancing ground markers will be set up, and a portable sink and hand sanitizer will be provided. Masks are required.
Acme Fuel
501 Lilly Road SE, Olympia
416 State Avenue NE, Olympia
360-943-1133
Please note: Acme's office is not open to the public at this time. Please call for more details.
Sponsored