Ever since the emergence of the COVID-19 crisis and Governor Inslee's "Stay Home, Stay Healthy" order, many local businesses have been working tirelessly to remain resilient during these uncertain times. Blaine Land, executive director for the Lacey South Sound Chamber, wants local businesses and their members to know that the Chamber is a resource for them, especially right now.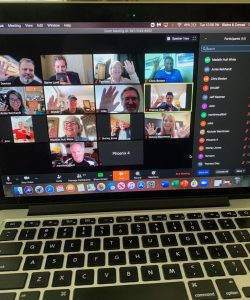 Proactive Response
"We didn't want to act in a reactive manner to this situation," says Land. Ahead of the "Stay Home, Stay Healthy" order, the Lacey South Sound Chamber took a proactive approach to the changing conditions as the public reacted to COVID-19. "We were thoughtful and considerate about how we could still maintain value to our businesses," says Land. "Rather than cancel our monthly events and meetings, we immediately shifted everything to virtual gatherings, and had great success with each event." Each virtual meeting has had solid attendance, with between 25 and 45 people joining. The meetings are free and open to members and non-members alike. "We want businesses to know we are there to support them as a resource, now more than ever," she adds.
Thoughtful Approach
The Lacey South Sound Chamber has ramped up its online presence over social media to provide support and information to business owners. "We want to provide sound information, but we don't want to overwhelm businesses," shares Land, "because there is so much content out there about what they should or could be doing right now." The Chamber has evaluated and curated the information available, so they can put out only the most pertinent, timely information. Using easy to read infographics, creative newsletters, and, of course, the virtual meetings, they are able to share valuable information in a clear and concise way.
Though the Visitors Center and Chamber offices are temporarily closed during the "Stay Home Stay Healthy" order, the staff has been working remotely, diligently keeping an ear to the ground and sifting through information as the situation evolves and changes. "In the next phase, we will be hosting meetings with constituents at the city level, so we can help businesses gear up with strong resiliency plans."
Each week the Chamber's been focusing on a different topic that is important for local businesses to keep in mind. "One week the focus is SBA loans and grant funding, and the next week the focus will be mental health and wellness," says Land. "We will follow that with social media and online marketing, now that social media is the best way to reach consumers."
Small businesses are the backbone of strong local and regional economies. The Lacey South Sound Chamber wants business owners to know that the Chamber is still there to support them. "We'd really like to remind businesses in the South Sound that we are here for them, especially those that have never utilized the Chamber or other local resources before," she says. "We are adapting, innovating and continuing to be a valuable asset to the business community."  
To keep in touch with the Chamber, check out the Lacey South Sound Chamber Facebook page and Instagram. The Chamber also serves as the administrator for DiscoverLacey, the tourism-focused platform, which is currently providing great information about local take-out, curbside pickup, and delivery options in the area, as well as other information about supporting area businesses, essential businesses, and safe and healthy outdoor activities.
The Chamber isn't the only one working hard to help local businesses. "I really want to thank the City of Lacey for all they are doing to help the local business community, as well as the Thurston Economic Development Council (EDC)," says Land. "They've really stepped up in support of small businesses, and that is going to make all the difference." The City of Lacey has provided grants to nearly 100 businesses so far. The Thurston EDC has a dedicated website and hotline with a wealth of information to help small businesses.
The Lacey South Sound Chamber looks forwards to seeing everyone in person again. Until that time, you can reach them via email at info@laceysschamber.com.
Sponsored