The COVID-19 pandemic has caused a massive disruption to supply chains around the country, and many organizations are left with excess inventory with no place to go. Harbor Foodservice is one such organization that was hit hard, with the closing of the restaurants and other institutions to which they provide food distribution. But the pandemic wasn't going to keep them from living up to their mission of being passionate about serving their communities, and so they set out to distribute food to their communities and employees in the Puget Sound Region.
Harbor Wholesale Foods (Harbor) is a fourth-generation, family-owned and operated business distributing products to local Northwest customers since 1923. Harbor currently services more than 3,000 locations throughout Washington and Oregon, and parts of California, Idaho and Alaska from distribution centers in Lacey and Roseburg, Oregon.
On October 12, 2019, Harbor acquired a portion of Food Services of America (FSA) and created a sister company called Harbor Foodservice, which is responsible for the distribution of food to 1,600 local, regional, and national restaurant locations. You can find Harbor Foodservice delivering to your favorite neighborhood pubs, schools, restaurants, and other institutions.
According to Randy Irvine, president of Harbor Foodservice, their organization saw a drop in business by about 75 percent overnight, specifically due to the shutdown and restrictions placed on restaurants. "There has been total disruption in the supply chain and the actions we took in response to it really reflect our purpose of being passionate about serving our community. We consider our employees, our customers, and our communities as family," says Irvine.
With the sudden disruption their business faced, they faced a problem with massively excessive inventory—and no place for it to go. They didn't want it to go to waste, so they sought to find ways in which they could use it to serve their community and hopefully encourage other organizations to follow suit with coming together for a greater impact.
The question became: What do they do with all of this food? Their response was three-fold, initiated under the cause of #HarborCares.
The first step they took was partnering with Food Lifeline and The Union Gospel Mission of Seattle to get food in the hands of two of the largest groups who had the means of distributing it to local families who are facing food and wellbeing challenges due to the COVID-19 pandemic. Between these two groups, they donated roughly $120,000 worth of food within the first couple weeks of the shutdown.
The second action they took was to find a way to better serve their "extended family," which are their valued team members. Irvine explained that when the pandemic hit, they had to make some tough decisions with reducing hours and even some layoffs. "We have communicated with them and kept them with benefits during this really difficult time," he says. "And we also wanted to make sure that our team members were taken care of with help with food supplies."
They took their excess inventory and began creating over 400 food bags. They invited all of their employees to stop by on Saturday, April 11 to a "no touch zone" they had created in alignment with Governor Inslee's social distancing and safety precaution guidelines to get food.  This took shape as a drive-through location in their parking lot where team members could drive through and receive food bags, while making no contact with other individuals. They figured about 150 of their 250 employees who showed up. They ended up having nearly 250 cars roll through to receive food for their families.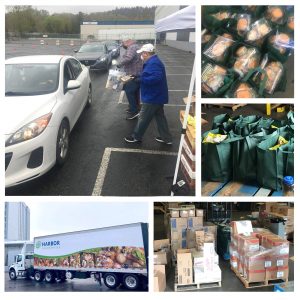 "It felt overwhelmingly good to see our employees, our team members, feel the connection and feel comfortable going to their employer to get vital food support," says Irvine. "We are offering a similar food donation to team members with our sister company, Harbor Wholesale, in Lacey."
The third step they are taking is reaching out to customers who have displaced workers to help them with food support as well.
Harbor Wholesale Foods and Harbor Foodservice is an example of how our local community continues to pull together during this trying time to help ensure we all come out the other side just as well, if not better, than where we are at now.