In a world of perpetually evolving beauty trends and color palettes, it can be difficult to ascertain the right advice to follow. Madelin White, owner of Merle Norman Cosmetics, Wigs &, Day Spa in Olympia has been providing beauty services for 46 years, helping each client look and feel like their best self. At Merle Norman, White and her team of consultants work with each client to provide cosmetics and skincare options that suit each client's needs.
After four decades in the beauty industry, White has encountered countless makeup and skincare myths that are regularly shared. The first myth that White often hears is that regular bar or liquid soap can be used as a facial cleanser.
White advises against using soap as a face wash or a makeup remover because of its alkaline composition, which can damage the skin's acid mantle.
"Soap, no matter what it says, has alkaline in it and alkaline will dry your skin out," explains White.
In addition, White says that even individuals with oily skin should avoid soap as a face wash, because drying skin out can lead to higher oil production.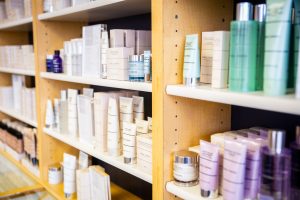 "If you dry the oiliness out, then you skin goes, 'I have to produce more oil,'" says White. "So, you're defeating your purpose by drying it out."
Another myth is that individuals with oily skin don't need to use a moisturizer. White says that although someone's skin may be producing oil, that does not automatically mean the skin is hydrated.
"There is a difference between water and oil," says White. "We need water. We all know we're supposed to drink water. Well, you need to add moisture, you just don't need to add oil. And there are moisturizers that are actually oil-free. People with oily skin may think they need to dry out their skin and that just makes it worse."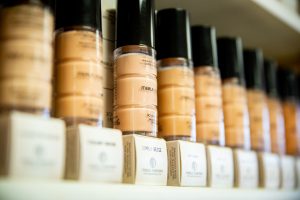 In the world of cosmetics, a longtime piece of advice was to find a foundation shade that provided a rosy glow. White says that searching for a rosy foundation shade can lead to applying a mismatched shade, with an obvious line of demarcation where the makeup ends, and the jawline begins. To avoid this line, White advises makeup wearers to match their foundation to their correct skin tone and undertone for a seamless blend.
"As far as makeup is concerned, you should match your skin tone with foundation," says White. "People once thought that a pink glow to your skin is really great, so they put pink base makeup on, but they would have warm or yellow toned skin. So, you would always see a line, but you'd get your pink glow. Although that was happening, it should never have happened. Logically, you should always be matching your skin."
To learn more about Merle Norman and their makeup and skincare services, visit the Merle Norman Cosmetics, Wigs, & Day Spa website.
Merle Norman Cosmetics, Wigs, & Day Spa
3925 8th Ave SE, Lacey
360-491-4911
Sponsored