Over the last nearly 30 years, if you needed an orthopaedic surgeon, there is a good chance that you saw Dr. Stephen Snow. Aside from serving patients over several decades as a surgeon at Olympia Orthopaedics Associates (OOA) specializing in knee and hip replacements, Dr. Snow has taken emergency room call and supported the sports teams at he local colleges. Now, he's retiring from regular practice and will begin referring patients to Dr. Darrin Trask starting in 2020.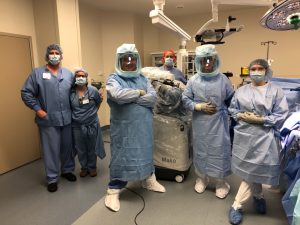 Dr. Snow originally joined Olympia Multi-specialty Clinic in 1992, combining forces with Dr. Patrick Halpin, who retired in 2017. In 1998, three surgeons on the westside combined practices with 4 surgeons on the eastside to create the current Olympia Orthopaedic Associates. In the years that followed, the practice expanded dramatically as other clinics merged with it or closed, growing to its current level of 24 doctors and over 300 employees. "It's been an exciting journey," Snow says, "I have partners that I appreciate to the ends of the earth and staff that have always supported me."
In his time, the field of orthopedic surgery has changed dramatically. When he first began practicing all the surgeons practiced general orthopaedics even though some had done subspecialty fellowships. Snow did a one-year Foot and Ankle Fellowship after residency. He went on to learn an ever-evolving array of cutting-edge techniques to treat patients and at times was among the first in Washington State to implement them. He and OOA's Dr. William Peterson were among the first to bring arthroscopic shoulder surgery to the Olympia area, and along with Dr. Halpin, Snow learned how to do spinal fusions with cages. Later, both traveled to Los Angeles to be trained on how to perform direct anterior hip replacements. "We believe we were the first in Washington to start doing that," Snow says. "We were very early adopters of that approach."
He had also learned how to do reverse shoulder replacements and ankle replacements, but his favorite procedures were always hip and knee replacements. "You see immediate results," he explains. "People can usually walk right away." According to Snow, " I always enjoyed the variety of all the orthopaedic disciplines, but it takes a lot of work to do enough of everything to keep up and do it well."
During the same period, he became heavily involved in sports medicine, covering weekend games for Saint Martin's, Evergreen and Capitol High School. The team athletic trainers had direct access to him so if an injury occurred at practice or a game, they could get athletes into his office quickly to determine whether or not they could continue playing. He also conducted sports physicals for student-athletes, a practice other OOA physicians have continued.
He remembers sitting on the sidelines with his fingers crossed one night at a cross-town basketball game series between St Martin's University and The Evergreen State College. Between the men's and women's teams, no less than five of his patients were on the court at some point. Or, as he puts it, "I had five ACL reconstructions playing that night." Fortunately, his handiwork remained intact and no one injured themselves further.
One of the most rewarding aspects of his role has been seeing patients get their lives back. Surgery techniques have gotten so refined that recovery times are much shorter than they used to be. "I did an anterior hip replacement on a patient and he came back two weeks later," Snow recalls. "He'd already been flying his plane"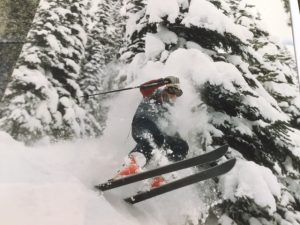 Retirement is clearly a bit bittersweet for a surgeon who is still fully capable of continuing to practice. However, it's part of a strategic plan developed by OOA's partners to ensure that younger doctors could afford to buy into the business over time. At their annual retreat around 10 years ago, the group developed a line of succession; each doctor chose the date of their retirement, spaced out so new doctors wouldn't have the burden of buying out five or six partners at once. Snow chose his 64th birthday in March 2020. "My date's come up quickly," he says. "I'm not seeing any new patients after December 31 and I'm not planning to operate past February."
In preparation for the change, he's spent the last four months working with Trask, the surgeon who will be taking over his practice. "I feel really good that I've been able to spend this time with him," says Snow. "He's been with me in clinic and knows what I do. I know how he's been trained and what he's doing. I'm not just leaving and my patients will have to go find somebody. I have full confidence in my partners, and I know my patients will be well taken care of."
He won't be retired entirely, continuing to serve in advisory capacity on several medical boards and phasing out over a period of months. But things will be different. "I've never been bored," he says of his career. "I've been elated, I've been smacked to the ground when there were complications, but never bored."
Snow wants to express thanks to all the people over the years who put their confidence in him. "I revel in the thought of those who did well and ache for those who's hopes did not materialize." Having free time will be an adjustment, but aside from spending more time with his wife and being able to take vacations longer than a week at a time, there's one thing that's first on the list once he's officially retired. "Skiing mid-week," Snow says with a smile.
Learn more at the Olympia Orthopaedic Associates website or by calling 360.709.6230.
Sponsored