Submitted by Westport Winery
Westport Winery was honored with seventeen medals in the 2019 Wine Press Northwest Invitational Wine Competition. The announcement came in the winter issue of the publication placing Westport Winery as one of the top ten platinum medal winners in this event's history. Only wines having earned a gold medal or above at selected competitions were invited to enter. Considering that Westport is one of the youngest wineries on the list it is a significant accomplishment for the Roberts family to have twenty-three platinum medals from this competition in just twelve years at the 20th annual judging.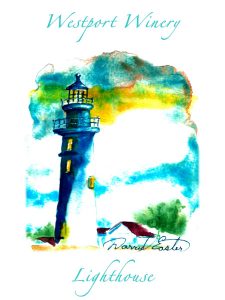 The winery earned platinum medals on Swimmer Petite Sirah, Lighthouse Riesling, Duckleberry Grunt Blueberry Gewurztraminer and Ancient Mariner Pear Riesling. They were awarded double gold medals on Charterboat Chick Cabernet Sauvignon, MV Argonaut Reserve Cabernet Sauvignon, True Blue Malbec, Message In A Bottle Rosé of Sangiovese, Rapture of the Deep Sparkling Cranberry, Going Coastal Sparkling Gewurztraminer, Little Wild Marionberry Riesling, Dawn Patrol Raspberry Riesling, Bordello Blonde and Willapa White. Gold medals were award to Shorebird Chardonnay, Shelter From the Storm Port and Smoky Nor'wester, their popular Bordeaux blend.
Westport Winery, founded in 2008, donates a portion of the proceeds from each wine to different local charities, to date contributing over $500,000 to their community. This is just one reason they were honored as one of the top twenty most-admired wineries in North America by Winery & Vineyard Management Magazine.
At the recent opening of their latest venture, Ocean's Daughter Distillery, the Roberts family announced that their spirits will benefit the first International Mermaid Museum, a project they are spearheading with construction slated for 2020.
Family-friendly Westport Winery Garden Resort, the Sea Glass Grill, and Ocean's Daughter Distillery are located halfway between Aberdeen and Westport in coastal Washington State. In Oregon, the family operates Westport Winery Seaside, Seaside Kites and Westport Winery Seaside Retreat. Information on these ventures is online at www.westportwinery.com.