This November, Louisa LaRose, a 16-year-old student at Tumwater High School, has been selected to sing in the NAfME All-National Honor Ensembles (ANHE), an annual showcase of the nation's most accomplished and talented high school musicians. Louisa, a passionate and dedicated musician, has performed in many choirs, from school choirs, to the All-Northwest Honor Choir in Portland, Oregon.
Louisa's participation in the All-National Honor Ensembles will be the first time in several years that a musician from Thurston County has joined this prestigious program. The National Honor Ensembles consists of six performances, each directed by top conductors in their field. This year, Mixed Choir, the ensemble Louisa is participating in, will be conducted by Tesfa Wondemagegnehu. Along with Mixed Choir, AHNE is also comprised of five other ensembles: Concert Band, Symphony Orchestra, Jazz Ensemble, Guitar Ensemble and Modern Band. This year, the performances will take place at the Gaylord Palms Resort & Convention Center in Orlando, Florida, with the six performances split between two days, November 9 and November 10.
A lifelong singer, Louisa has been involved in choirs since she was five years old, beginning with her participation in the Olympia Youth Chorus and continuing on to sing in school choirs upon beginning middle school. Now, a junior in high school, she takes classes full-time at South Puget Sound Community College through Running Start. However, she still participates actively in the music programs at Tumwater High School, singing in both concert choir and chamber choir. Last year, Louisa was accepted to the Washington State Honor Choir, and subsequently, the All-Northwest Honor Choir. Two months after returning home from the All-Northwest Honor Choir, she received an email stating she was eligible for the All-National Honor Choir. After applying, she received confirmation, and will be joining three other students from Washington State to join the All-National Honor Choir this year.
While anticipating her upcoming performance, Louisa's mother Rochelle LaRose has been helping her practice her music, which ranges from choral to gospel songs. Recognizing the value of music and expressive arts, Louisa's family has fostered and supported her many talents, encouraging her to pursue the arts and enrolling her in creative activities since childhood. Louisa will be accompanied to Orlando, Florida, for the National Honor Choir by her mother, her aunt and her grandmother. During their trip, her family also plans on visiting Disney World together. "I've got a wonderful support system," says Louisa.
Along with her family, Louisa has many strong relationships in the community. When I met her at Tumwater High School, she was accompanied by her school's choir director Rachel Landowsky. Also from a musical family, Rachel joined Tumwater High School seven years ago after teaching in the North Thurston School District. Louisa has worked with Rachel since she was in middle school, when Rachel visited Louisa's class. "She's a fabulous soloist, and she's an excellent section singer as well," Rachel tells me. When asked about her favorite part of singing in a choir, Louisa mentioned a fact that Rachel had told her: that when singing in a choir, the singers' voices don't only synchronize, but so do their heartbeats.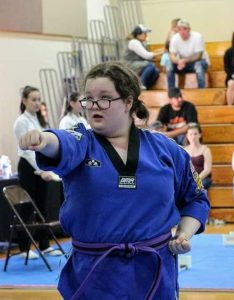 Other influential community members include choir directors Cynthia Dinsmore and Nadine Bozeman, and Louisa's private voice instructors, Denise Daverso and Brianna Cramer. Rachel and Louisa also spoke about the importance of the local music community. "Our little community is very close, and it's exciting to have that knowledge going to nationals," Rachel remarks.
Outside of singing, Louisa is still a very active member of her local community. During the academic year, she participates in theatre through her high school and acts with Creative Theatre Experience over the summers. Creative Theatre Experience, which Louisa has been a part of since she was about five, is a non-profit children's theatre education program that offers workshops in theatre, dance, art and music over the summer, ending the season with a final performance. This last summer, Louisa acted in Newsies, a musical about the newsboys strike of 1899.
Louisa is also a green belt in tae kwon do, plays the ukulele, and loves to do visual art and read. After she is done with high school, Louisa plans to go on to get her degree in the arts. She eventually aspires to become a teacher, possibly teaching elementary school music. Regardless, Louisa's current accomplishments make it clear that she has an exciting future ahead of her, and will continue contributing to the arts and culture of our community.