Anniversaries are a fun time to look back over shared history, mementos and experiences. Since 1922, the Port of Olympia has helped Thurston County grow through expansion of industry, jobs, and continued investment. With their centennial right around the corner, Port officials are simultaneously looking back and planning for the future of this thriving regional consortium.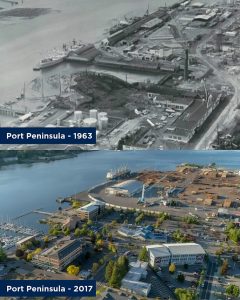 Port historians explain that "The first contact between Native American and European people came with the arrival of British Navy Lieutenant Peter Puget as part of the 1792 expedition of Captain George Vancouver. In 1831, the British Hudson's Bay Company established the first settlement in the South Sound area at Nisqually. Ten years later, the first United States expedition arrived, and in 1845-1846, American pioneers established settlements at Tumwater and Olympia."
Nearly 75 years later, on November 7, 1922, the Port of Olympia was established by a vote of the people. Local business members and organizations rallied together to create what was then strictly a marine terminal that dealt primarily with lumber. . Founded in 1874, "The Thurston County Chamber of Commerce actively led the campaign for forming the Port District," " explains Communications, Marketing, and Outreach Manager Jennie Foglia-Jones. "We've had a strong relationship with the Chamber since our inception."
"Now 97 years later," says Foglia-Jones, "forestry products are still our main cargo at the marine terminal. Over the years, the Port began operations of various other business lines. In 1963 we purchased the Olympia Regional Airport and in 1983 developed Swantown Marina." All of this has been with the goal of economic development and the creation of family-wage jobs. A freestanding entity, the Port "has the authority to invest in ways other agencies can't, and can obtain funding other agencies aren't eligible for," she adds.
Perhaps the most visible is tourism. Whether it's the Olympia Farmers Market, Olympia Brew Fest, Harbor Days, or the Olympic Airshow, Port supported events and investments bring in visitors from across the state.
Though ports originally started in the early days of railroad expansion, the Port of Olympia has evolved into so much more. Whether brewing, distilling, and agribusiness or the international shipment of dairy cattle, the Port has been "a staple of Thurston County for so many years," says Foglia-Jones. "The Port played a role in the growth of downtown Olympia and Thurston County, and continues to do so today."
In their celebration of the Port's first 75 years, researchers Shanna Stevenson and Chuck Fowler recount how "the Port of Olympia has evolved from its maritime beginnings to become a multi-faceted public enterprise serving all of Thurston County…From cargoes of oysters and petroglyphs to shipments of canned goods and cattle, the Port of Olympia has been an important transportation link from the Capital City and Thurston County, providing an integral part of the area's economy, and has indeed added romance at Olympia's front door to the world."
1922 saw the development of medicinal insulin, discovery of King Tut's tomb and dedication of the Lincoln memorial in Washington D.C. A first class stamp cost only two cents under the presidency of Warren G. Harding. Stevenson and Fowler trace how "today's Port of Olympia bears little resemblance to the newly-formed Port of 1922. Similarly, on its 100th anniversary in 2022, the Port will experience significant changes as it continues to adapt to the rapidly changing world ahead. But the Port's founding purpose will remain consistent…meeting the needs of the Port District's and Thurston County's residents to provide ever stronger, continually diverse economic opportunities."
Time has a way of linking us together. Ships that come and go through downtown waters provide jobs, goods, and materials. Port properties host small businesses, parks, restaurants and more. Wherever you live, work, and play in Thurston County, chances are there's a Port of Olympia investment just around the corner.
Want to learn more? Visit the Port's Website, Facebook, Instagram, and Twitter accounts. Also, keep an eye out for upcoming centennial celebration opportunities.
Questions? Send a message to Port staff or give them a call at 360-528-8000.
Sponsored