The Sisters of Providence brought health care to Southwest Washington more than 130 years ago. Providence came to the Thurston County community in 1887. Providence St. Peter Hospital is the largest hospital in Southwest Washington, serving a population of about 500,000, with half living in the greater Olympia/Thurston County area and the rest in four surrounding rural counties.
The business license for Providence is the second oldest in Washington, behind only the railroad.
Providence is proud to be part of our community. Driven by our Mission, last year, Providence provided $67.2 million in community benefit to make sustainable improvements in the health of our communities throughout Southwest Washington. Building on our commitment to care for those who are poor and vulnerable, this included more than $12 million in free and discounted care for those in need. Spending related to the unpaid costs of Medicaid was nearly $45 million.
In 2018, there were:
More than 66,000 visits to the Emergency Department
2,297 babies born in the Family Birth Center
19,846 inpatient admissions
Nearly 400,000 outpatient visits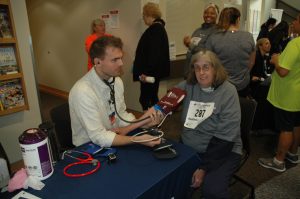 Outside the hospital walls, there were thousands of patients seen in the Providence Medical Group clinics in Thurston County; hundreds of patients treated at the Providence Cancer Center in Lacey, part of the Providence Regional Cancer System; many elderly who recover and live in Providence Mother Joseph Care Center, part of Providence Senior and Community Services, who would have nowhere else to go without Providence; and countless hours spent with those in their most vulnerable time by the nurses of Providence SoundHome Care and Hospice.
Providing more access to primary care is a critical component of health care. Providence has invested hundreds of thousands of dollars in a family medicine residency program in Olympia that is training the next wave of primary care providers. The program is also expanding to Summit Pacific Medical Center in Grays Harbor County.
This fall, Providence teamed with Neighborcare to open a dental clinic in Olympia (including a dental residency program) to offer much-needed dental services to the underserved.
At no cost, the navigators at the Providence Regional Cancer System guide patients and their families through the difficult process of a cancer diagnosis into survivorship; and the dedicated professionals of our medication assistance program save our patients millions of dollars annually in drug costs.
Providence is the largest private employer in Thurston County, with about 3,000 caregivers. Our employees hold elected offices, serve on boards and coach local sports teams throughout the area. For the 25th straight year, Providence caregivers participated recently in the United Way Day of Caring, helping maintain safe housing at a Homes First site in Olympia.
We honor and serve those caregivers with excellent wages and benefit's packages: including medical, dental, vision, retirement accounts and more. We offer Caregiver Assistance Programs for those in need tuition reimbursement for those furthering their careers, and discounts on products/services locally and nationally.
Recently, Providence St. Peter has garnered many local and national patient safety/quality awards. The hospital:
Was named 2019 Best Regional Hospital in US News and World Report
Earned the 2019 Get With The Guidelines® – Stroke Gold Plus Quality Achievement Award; Heart Failure Gold Plus Quality Achievement Award; and also qualified for recognition on the Target: Stroke Elite Plus Honor Roll
Has been Magnet Nursing Excellence designated by the American Nurses Credentialing Center since 2010. St. Peter is one of three hospitals in the state and less than 10% of hospitals in the nation earn this designation
Is a multiple large business winner of the Thurston County Chamber Green Business Award. Recently, the hospital was named Practice Greenhealth 2019 Environmental Excellence Award for Greening the OR (fourth time receiving this award); and Practice Greenhealth 2019 Partner for Change Award (eighth time receiving this award).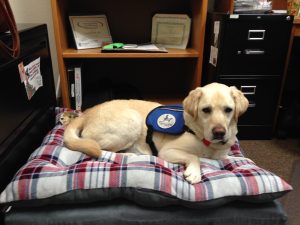 Beyond the numbers, Providence remains steadfast in serving all. We work diligently to support services and programs that extend beyond the traditional hospital setting, and collaborate with community partners to address the greatest needs in our communities. Knowing we can't do this alone, we thank our caregivers and community partners for their compassion, collaboration and goodwill. It is our privilege to work together to build healthy communities.
In Lacey, Providence caregivers at the Providence Sexual Assault Clinic – Lacey labor in conjunction with law enforcement, prosecutors, DSHS, and more – serving about 350 patients each year (more than 70 percent of which are children) at the Monarch Children's Justice & Advocacy Center. This model works to reduce the incidence and impact of child abuse by providing a coordinated, multidisciplinary response to victims of child abuse and their families.
In 2017, Providence teamed with multiple organizations to open the Providence Community Care Center in Olympia, serving some of the most vulnerable in our community. The center provides a single point of access for street-dependent individuals needing access to behavioral health, substance abuse, housing, and many other services.
Free screenings at South Sound Breast Center, chemical dependency services, diabetes education and many other services are provided by Providence in Southwest Washington despite a financial loss because they fulfill critical care and service gaps in the community. It is a blessing to continue to carry out the Mission of the Sisters here in Southwest Washington in service to our community.
Sponsored