Americans love to shop local, dine local and give local. For many, that means supporting businesses, restaurants, and charities near and dear to our hearts…literally and figuratively. But thanks to the Community Foundation of South Puget Sound, you can Give Local to the very ground beneath your feet. This annual grant program strengthens nonprofits across the region and thanks to recipients like the Nisqually Land Trust strengthens our environmental economy as well.
Give Local is described by its founders as "part of the Community Foundation's efforts to grow community philanthropy. Our goals for Give Local are to inspire more local giving, while helping build awareness and support for nonprofits in the South Puget Sound…Give Local is just one part of the Community Foundation's efforts to invest in the future of Thurston, Mason and Lewis Counties. It's an opportunity for the community to come together and give generously to nonprofit organizations that make our region a healthier and more vibrant place to live."
At the Nisqually Land Trust, their mission benefits "the water, wildlife and people of the Nisqually River Watershed…we own, protect and steward 7,450 acres in the watershed and have planted over 300,000 native trees and shrubs on our properties. Our work is enhanced by partnerships with state and federal natural-resource agencies, the Nisqually Indian Tribe, and a network of nonprofits, businesses, individuals and community partners. Our guiding ethic is cooperative conservation—we acquire land only from willing sellers and donors, we work closely with local communities, we cultivate partners, and we strive to connect people to our land."
This is the third year that the Trust has received Community Foundation grants. Initially monies were used toward expanding communication options, branding, and for the creation of newsletters and an official annual report. Subsequent funds enhanced their popular public nature walk series, which invites students, community groups and individuals to explore our gorgeous Nisqually River Watershed.
Wandering trails is "the best way to understand what we're doing," say Executive Director Joe Kane and Development Manager Susan Callender. You can explore growth planted a decade ago as well as what was planted last week. It truly provides "greater understanding and support for our organization," says Kane. Since they've started, more than 1,000 participants have enjoyed these curated, guided and occasionally soggy walks.
The Watershed is more than simply lands around the Nisqually River Delta. Trust staff "work closely with the U.S. Fish and Wildlife service who run the Billy Frank Jr. Nisqually National Wildlife Refuge," explains Kane. But the Watershed itself begins at Mt. Rainier and runs continuously until it reaches Puget Sound. "It really makes a difference to get people out on the property," explains Callender.
Kane agrees, "People really feel that connection to Mount Rainier and the region."
With this year's Give Local grant, the Trust hopes to add 10 more nature walks and expand partnerships that bring in larger audiences for visits and educational opportunities. From tours of the Nisqually Indian Tribe's Community Garden to what Callender calls "all-weather, indoor field trips" like their Introduction to Lichens class, they've found that guests often become much needed, much appreciated volunteers.
These include everyone from Thurston County Girl Scout troops to school kids on muddy outdoor field trips. Supervised by an AmeriCorps volunteer coordinator, 688 students visited Trust properties in Thurston and Pierce counties last year alone. Interested? Find volunteer opportunities galore indoors and out.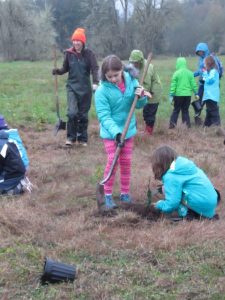 In the future, Kane and his team hope to expand their Marine Conservation Initiative and orca recovery programs. The Initiative supports shoreline protection to benefit salmon and the endangered orcas that desperately rely on them. "Healthy shorelines provide food," says Kane, "for humans and animals alike."
Along with the Nisqually Indian Tribe, their lead partner, they've hosted state legislators, donors, and potential partners on tours and cruises of the Puget Sound to encourage support and continued advocacy. "We keep business lean, with management costs under 5 percent," says Kane, which allows money raised to go straight back into land purchases, habitat restoration and education.
Want to know more? Enjoy drone flyovers of the Ohop Creek Restoration Project courtesy of Embry-Riddle Aeronautical University or the Community Forest, 640 acres near Ashford, courtesy of the Nisqually Department of Natural Resources. Then sign up for the Trust's newsletter of events, classes, activities and ways to donate.
Chief Seattle once said that, "Humankind has not woven the web of life. We are but one thread within it. Whatever we do to the web, we do to ourselves. All things are bound together. All things connect." Partnerships between entities, organizations, people, and cultures are the true warp and weft; we're all interconnected.