Influenced by dishes he cooked with his family while growing up in Lebanon, Habib Serhan offers over a dozen products inspired by Middle Eastern cuisine at Exquisite N' Traditional. Based in Tumwater, Exquisite N' Traditional was established by Serhan in 2010. From hummus to falafel, Exquisite N' Traditional can be found at a number of regional grocers, including Spud's Produce Market.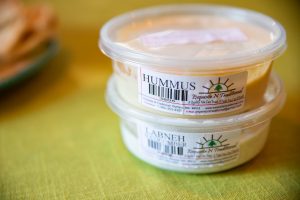 Serhan began Exquisite N' Traditional at the suggestion of friends, after they tasted his baklava at a get together. Starting the business with only the one dessert, expansion into additional dishes arose while visiting with customers at local grocery stores. "I was doing demos, trying to promote the baklava and people started to ask if that is the only thing I make," explains Serhan.
Requests from customers sent Serhan back into the test kitchen, where he developed his hummus recipe, which includes garbanzo beans, lemon juice, olive oil, fresh garlic cloves and tahini. In addition to the original hummus flavor, Exquisite N' Traditional now offers roasted red pepper hummus, cilantro jalapeno, lemon thyme and extra garlic varieties.
Exquisite N' Traditional also makes labneh, a yogurt dip with olive oil, sea salt and garlic, and labneh with cucumber, which also includes dried mint. Exquisite N' Traditional's tabbouleh is a mix of parsley, tomato, lettuce, onion, cracked wheat, olive oil, lemon and mint, which can be served over rice, falafel, barbecue or enjoyed on its own.
The newest addition to Exquisite N' Traditional's menu is the falafel wrap. The wrap includes baked falafel, vegetables and a yogurt sauce wrapped in an organic tortilla. Serhan says the falafel is baked instead of fried to make the wrap a healthier option.
Growing up in Lebanon, Serhan comes from a long line of culinary aficionados, including his mother and his grandparents. A love and interest in the culinary arts was instilled in Serhan from a young age. "I spent a lot of time with my mom," says Serhan. "My dad worked a lot and so I spent a lot of time watching her and my grandma and my other grandma. Then I came to the US and I was on my own and so I had to cook."
For Serhan, Exquisite N' Traditional is also a connection to his grandfather, following in the footsteps of prior generations. "I come from Lebanon and in Lebanon, usually the oldest son will name his oldest son after the grandpa," explains Serhan. "So, my dad is the oldest and I am the oldest, so I have my grandpa's full name. He died early. My dad was 10-years-old when my grandpa passed away. But he used to make Middle Eastern desserts, baklava. I don't know if that's in the blood or what."
While on the Exquisite N' Traditional delivery route, Serhan discovered Spud's Produce Market. He decided to visit the store, introduce himself and leave samples of his products to try. Soon after, Spud's began stocking Exquisite N' Traditional's hummus and tabbouleh, eventually carrying labneh, as well. When Spud's opened up its second location in Tumwater, the Exquisite N' Traditional selection was also expanded by popular demand to include falafel and the falafel wrap.
"That was an encouragement that they like our service, our products," says Serhan. "They were happy to carry it in their second store they opened."
After nine years in operation, Serhan says he enjoys Exquisite N' Traditional because he is able to spend more time with his wife, who also works for the business, and because of the connections he is able to make within the community. "I enjoy having my own business, seeing the people really appreciate what I'm doing," says Serhan. "Because I do walk into Spud's or the co-op and they see me carrying the stuff and they're like, 'oh you're the one who makes that excellent hummus, thank you!'"
Serhan also appreciates the customer stories he receives about how his products have made a difference. "I've been getting emails saying, 'thank you for this great hummus, we finally got our kids to eat veggies,' or 'I've been in the Middle East all my life and this is better than the one I had in Turkey,'" explains Serhan. "So, that kind of thing encourages us and gives us a boost of energy, so we can see what else we can do. How we can improve what we're doing and continue serving our community."
To learn more about Serhan's dishes, visit the Exquisite N' Traditional website. To learn more about Spud's selections, visit the Spud's Produce Market website.
Sponsored