Welcome back, Kerri and Jean-Pierre Simon. We've missed you these past 10 years. The culinary couple has (re)opened their own restaurant in the oldest standing building in Tumwater. It was built in 1897 near the old brewery. What was once Jean-Pierre's Garden Room has been transformed to Jean-Pierre's three16.

"Jean-Pierre is at a completely different level," said Kerri, referring to his talents in the kitchen. Jean-Pierre added that he appreciates the time he spent in the kitchens at the Red Wind and Lucky Eagle Casinos over the past decade. He was able to practice his craft, experiment with new ingredients and expand his repertoire. Long time fans were already enamored with his French-influenced cooking. Now everyone gets something new, too. His style is a marriage of classic French cuisine with a Northwest flair.
Last summer, the couple visited Champagne, France, where Jean-Pierre is from and still has family. "It was beautiful," Kerri remembers. In the company of relatives and friends, they sipped their share of bubbly elixirs and, according to Kerri, "ate a lot of wonderful food." That's what they are now bringing to you.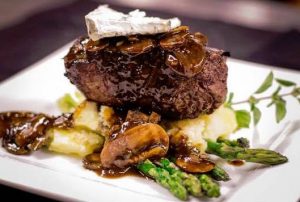 There are a few menu holdovers from their Garden Room menu including the filet mignon, lamb chops, a preparation of chicken wellington, and the ever popular roasted garlic and cream soup. Jean-Pierre's three16 prefers to do as much local business as possible using duck eggs and meats from area vendors, and organic produce comes from Ellis Creek Farm. Briney Sea Delicacies supplies smoked fish. It will take you a little time to read through all your meal choices.
For a special occasion, you and up to seven of your friends can have a splendid experience by reserving the Chef's Table. It is a separate room where a luscious eight-course farm-to-fork meal will be served. The foods will be seasonal and fresh, so the courses will vary throughout the year. For an additional cost, guests may add wine and whiskey pairings (all diners in a group are not required to participate.)
Great attention is given to the quality of service, which is detailed and intentional. The staff participates in on-going training. For example, one Monday afternoon when the restaurant was closed, Vehrs Distributing was on hand for wine education and tasting. Jean-Pierre prepared food and various wines were sampled. It is important to be well versed in the restaurant's offerings. The staff is also trained to understand all the items on the menu. "Not everyone is going to love everything," said Kerri, "but they need to understand it."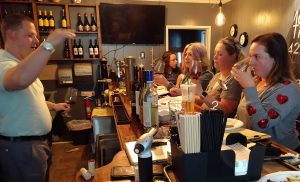 The restaurant is intimate yet offers a few different seating options. The library has high tables and is adjacent to the bar. Kerri serves this area, which is usually lively and very social. The main dining room is slightly more subdued and suitable for easy flowing conversations. The cozy bar has its own two tables which are overseen by bar manager Mickey, who may be found wearing a kilt. "We want to exceed your expectations," explained Kerri. Plan to spend an hour and a half or two for your evening meal.
The formerly cramped kitchen has been remodeled to about four times its original size. This makes prep work easier and also gives a place for pastry chef Sky Simon to create. Her sister, Airyl Simon, is the kitchen manager and sous chef. The Simons' other daughter, Brittani Cleeves, is a landscaper but also works at the restaurant as a cold chef. It is literally a family business.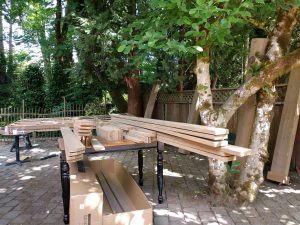 The large patio area is being renovated to take advantage of the lovely, outdoor space. Diners will enjoy the covered seating and the beauty of the surrounding trees. The patio will have a special food and beverage menu.
Owning a restaurant is an intense, demanding profession. The Simons have spent their lives immersed with planning, preparing, cooking, and serving. Jean-Pierre's three16 is a testament to their desires to share wonderful food in a relaxed and competent atmosphere. "We love it. We love what we do," expressed Kerri.
Tables are limited, so it is a good idea to make a reservation. Kerri suggests starting your dining experience with a glass of champagne. It's time to relax. Let yourself be served. Jean-Pierre's three16 is open from Wednesday through Sunday from 5:00 p.m. to 10:00 p.m.