At the second annual local Women Build event, gals from the Thurston County region joined forces to construct South Puget Sound Habitat for Humanity homes, while raising awareness for low-income families seeking affordable housing. Throughout the five-day event, volunteers, sponsors and Habitat homeowners rolled up their sleeves to build homes, paint frame walls, lay sod, and so much more aiding in the construction of the new Lacey Habitat development, Deyoe Vista.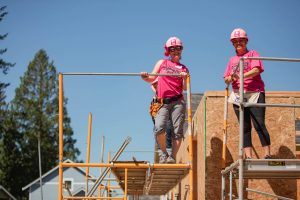 South Puget Sound Habitat for Humanity works with local families to make housing affordable and to forge a path to home ownership for low-income residents of Thurston County. To qualify, applicants must live or work in Thurston County, make between 30 to 80 percent of the area's median income and contribute 500 hours of "sweat equity."
Potential Habitat homeowners must also attend a class pertaining to home ownership and volunteer with the organization. "Habitat doesn't give anything away," explains Shawna Dutton, director of development for South Puget Sound Habitat for Humanity. "What we do is provide an affordable path to home ownership for our families by selling our homes at low to no interest and we keep the construction costs low by leveraging partnerships and using volunteer labor. In lieu of a big down payment, which is prohibitive for so many of our families since they are in that low-income bracket, we ask them to put in 500 hours of sweat equity. They're here right alongside of us building their future home, their neighborhood, their community and that's in lieu of a down payment."
Scheduled around Mother's Day, Women Build allows our female volunteers to don a hard hat and help directly combat the affordable housing crisis in Thurston County. In addition to creating more housing, Women Build also helps to raise awareness for those most affected by poverty: women and children. "Over Sixty percent of Habitat homeowners are single moms with kids under ten when they apply," says Dutton. "So, we are raising awareness about the struggle women, especially women with children, face to find safe and affordable housing."
With Women Build, volunteers had a chance to work in the field, constructing houses for the South Puget Sound Habitat affiliate. Between framing, cutting studs and raising walls, this event was a departure from volunteering in the Habitat office or store. "We want to be inclusive of everyone that's out here who is building our homes and have it be reflective of the people that are moving into them," explains Dutton.
In addition to women volunteers, several local sponsors came through to help make Women Build possible. Olympia Federal Savings, Harbor Wholesale Foods, Extreme Excavation and Knight Fire Protection contributed financial donations and supplies to the building site. In addition to donations, employers like Twin Star Credit Union sponsored local employees to volunteer for the event.
At this year's Women Build, volunteers helped with the creation of the South Sound Habitat's newest development, Deyoe Vista. Still under construction, the finished property will feature 33 new Habitat homes, 2 playgrounds and a community garden. "We are about half way through the development right now," says Dutton. "There are 16 homeowners currently out here, and we are just finishing up 5 houses right now and we will be pouring 3 more foundations in the fall."
For Habitat homeowner, Kristy, Women Build was a twofold excitement. One, because volunteers continued construction on her future home and two, because she also got to help build it. With an anticipated move-in date in July, Kristy has put in over 200 hours of construction at the current Lacey build site. "It's very fulfilling to help put your hands on and build your own home," says Kristy, Habitat for Humanity homeowner and volunteer at Women Build. "I came back out here to be a part of it because as a single mom, I'm very much believe that women can be very strong and I'm huge into that. They're so nice, encouraging and strong."
The Women Build event is important because it helps families like Kristy's find a permanent and safe affordable home when limited options are available. "It feels fantastic," says Kristy. "It makes a huge difference. I'm a single mom. I have twin boys with autism and it's hard to find resources and help. We were literally going to be homeless. I didn't know what we were going to do."
Throughout the week of Women Build, friendships were forged, homes were constructed and a new community created, with a bond that will remain long after the last piece of lumber is set in place. "It dawned on me this whole event not only impacts the future homeowners, but the participants, as well," says Brian Saraceno-Oliveri, volunteer coordinator for South Puget Sound Habitat for Humanity. "We're not only changing lives here at this development and the families here in this community, but others who participate, as well. And it just resonates with them and they're able to take this experience with them for the rest of their lives. It's really powerful."
To learn more about current construction projects and about the Women Build event, visit the South Puget Sound Habitat for Humanity website or email shawna@spshabitat.org
Sponsored