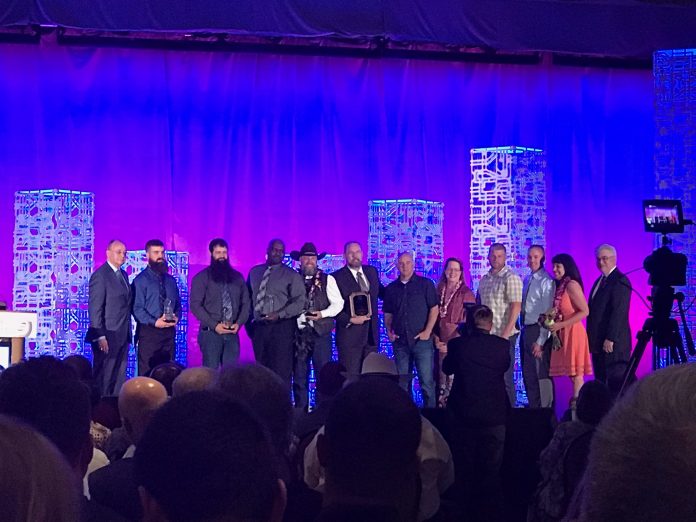 Submitted by Intercity Transit
Intercity Transit driver Rob Wood was named best bus driver in North America at the American Public Transit Association's 44th Annual International Bus Roadeo earlier this week in Louisville, Kentucky.  Wood, along with Intercity Transit's maintenance team of Joe Bell, James Bush and Grant Swidecki took second place in the Grand Champion team competition. The Roadeo is an annual competition of driving skills and maintenance disciplines where transit agencies across the United States and Canada send their best to compete.
"We're so proud of our team," says Ann Freeman-Manzanares, Intercity Transit General Manager.  "The Roadeo
really highlights the dedication and excellent skills of our incredibly talented bus drivers and mechanics. Coming in first and second at this competition is a true demonstration of just how great they are at what they do."
Drivers showcase their safe driving skills with a timed pre-trip vehicle inspection and navigating eleven obstacles within seven minutes in a 40 foot bus.
"Being recognized as the best operator in North America is an extremely surreal experience," says Rob Wood, Intercity Transit Coach Operator who beat out 78 other competitors to win the first-place award. Wood adds that many others at work and home helped him with their support, coaching and encouragement. "Three years of practice perfecting my competition driving skills finally paid off!"
Intercity Transit's maintenance team competed in eight timed disciplines taking first place in the written test event. The team placed 13th in a field of 38 competitive teams.
Intercity Transit driver David Randall placed 27th in the 40 foot division, and Dan Savage, placed 15th in the Body on Chassis/paratransit division.
Intercity Transit provides more than 5 million boardings a year with a fleet of 79 coaches (29, 35 and 40 foot-long buses) and 47 paratransit vans. There are 18 local and two Express routes between Olympia and Tacoma. To see what goes on in the day of a bus driver, watch "A day in the life of a bus."