If any of the opposing teams in the 4A South Puget Sound League believed scoring goals on Olympia last year was going to be considerably easier following the graduation of goalkeeper Matteo Del Giudice, Sawyer Price was on hand to show them just how wrong that line of thinking was.
A year after Del Giudice led the Bears to the Class 4A state playoffs, Price took over the role as Olympia's starting keeper in 2018 and proceeded to duplicate the feat.
Playing in arguably the toughest league in the state, Price was exceptional during his junior campaign, averaging five saves a contest and recording four shutouts as the Bears simply swapped out one first-team all-league goalkeeper with another.
"One of Sawyer's first games (last year was against) a talented Bellarmine team," Olympia coach Ty Johnson said. "One of their strikers hit a laser from 18 (yards) out. Sawyer, in a full extension, lays out to his left for a save. He has the speed and athletic ability to hop back up for a rebound shot from 10 yards out to the other post."
It was plays like that that quickly showed Olympia wasn't going to experience any such decline in play on the defense side of the field.
But, according to Johnson, it wasn't about trying to replace Del Giudice last year. It was Price "being the best Sawyer," which was a challenge Price tackled head on the moment he knew he was going to be the Bears' starting goalkeeper.
"From the day the season ended my sophomore year I felt I was ready to step into those shoes," Price said. "The entire offseason I was just visualizing what the year could be like and how I was going to do it. I felt like I didn't let myself down. Nothing is perfect, but it went as well as I could have hoped for."
Now, with that valuable season of varsity experience under his belt, Price appears to be even better this year.
Through the first six matches, Price has already chalked up two shutouts, blanking rival Capital (4-0) in a non-league affair before holding 4A SPSL foe South Kitsap scoreless (3-0).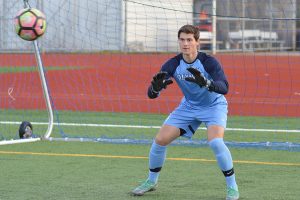 "Sawyer is very calm and composed," Johnson said. "He is a big time shot blocker and does not get rattled. He works hard in the offseason to be the best at his position. He takes constructive criticism and implements that into his play. (He) plays with confidence and provides a valuable security blanket to our back line."
Athletic, quick, collected, Price possesses all of these traits.
It's no wonder Northwest Nazarene University came calling. Price will play for the NCAA Division 2 school next season, but before he heads off to Nampa, Idaho, to suit up for the Nighthawks he has plenty of things remaining on his to do list this year. Namely guiding the Bears back to the state playoffs for a third consecutive season – something that hasn't been achieved at Olympia since 1998.
"(Sawyer) would have started all four years at any other school in the area," Johnson said. "He waited for his time to take over and he's made the most of it."
And the program is reaping the rewards of that.
While Price's play on the field has remained stellar over the last two seasons, the biggest improvement in his game this year, according to Johnson, is with his leadership as Price has been asked to take on a larger role. And just like his ability to make the spectacular save, Olympia is benefiting greatly from it.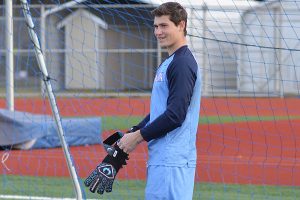 "Last year we had four seniors and I really didn't have a huge leadership role. I could just focus on being the guy in the back," Price said. "This year we've added the leadership on top of it, but every year in school it's supposed to get a little bit harder, a little bit more difficult and I felt like this was no different. I've never been a captain on a team before. This was the first time. So I was excited about it."
That excitement has now been transferred onto the field of play as the Bears look to contend for the 4A SPSL championship and another state playoff appearance.
"I've played club soccer since I was little and playing club is great," Price said, "but playing for Olympia, the city that I've grown up in, and playing for your school and having a student section there to cheer you on, it means a lot. Olympia is something bigger than the team and that's special and something you don't get playing club."