Sometimes, getting yourself in a jam is a bad thing. But luckily for you, Tipsy Piano Bar is hosting the kind of jam everyone likes to be in.  The "3rd Sunday Jazz" Jam brings local musicians together at their most relaxed and innovative.
Local singer, Joanne Green, hosts the jam accompanied by guitarist Brendon Keenan. Together, these two are known as the group, Almost Blue, but on the 3rd Sunday Jazz Jam, they are the backbone of the event. "I have lots of different singing styles," says Joanne, "but for this it is all the great jazz standards, Ella Fitzgerald, Frank Sinatra, Cole Porter, it's what I love to sing."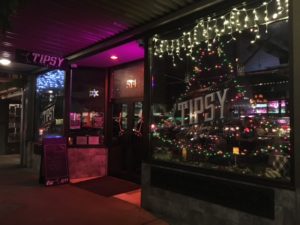 The "3rd Sunday Jazz Jam" at Tipsy will have something for musicians and patrons alike.  "Tipsy is a really warm and welcoming place," says Joanne. "It is my place to be serene and calm. And what they do here is just tremendous. Come and have dinner and drinks and sit down and listen to some jazz."
On Sundays, Tipsy offers Happy Hour pricing all day and, of course, their amazing New Orleans inspired menu. Add in the "3rd Sunday Jazz Jam" from 4:00 p.m. – 7:00 p.m. and wrapping up the weekend just got a little bit better.
All Musicians Welcome
If you're a performer, bring your sense of adventure and a good listening ear.  "Some people bring in sheet music to share with other players so they can join in," explains Joanne. "If you are being polite, you bring music that is suitable for other instruments, E Flat is a good one."
Joanne and Brendon also pull songs from iReal Pro, an online site that can be accessed from smartphones or tablets so musicians can use the same charts during the jam.
"It's kind of like an open mic," says Joanne, we usually have 3 or 4 horn players, space for a couple of amps for strings, and of course, the grand piano.  It's an easy way to come and fit in, just listen and jump in where you feel you can."
Give and Take – And Good Music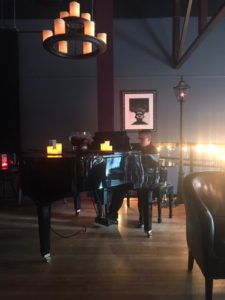 According to Joanne, a jam is a completely different experience from playing a rehearsed performance.
"You are definitely more in the moment," she shares. "People solo, then they turn to someone else and they get a chance to solo, there is a lot of give and take. And good music," she adds with a bright laugh. "That is where we are headed with all this."
Joanne credits her guitarist, Brandon Keenan with helping create the magic that elevates the jams from just musicians playing together to something spontaneous and creative. "Sometimes Brendon and I say, 'hey, we went to that place.'"
Audience Appreciation
Anyone can hear the marked difference between a studio recorded song and one recorded live. It is that relationship between the audience and the players that gives it an edge, an impulsiveness.  "When the music is really happening, and the audience is there, it's like a two-way street," says Joanne. "The musicians can feel the energy in the room and really appreciate the people there. The musicians are listening closely to each other, the audience is there, and you have this experience where the whole is greater than the sum of its parts."
Those unexpected, lovely moments aside, the "3rd Sunday Jazz Jam" is all about people having a good time and making good music.
"Even if people don't want to play," says Joanne, "just come and hang out. It is a really warm and encouraging place. And, if we have done our jobs, everyone has had a chance to express themselves."
Unexpected Moments
As we are wrapping up our conversation, Charlie Saibel walks in to Tipsy. He was the one that connected Joanne with the Tipsy owners, and has personally come out a couple times to join in the jam.
Even though Joanne is on her way out the door, she stops at the piano to chat. The next thing you know, the microphone is on and her warm alto voice fills the room along with a striding piano riff from Charlie. The patrons are surprised, and when the song ends, their applause fills the place. Smiling, Joanne waves as she walks out the door, just a sample of what's to come when she hosts the jam.
Make plans to join Joanne and Brendon, along with various musicians from around the area, for the "3rd Sunday Jazz Jam." For more information, visit the Tipsy website or give them a call at 360-915-7181.
Tipsy Piano Bar
514 Capitol Way, Olympia
Tuesday – Sunday: 11:00 a.m. to close
Sponsored