The pursuit of global sustainability is a thought that's always on the mind of the employees at Batdorf & Bronson Coffee Roasters. Although their efforts to maintain environmentally friendly business practices are in place year-round, this year's Earth Day has inspired them to create a new campaign celebrating sustainable practices that everyone can implement into their lives.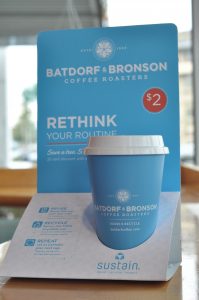 Earth Day falls on April 22 each year, but Batdorf & Bronson is planning a month-long campaign inspired by this holiday's global goal of supporting environmental protection. During this period beginning April 1, funds raised from retail purchases, up to $2,500 from each sales region in Olympia and Atlanta, Georgia, will be donated towards the efforts of Habitat for Humanity. This nonprofit housing organization works in local communities across all 50 states and in approximately 70 countries with a vision of a world where everyone has a decent place to live. "We've had great talks with Habitat in regards to this campaign," says Aaron Shively, operations director at Batdorf & Bronson. "This is our first partnership with them and if it goes really well, we'll continue to closely look at developing more campaigns that help bring awareness to causes that promote sustainable living that are at the core of our business model."
"Historically, Earth Day has been a big celebration at Batdorf & Bronson," shares Aaron. "What's new this year is the special campaign and partnership with Habitat for Humanity. Sustainable housing is very much a necessity to promote a friendly and healthy Earth. As a business, we've tried to think of constructive ways to help in the effort to create a better place for everyone in Thurston County and beyond." An all new reusable glass Keep Cup will also be released during the April campaign and be available for purchase at store locations and online.
In addition to this year's Earth Day campaign, Batdorf & Bronson has long been supporters of putting their efforts towards year-round sustainability. "We were the first 100 percent green coffee roasting company in the U.S.," says Jim Unzicker, maintenance engineer at Batdorf & Bronson. "In order to achieve this status, there have been a lot of implementations along the way." A few of their many sustainable practices in place today include having South Sound Solar install a made-in-Washingon solar panel system that powers six individual circuits used in the roasting, production, and packaging of their coffee; recycling or reusing thousands of burlap coffee bags; recycling or composting all products possible; utilizing natural hydrogen cleaning products; placing outdoor lighting systems on timers to reduce excessive energy use; and many more tactics. "Although we may need to spend a little more money to keep our business practices as green as possible," says Jim, "it's worth it to us in the long run."
Batdorf & Bronson has also implemented various ways that their customers can get involved in the green initiative. "We always try to encourage customers to bring in their own cup to our stores," explains Aaron. "With their own cup in hand, no matter the brand and whether it be ceramic, stainless steel or paper, customers will receive 25 cents off of their drink. This is an offer that we extend across all of our stores nationwide." Another offer that's extended to customers is to bring in their own bag when buying bulk coffee beans and receive a 25-cent discount on each pound of beans.
While the transition to sustainable practices isn't exactly brand new, it's important to be teaching the youth about ways that they can also lessen their environmental footprint. During springtime each year, teachers are eager to get their restless kids out of the classroom and participating on field trips within the community. "I've had the opportunity to speak to dozens of classes and bring them into our roasting facility," shares Jim. "It's great to see the kids interested in the practices that we have applied and to hear what they've done to reduce resources in their own lives. It's a real treat to be able to share information with young Olympia school kids and teachers."
With all of the effort that they've put into their green practices, Batdorf & Bronson has been awarded over the years. A few of those recognitions include:
Every aspect of Batdorf & Bronson aims to be more efficient stewards to the environment in order to help protect our planet for both ourselves and our future generations.
Follow B&B Coffee on Facebook for the latest on limited edition products and upcoming events or visit the Batdorf & Bronson website for more information on these products and locations.
Sponsored