Dr. Louise May never expected to end up practicing in Olympia. The newest surgeon at Capital Medical Center is a long way from her hometown of Washington D.C., but she and her husband Scott couldn't be happier with this new place they call home. While finishing up a vascular fellowship at Oregon Health & Science University, May began her job search in the Portland area. "Olympia wasn't on my radar until Dr. David Deitz recruited me and I came to visit," says May.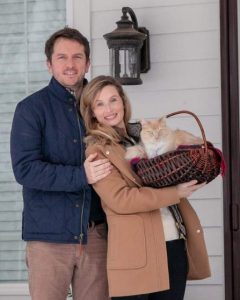 You see, Dr. Deitz did his own fellowship at OHSU and he knew that it was a great place to find highly skilled and qualified candidates. She was impressed with the practice that Dr. Deitz and Dr. David Tollefson have created. "Their practice has a great reputation and their patient-first philosophy of care aligned with my own values around medicine."
Dr. May's journey to Olympia took a few years and a lot of miles. She grew up in Washington D.C. and did her undergraduate work at Louisiana State University in Baton Rouge, Louisiana. Originally a French language major, she discovered her love for science and decided to be the first in a family of business majors to go to medical school. She attended the School of Medicine at LSU intending to focus on Primary Care. It was during a clinical rotation focused on vascular surgery that she fell in love with the complexity and attention to detail that is required of a vascular surgeon. "In some ways it is like plumbing and there is a physicality to it but there is also a highly cerebral aspect that I found compelling," shares May.
During her four years in medical school, May completed a month-long rotation at OHSU on the recommendation of a college friend who was from the Portland area. She stayed with her friend's family during her rotation and fell in love with the area, prompting her decision to do her vascular training at OHSU. While living in Portland she heard from a childhood friend who was working in Los Angeles at the time. They were neighbors whose families socialized and had even shared a carpool to school from time to time. "He had never been to Portland and came up for a visit since we both found ourselves living on the West Coast so far from home," says May. She was surprised that he wanted to visit, but is happy that he did as they will soon celebrate their second wedding anniversary!
When they came to visit Olympia, her husband fell in love with the area immediately. "He is a creative person working as a Creative Director for his company, he loves art and woodworking," says May. "Living in a place where we can afford a home with some land and a shop for his passions is a dream come true." Add in the scenery and a top-notch practice and they were sold. They enjoy the small-town feel of Olympia with all the amenities and healthcare of a larger city.
The concept of working in a private practice at South Sound Surgical Associates spoke to Dr. May's entrepreneurial spirit. Having the strong support and partnership of Capital Medical Center made it the perfect fit. May is the only vascular surgeon at CMC doing minimally invasive endovascular surgery along with more traditional surgery. All patients have an office visit with Dr. May prior to any surgery. "I always want to make sure that my patients are given a full explanation of what their surgery will entail and I listen to their questions and concerns," she explains. The whiteboard in her office allows her to provide visual examples to her patients. "I draw a lot of diagrams in here," says May laughing.
In addition to her surgical practice, May has started practicing at the Capital Advanced Wound Center. Among its treatment abilities, the wound center is designed to support patients who need regular dressing changes and monitoring. Many of the patients of the Wound Center are elderly patients suffering from the effects of diabetes and vascular issues. May enjoys working with the seniors that make up much of her patient population, however the clinic is open to all wounds including burn victims and those suffering from chronic wounds and immobility.
Along with maintaining their wooded property in Olympia's South Bay neighborhood, May has discovered the joy of rowing. A coxswain in high school, she had been around the sport but only in the roles of steering and cheering on the rowers in the boat. Once she began rowing at the Olympia Area Rowing center she was hooked and looks forward to spending many early summer mornings on the water.
For more information, visit the Capital Medical Center website.
Capital Medical Center
3900 Capital Medical Center Drive SW, Olympia
360-754-5858
Sponsored