Creativity takes courage. These are the words of famous impressionist Henri Matisse and they were on repeat in my head as I drove to the art studio of Michele and Nikki Bruchet. My book club had signed up for an evening group art class and I had enthusiastically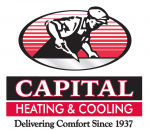 agreed to join in the fun. As the date neared, I began to worry about the fact that I have no artistic talent. I have never been good at painting or drawing and unless stick figures count as art, any attempts to recreate people or even a still life of fruit have been met with disappointment.
Despite lacking the ability to draw or paint, I have a great appreciation for art and artists and have long admired the work of Michele Bruchet. I had seen her paintings on display at my local fitness center and was enthralled by the deep colors and the variations in the paint itself. I learned that this style of painting was called an acrylic pour and had watched some videos of others painting in this manner. As the name suggests, the paint is poured over the canvas instead of being brushed on. Watching the process unfold online, I was cautiously optimistic that I could do it with some success.
We arrived at the studio on Steamboat Island for our class at 6:30 p.m. on a Thursday evening. Michele and her mother-in-law Nikki met us at the door and gave us a tour of their shared home. Gorgeous paintings awash with color filled the walls and excited us all for what was to come. The duo has been working together on this style of painting since 2017.
Michele Bruchet has been an artist for over 30 years. She began with crafts and mosaics, experimenting with jewelry and bird houses. Although she didn't have an art degree, she taught art at Kitsap Art in Silverdale. The owner of the studio intentionally chose teachers without art degrees because she didn't want anyone critiquing the students' work instead simply providing encouragement.
When Michele and her husband moved to Olympia, she began doing portraits of pets on a commissioned basis. "People send me photos of their dogs or cats and I am able to create a beautiful and frameable piece of their prized pet," shares Michele. She then began to experiment with an encaustic style of painting. Encaustic painting involves using heated wax and paint. Special tools can be used to shape the paint and manipulate the wax. Materials can be embedded in the wax creating a collage-type effect.
When Nikki Bruchet moved in with her son and daughter-in-law, Michele was eager to begin creating art together. Nikki began her life-long love of art with large-scale batiks. When they began experimenting with the acrylic pour, they were both hooked. "The encaustics are fun and beautiful but very difficult and time-consuming," explains Nikki. "The acrylic pour is so satisfying because everyone is different but they almost always turn out well."
This is what I was counting on as the class began. Nikki helped me choose my colors as I had a scheme in mind. We had recently re-tiled a bathroom and I wanted something to hang on a blank wall. Plus, I figured not too many people would see my painting hanging in an upstairs bathroom.
We all put a small amount of several colors of paint in Dixie cups adding some water to create the right consistency for the pour, which can also be called fluid art. Under the supervision of Michele and Nikki, we added a silicone product that would create cells within the pigment of the paint. The next step was combining all the paint together in a larger cup called a dirty pour. I did not volunteer to go first.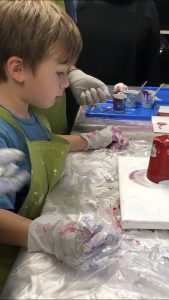 One of the best things about this fun class is that it is just as enjoyable to watch others doing their pours as it is to do your own. We all picked radically different colors and each painting turned out completely unique. It was simply amazing to watch the colors blend together and create works of art. The silicone "popped" the paint to create beautiful circles or cells of color. I chose a series of blues and a copper paint that blended together beautifully to look like metals in stone that you might find along a river bed. I absolutely loved my painting and was excited to bring it home.
Here is the good and bad news. The bad news is that you need to leave your painting at Bruchet Art for one week to dry completely. The good news is that Michele and Nikki will make sure that it dries evenly and is kept stable while you wait patiently to bring your masterpiece home.
Bruchet Art is currently offering several classes in the upcoming months. Each class is for six students so you can sign up with a friend or sign up solo and make some new friends. The way we did it was a lot of fun, taking up all six slots and having a private class for our group. This activity would be great for a birthday party or a family to have fun creating art together. My family was so surprised that it turned out so great. Art truly is for everyone!
For more information on how to sign up for classes or how to have a painting of your pet, visit Bruchet Art's website.