Time truly flies when you're having fun, and that seems to have been the case this past holiday season at Oly on Ice, presented by Olympia Auto Mall. It's already a new year and the City of Olympia's first ever ice rink has wrapped up for the season. For seven weeks, the rink was open to the community and it proved to be a huge success.
The staff at the City of Olympia's Parks, Arts and Recreation department worked hard to implement this new and exciting project at Isthmus Park, with support from city leadership and staff from across all city departments. And it was all possible with support from over 50 sponsors, media and program partners. Thanks to sponsorship dollars from organizations like the Olympia Auto Mall, Mary Bridge Children's Hospital & Health Network, and Propel Construction the parks department was able to offset costs needed for the rink, which was professionally managed by Ice Rink Events. The project is even expected to finish under budget.
Multiple businesses, community groups, and individuals came together to make Oly on Ice a memorable experience for all who were able to attend. Olympia Fit4Mom and the Family Support Center joined together at Oly on Ice on December 15 to connect with the community and sell raffle tickets for several prizes donated by local businesses.
"We raised $104 for the Family Support Center and more importantly, we got the word out about our organizations," says Kat Alves of Fit4Mom. "I was amazed by our community's generosity." Their partnership is just one example of many partnerships that helped to enhance the positive impact of Oly on Ice.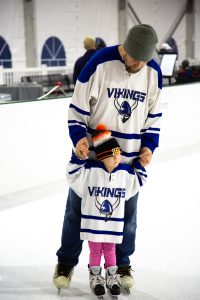 Thanks to local sponsorships, Oly on Ice was able to give 120 free skating passes to low-income youth and families through Community Action Council, Community Youth Services, Family Support Center of South Sound, and SafePlace. "We literally couldn't have done it without our sponsor partners," says Paul Simmons, Director of the City of Olympia Parks, Arts and Recreation department.
Oly on Ice attracted visitors of all ages from all over the South Sound. "It makes you feel nostalgic, it really brings you back in time," shares local parent Angela Christin, who brought her son and his friend to the rink for his birthday.
Overall attendance at Oly on Ice reached 20,415, more than double the expected number. Saturdays were the busiest days at the rink, with an average of 657 skaters. That was also including 1,500 military, first responder, and foster families, who received a discounted rate. Nearly 400 local elementary students also attended the rink for school field trips.
Families who came to skate were able to start a new and fun holiday tradition. "Instead of doing presents we do things together as cousins," shares local parent Maitri Edwards, who brought her family down to the rink for some holiday fun. "And it's nice because we don't have to go to Seattle."
The Capital High School Chamber Choir students volunteered to sing and entertain guests for Ugly Sweater Night on December 20, part of the rink's weekly themed Thursday events. Some other themed nights included Nutcracker on Ice with Ballet Northwest, Wizards on Ice with the South Sound Reading Foundation, and Superhero Night with Olympic Cards and Comics. Oly on Ice also hosted two Sensory Friendly Skates with South Sound Parent to Parent.
Because of the success of the first Oly on Ice, planning is already under way to bring the rink back for the 2019-20 holiday season. And the City is looking for ways to improve Oly on Ice for next time by possibly expanding the rink size and extending the length of the season. They also hope to add on-site concessions to the rink, and provide more complimentary passes for low-income families, made possible by sponsorship funds.
Oly on Ice was a special treat for the community during the holiday season, and it's been especially valuable for families and friends during these cold and dark winter months. Though the seasonal rink is done for the year, the Isthmus Park will still remain open to the community, with more seasonal activities in the works.
"As we look toward next season, new and continued partnerships will ensure that we can improve on the experience for skaters and non-skaters alike," shares Anna. Interested businesses and organizations that would like to partner with Oly on Ice for the next season can contact Anna directly at auyeda@ci.olympia.wa.us.
Sponsored