Nothing is better than the familiar sights and timeless smells of a warm, welcoming kitchen. It offers casual comfort, a cozy atmosphere, and the promise of tempting treats. At the new Miss Moffett's Comfort Kitchen, you'll find all that and more while shopping at west Olympia's Capital Mall.
Food and Wine Magazine predicts smaller-format restaurants and fast-casual eating will be top trends in 2019. At the Mall, you'll have two ideal Miss Moffett's options. Visit Miss Moffett's Mystical Cupcakes for sweet treats galore. Try one—if you can limit yourself—while wandering the stores then pick up a dozen to take home for later.
Mystical Cupcakes offers a menu of themed, vegan, gluten-free, Paleo, and Keto options as well as French macarons, cinnamon rolls, and cake by the slice. But if you're looking for something a little heartier, head towards their Comfort Kitchen, located by the Century Olympia movie theater entrance.
Full of comfy chairs, colorful accents, and a twinkling fireplace, the Comfort Kitchen opened for business on Saturday, December 22, 2018. They offer an array of artfully-crafted coffee drinks, baked goods, soups, salads, and Paninis. Much of their menu can be made vegan, gluten-free, or adjusted to suit most dietary needs.
The brainchild of baker Rachel Young and Chef Willis Maxfield, the Kitchen is just that, the birthplace of their budding culinary empire. It allows them to make, bake, and craft unique artisan specialties. They focus on Southern comfort food to honor Young's namesake great-grandmother who once ran a café of her own in Texas.
Young and Maxfield hope to be at the forefront of a movement celebrating "the rebirth and resurgence of the American shopping mall." They make everything from scratch, in-house, with a passion for healthy options that meet everyone's dietary needs. "Delicious comfort food can come in any variety," says Maxfield.
Though you may not need it—or even be able to tell from each delectable bite—many items are gluten-free, vegetarian, and/or vegan. That's definitely not the norm for mall fare, but they strive to make your visit about the whole experience, a destination in itself for locals and visitors alike.
But their destination feels like coming home and the pair hope to add entertainment to the line-up in the near future. Potential performers are encouraged to message the shop through Facebook or email missmoffetts@gmail.com with details.
They also welcome groups by hosting events and catering breakfast, lunch, or dinner by request. Young is even an active member of the Lacey City Council.
After the holidays, we're ready to hunker down and enjoy the warmth of family and friends. At the Comfort Kitchen, that's as simple as carrot thai soup or a turkey and pepper-jack sandwich with house-made bacon bourbon jam. Look for heartier additions like bread bowls, pot pies, hearty soups, and seasonal fruit pies to be added soon.
For those sticking to New Year's Resolutions, they just brought back their Keto-friendly egg bites. "You deserve to be nurtured," says Young, "to indulge and still be healthy."
Happy customers abound. Eddie Nelson, co-owner of Olympia Furniture Company who supplied the shop's eye-catching green sofa and loveseat, recently stopped by for a quick soup and sandwich meal. "I completely forgot my diet but totally worth it," he raved. "The bacon bourbon jam made that the best sandwich I think I've ever had. The food is amazing and the service is even better."
Not hungry but desperate for a mid-winter pick-me-up? Have the barista make you a cotton candy smoothie, Italian soda, or caramel java chip frappe. "Ashely Lieb, the barista extraordinaire, makes the best drinks," stresses customer Zené Snider. Twice during our brief interview, families delightedly interrupted with praise for the food, atmosphere, and rapport.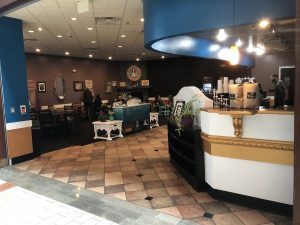 Miss Moffett's Comfort Kitchen opens an hour before the mall does so pop in early to avoid the crowds. Call your order in for quick turnaround or use UberEats, Grubhub, or Postmates. Soon you'll also be able to download a Comfort Kitchen app that lets you order and pay directly from your tablet or phone.
It usually takes time for somewhere to feel familiar. But sometimes that spark ignites in the first five minutes and keeps you coming back. Join the family and come home to Miss Moffett's Comfort Kitchen. And better yet, bring a friend, all are welcome in this kitchen.
Miss Moffett's Comfort Kitchen
625 Black Lake Blvd SW, Suite 516, Olympia
360-515-5531
Monday – Saturday: 9:00 a.m. – 9:00 p.m.
Sunday: 10:00 a.m. – 6:00 p.m.
Sponsored