It's no secret that the past few years have been hot ones in the residential real estate market of Thurston County. In terms of annual percentage increase in house prices, Olympia-Tumwater at 12.3 percent ranked 10th among 243 metropolitan areas tracked by the Federal Housing Finance Agency for the period ending 9/30/2018 (FHFA News Release, Nov 27, 2918, p 38). Homes selling as fast as agents could list them and prices rising dramatically have been the rule for some time, but change is coming. Real estate agent, Casey Jones, has some great ideas for buyers and sellers looking to negotiate the home real estate market as it begins to level out.
Sellers
"Sellers should not worry as the market begins to cool, especially if they keep in mind some useful strategies for staying competitive," says Jones.
Make Your Home More Appealing
Increased inventory means there are more homes competing for buyers' attention. This may mean making a few more investments upfront to help your home stand out. Small investments can pay off big time when they attract a buyer. A fresh coat of paint, inside and out, will go a long way to making a good first impression. "Neutral tones are best for a broader appeal," says Jones. Also, consider hiring a staging consultant who can make the home more appealing to potential buyers, especially if the home is vacant. The initial cost of staging your empty home can set you back about $1,200 to $1,500, but this small investment relative to your asking price can make a big difference. Hiring a professional photographer can also help your home put its best foot forward. Even simple strategies, like decluttering your home, and tidying the landscape up can make a big impact in the buyer's first impression. Don't underestimate the power of green grass and big, colorful potted plants on the front porch has for creating great curb appeal.
Price and Market Strategies
Patience is the key as the market cools down. "Buyers have more choices, so houses are not selling as fast," says Jones.  In October, homes priced at market took around 11 days to sell. This is up from eight days in May. "It will likely take longer in the next few months," Jones adds.Homes will take a few days on the market for the best offers to surface. It isn't necessary to immediately jump on the first offer.
Set your list price just below the top prices of competing homes. Now is not the time to reach for an unrealistic, high price. Otherwise, you risk missing ready buyers in your price range. "If a home is on the market too long, buyers will shy away from it, thinking it's overpriced, or something is wrong," Jones explains.
And be flexible on your price. There will be fewer competing offers as more inventory becomes available. Buyers want to feel that they've negotiated a price that is a little more reasonable than your asking price.
Do Some Work for the Buyer Ahead of Time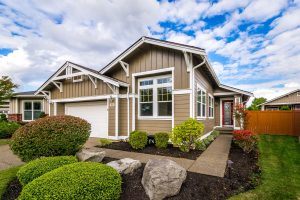 A pre-sale home inspection will cost about $400 to $500. Getting it done now will enable you to fix significant, but unknown repairs that your home needs. Let potential buyers see the inspection report and receipts for the repairs you have made. This will give them confidence that your home is in good condition. Let the buyer get their own inspection too, to give them even more confidence that your home is the one for them. "Full disclosure up front will facilitate negotiating repairs with the buyer," says Jones.
One more thing you can do as a seller is order and disclose a preliminary title insurance commitment and report. "The preliminary title report discloses whether there are any liens against the property or other potential problems with ownership title," explains Jones. This will give you the opportunity to eliminate any title issues and assure potential buyers that the ownership title will be clear.
A little work and investment ahead of time can go a long way toward getting your home sold.
Buyers
Buyers looking to take advantage of the more reasonable market should also keep some good strategies in mind.
Make Your Financing Stand Out
Work with a local, well-known, and reliable lender. "Prepare to make the biggest down payment you can afford," says Jones. A good down payment shows financial strength, and can save you money, by avoiding the costs of private mortgage insurance (PMI) if you can make a down payment of at least 20 percent. Using conventional financing and having your lender issue a loan pre-approval, with an underwriting review of your finances, can also help you stand out as a serious buyer.
Consider including a provision for an additional down payment, in case of low appraisal. "This assures the seller that you are strong financially and will not walk away from the purchase if the appraisal happens to come in lower than the agreed upon purchase price," advises Jones.
Take your Time and get a Good Look at Your Options
A cooler market means more time to look at potential homes . See at least 10 to 15 homes with your real estate agent. You have more choices and less probability of competing offers. New homes come on the market every day. "This will enable you to recognize readily good relative value in your price range," says Jones.
Offer Flexible Terms to the Seller

Another way to stand out as a buyer is to find out what the seller needs. Ask the selling agent. "For example, the seller may not want to move before school is out or until their next home has been found," says Jones. "Allowing the seller to stay in the home after closing under a rental agreement can be a very attractive prospect." Three to 30 days is the usual period for this arrangement. 
Don't Wait Around
Sellers are putting their homes on the market earlier in the year. While you want to take a good look at available homes, getting a jump start on the market by starting to look February, rather than waiting until spring, will likely provide you with a great inventory but less competition by other buyers.
Following these few simple strategies can pay off for buyers and sellers in this less frenzied market. If you are interested in buying or selling a home, and would like to speak to someone with years of professional expertise, give Casey Jones a call at 360.705.4449. He can help you understand how the current market applies to you.
Sponsored