As the mother of two daughters on the high school swim team, Tina regularly attended meets to cheer her girls on. However, she herself, had never learned how to swim. When the girls' coach discovered this, she invited Tina to enroll in the South Sound YMCA's adult swim program, where she also taught classes. With some trepidation, Tina agreed.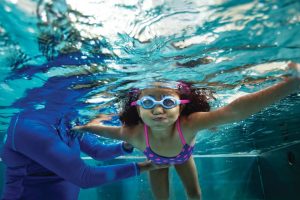 "She was very timid at first," says Jackie Barratt, South Sound YMCA aquatics coordinator. "In the beginning, she wouldn't put her face in the water.  But, every Saturday morning, for two years, she came to practice."
Today, Tina volunteers at the Y to help other adults who, like her, never learned how to swim when they were younger. Her story is just one example of the small and large victories achieved by both children and adults through the Y's swim program. Classes include:  lessons for parents of children under 3-years-old, who accompany their children into the water, courses for children ages 3-13, and a teen and adult class. "About 90 percent of our participants are between 3 and 13," says Barratt.
When Fu-Shin Lee found out that the Y was offering free adult swim lessons on Saturday mornings, she thought it was the perfect opportunity for her to get back in the water and learn how to swim. Lee likes that the instructors are different each time she's there and they all offer useful swimming tips and techniques. She thinks learning to swim as an adult is a great way to exercise and stay active, while getting more comfortable in the water. Lee says she's "slowly getting better at swimming" and plans on signing up next session.
Each session includes eight classes. Participants can attend two a week for four weeks or opt for eight Saturday morning sessions. Parents of multiple children  with differing t ages find the schedule convenient.
"If you have three children, they're all going to be swimming at the same time and you'll know that they're supervised and safe," Barratt says. "All levels are offered in the same time slots, so it doesn't matter if your kids are different ages or at different swimming levels." Her family is a case in point. Both of her children attend classes at the Y, and she's able to pick them up from school, take them to lessons, and be home in time for dinner.
The six class levels are based on YMCA of the USA guidelines, which cover a progression of skills. At level one, most children and adults are not comfortable putting their faces in the water. "It takes a lot of convincing," explains Barratt . "With kids, we bring toys and they get to play and get comfortable being in the pool. I always tell people that just putting on your swimsuit and getting in the pool is already a victory."
This progressive approach breeds confidence, according to Barratt , as both children and adults can track their own progress and celebrate each new skill.
Learning as an adult can require overcoming extra psychological barriers that might not be the same for children. "We have 65-year-olds who can't breathe when they're in the water," Barratt notes. "They psych themselves out, but we teach them how to breathe and float and rest. The first thing is just being able to be okay with getting into the pool."
Once they've completed all six levels, students have the option of taking Introduction to Swim Team, a course designed to bridge regular classes with the club's competitive component. "It's huge for kids to reach those goals to where they can actually compete," says Barratt. "Other kids look up to the ones on the swim team and think, 'Maybe I could do that one day.'"
One such student started taking lessons from Barratt when he was 4-years-old, including private lessons twice a week. Now he's almost 9-years-old and has been on the swim team for three years. "As soon as he saw the older kids on the team, he started to flourish," she says. "He's gone to regionals for the past two seasons and placed in the top three. Now he's one of the bigger kids and others look up to him."
Anyone can register for lessons online by creating an account and logging in. Registration opens two weeks before classes start and all dates are available on the website. One thing to keep in mind: winter is a great time to learn, says Barratt. "Our pools are nice and warm. If you start now, by the time summer rolls around, you'll be ready."
First and foremost, she says, don't let fear stop you from signing up, no matter what your age. "We're about providing a safe place for everyone. This is a life skill that all people should have the option of being able to learn."
For more information, visit the South Sound YMCA website or call 360.753.6576.
Sponsored