Many of us take our hair for granted. We may complain about the texture or that it is too curly or too straight. Imagine for a minute not having hair at all or watching it fall out over the course of just a few weeks. Many men and women experience partial or total hair loss and dearly wish that there only concern was excessive thickness or unruly curls.
Here in Olympia, Renée Fox-Rowe, hair enhancement specialist and owner of Radiant Hair & Skin LLC, is on a mission to help women, men and children suffering from hair loss.
Hair Loss and Hope
Renée began her career at a beauty school in Hayward, California. "I took a class called "Wigery" and I loved it," says Renée. "I have had a fascination with wigs since I was a child and my Aunt suffered from alopecia areata. "I thought she always looked so pretty and put together and she allowed me to try on the wigs and her high heels." She was an amazing artist as well.
A child playing dress-up became an advocate for men, women and children suffering from hair loss caused by medical conditions like chemotherapy, radiation therapy or alopecia areata, an autoimmune disease that causes spotty hair loss to total hair loss.
Ironically, Renée herself developed alopecia areata several years into her career as a wig specialist. "It's personal and I understand most people don't want to look like they are wearing a wig, hair piece, topper or extensions. Most people want to look like their radiant self." Radiant Hair provides a safe, discreet place for men and women to discuss their hair loss with a professional. As a member of the American Hair Loss Council, Renée is passionate about sharing her decades of experience with her guests and the community. The American Hair Loss Council is the only not-for-profit trade association organization of dedicated hair restoration experts with ongoing education.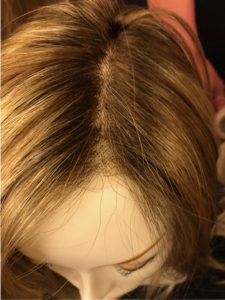 Clients at Radiant Hair range from those experiencing mild hair loss to total hair loss. Renée is very adept at customizing stock pieces to creating highly custom designs such as vacuum-fit cranial prosthesis. She takes great care and pride in helping women, men and children look better and perhaps even more importantly, feel better and more confident.
Free One Hour Consultations
The first step to exploring hair enhancement options is to schedule a free and private consultation, where Renee will listen to her client's story. "We talk about their lifestyle and what results they are looking for." After analyzing the scalp and making detailed notes of the existing hair growth and even the direction the hair grows, Renée will make her recommendations. A custom wig should fit properly, be styled for one's face shape in a flattering color and be comfortable. Measurements or even a template or cast may be taken of the head to further customize the wig or partial enhancement sized to the client's head shape and area to be covered.
Human Hair Versus Synthetic Hair
We have all seen a scene in a movie where a bad wig or toupee slips off comically. I can assure you that there are no "bad wigs" at Radiant Hair. Beautiful wigs of all colors and styles fill the shelves in the stylish salon. From longer styles made of European human hair to shorter human hair/synthetic blends or easy-care synthetic styles, it is very difficult to tell the difference between these wigs and the naturally grown hair on my own head. In fact, all of the wigs and partials look far better than my unruly locks.
Some of Radiant Hair customers don't suffer hair loss at all, but simply enjoy the convenience of putting on a styled head of hair in the morning of a bad hair day or while traveling or even blue hair for a Seahawks game. There are almost endless shades of all types and wigs can be designed to meet any budget from the inexpensive hair enhancement to the very luxurious full head of European hair. Recently, a client wanted a pink wig for a breast cancer awareness event and Renée was happy to oblige with an inexpensive synthetic wig and one for herself. She has also provided a purple for Alzheimer's Awareness month.
Medical-Related Hair Loss
Hair loss from chemotherapy can feel like a further assault on the body. It can happen quickly and be traumatic for the patient. "Many women who lose their hair suddenly, want a wig to shield themselves from unwanted attention or simply to look like themselves," says Renée. A visit to Radiant Hair can restore that bit of normalcy for clients. She is happy to teach clients how to draw in missing eyebrows or use eyebrow enhancements and discuss skin and scalp care. For children suffering from alopecia areata, Renée recommends contacting her as well as the non-profit Children with Hair Loss, whom she donates hair and performs fitting/trimming services to. Alopecia areata clients may also want to visit the National Alopecia Areata Foundation, you'll find you are not alone and gather a wealth of information.
In addition, Renée, along with the Capital Barbers, donate cut hair to Matter of Trust. And, she contributes a percentage of all hair enhancement sales to the Wings of Karen organization, started right here in the Northwest.
Call 360.481.5818 to make an appointment Wednesday through Saturdays. Renée welcomes you where you may even bring a friend, a family member or your hair stylist for support to your complimentary consultation.
Radiant Hair & Skin, LLC
108 22nd SW, Suite 10, Olympia
360.481.5818
By appointment only
Sponsored