With fall just around the corner, cold wet days are assuredly in our forecast. Like many Pacific Northwesterners, I do my fair share of braving the weather, stoically insisting that I enjoy every minute of it. But there are many rainy days that I enjoy nothing more than being inside. I love spending hours soaking in a hot bath while reading my favorite book, sitting next to the fireplace crafting holiday gifts for friends and family, or busily working in my kitchen trying out a new recipe. So, I was excited to find that Radiance Herbs & Massage in downtown Olympia has me covered for everything I am looking forward to during those days.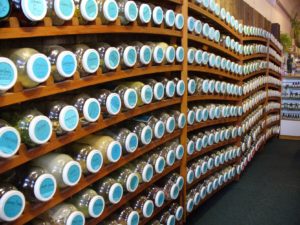 Radiance offers a large variety of ingredients that customers can use to make their own body care products for themselves or for gifts for friends and family. From butters and oils to herbs and culinary spices, they offer all the ingredients one would need to make fully customizable body care items with simple, natural ingredients.
It isn't just about the huge variety of available ingredients, but also the quality. Many of Radiance's offerings are certified organic. Some ingredients cannot be certified organic because they are wild foraged, but they make sure to source the highest quality they can from reputable sources. "We offer products in the most whole state we can," says Karin Olsen, co-owner of Radiance Herbs & Massage. "That means that we avoid ingredients with extra stabilizers and preservatives." Many body care companies will take out the color of the natural ingredients, or alter them to improve shelf-stability, but changing the ingredients in such a way comes at a cost, and the quality of the products suffer. By making your own body products, you can make just the right amount for your skin care needs, and avoid chemical preservatives that you might find in conventional department stores.
Because many of the ingredients are offered in bulk, customers can purchase as much or as little as they need to make their products. This can make crafting your own very affordable. I was surprised at how simple some of the body care product recipes are.  And I was able to pick up everything I needed to make some bath fizzies as holiday gifts for friends and family (and a few for me for those cold rainy days). It was nice not having to run all over town looking for the ingredients I needed.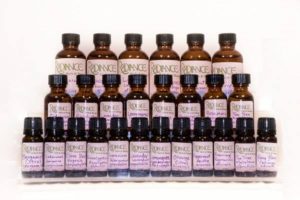 "There isn't one place to get all the things we offer," Karin says, "you can get parts and pieces here and there, but if you come into our store, you can get everything you need." And unlike purchasing over the internet, you don't have to wait for it to arrive.
Also, with internet purchasing, you cannot really see the quality of what you are buying until it shows up at your doorstep. At Radiance Herbs & Massage, you can see (and smell) every item that you place in your basket. This is very appealing to me with my sensitive skin. I also love the ability to customize every product. Karin says that many people like to add natural mineral color to lip balms to make a lipstick and she recommends adding color from Herbs of Grace mineral products, which are made locally in Rainier.
Customers can purchase a wide variety of containers for their homemade body care items. Radiance sells jars, bottles and other specialty containers such as lip balm tubes. Many of the containers are not only functional, but decorative, serving as attractive gifts or to brighten your own home décor. Quantity discounts are available for purchases of six or more of each container. Be sure to ask the staff which containers qualify for this discount.
Below, Karin has shared some recipes from the Radiance Recipe Collection to get you started. If you are looking for more ideas, check out the recipe book they offer in the store.
---
Chocolate Lip Balm
Recipe Courtesy of Wild Carrot Herbals
1 oz. grated beeswax
1 oz. shea butter
1 oz. cocoa butter
1 oz. jojoba oil
1 square dark chocolate (about 1 tsp.)
7 drops essential oil (try lavender, peppermint, orange or rose, or add 1 tsp. vanilla extract)
1. Warm the butters and beeswax using a double boiler, adding the thicker ingredients first. Heat only until just melted.
2.  Add chocolate.
3. When liquefied, remove from heat, and add liquid oil.
4 Check consistency of balm by dipping a spoon in the mix and sticking it in the freezer to let harden. If the balm is too thick, add more oil. If it is too thin, add more beeswax.
5. As the liquid begins to cool it will become cloudy, add the essential oils.
6. While the mixture is still liquid, transfer to the containers. Use sterilized containers. Glass or metal is preferred, as plastics can degrade over time in the presence of essential oils. ½ oz. to 1 oz. sizes work well as gifts.
Makes about 25 tubes.
---
Sore Muscle Salve
2 oz. Sweet almond oil
1 oz. arnica-infused olive oil
1 oz. beeswax
6 drops wintergreen essential oil
12 drops rosemary essential oil
Warm butters and beeswax using a double boiler, adding the thicker ingredients first.
2. When liquefied, remove from heat, and add liquid oils.
3. As the liquid begins to look like it is cooling, add the essential oils.
4. While the mixture is still liquid, transfer to the containers. Use sterilized containers. Glass or metal is preferred, as plastics can degrade over time in the presence of essential oils. ½ oz. to 1 oz. sizes work well as gifts.
---
Bath Fizzies
2 cups baking soda
1 cup citric acid (do not substitute ascorbic acid)
witch hazel
2 ½ Tbsp. fixed oil (sweet almond, jojoba, etc.)
Essential oil of your choice, to desired strength
Special Tools: sifter, spritzer bottle, mold of your choice, wax paper as a work surface
1. Closely following measurements, combine dry ingredients, blending well. Use a sifter or whisk.
2.  Add essential oils, drop by drop until achieving strength of scent desired, continue mixing while adding essential oils.
3. Using a small spray bottle, spritz the witch hazel into your batch while stirring with the other hand. Spritz about 3-4 times and stir, then repeat, being careful to not over-spritz before you stir. Use care to not add too much witch hazel, as the mixture will be too wet, starting the fizzing reaction. Work quickly, figuring about 10 minutes of spritzing and stirring.
4. Pinch a little of the mixture between your fingers. When it sticks to itself a bit, pack it firmly and densely into molds. Work quickly so the mixture doesn't harden prematurely.
5. Leave the fizzies in the mold for about 5-10 minutes, then flip them over and gently tap them out.  Give each one a spritz or two of witch hazel to let the outside harden. They will still be fragile.
6. Set them out in a dry place over night before wrapping them. When storing bath fizzies, be sure to put them in a very dry place. Dampness and humidity can start the fizzing reaction.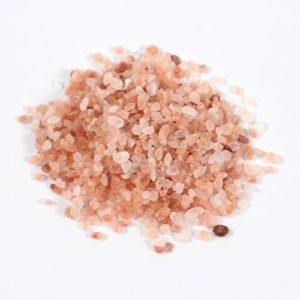 In addition to the vast inventory of quality ingredients and containers, Radiance hosts classes. On October 14 instructor Kerri Ward Merrill will teach a basic soap making class. Participants will learn how to handle lye safely, which are the best ingredients for soap, and tips and tricks. Participants will make two batches of soap with all materials supplied, and they will take home their creations after they cure for a few weeks.
To register for the soap making class call Radiance Herbs & Massage at 360-357-5250 or head downtown to the store where you can pick up the latest Radiance Recipe Collection filled with recipes and ideas and all the ingredients you need to make them.
Radiance Herbs & Massage
113 5th Ave SE, Olympia
Monday – Friday: 10:00 a.m. – 7:00 p.m.
Saturday: 10:00 a.m. – 6:00 p.m.
Sunday: 11:00 a.m. – 5:00 p.m.
Sponsored