The Old Chambers Prairie Grange is experiencing a renaissance. The moss covered building at the corner of Yelm Highway and Henderson Boulevard lay neglected and possibly molding for many years. In October of 2015, Tom Schrader purchased the old grange with the hope of turning it into something special. Starbucks took over the property and the public can now enjoy a coffeehouse that still retains the essence of a historic grange hall. 
It Isn't Easy Having a Vision
Though Tom and Tiffany Schrader are the owners of the old grange, it wasn't a project that Tiffany embarked on willingly. "I was against it, just to be clear for the record," jokes Tiffany. "My husband has a fascination with old things. He would often drive by old houses and say 'we could fix that up.'  And we have flipped houses and built houses for 28 to 30 years now."
For a long time, Tom drove by that old grange and was interested. "He basically made an offer on it without telling me," recounts Tiffany. "At the last moment, five days before he needed my signature, he threw it out there and in a weak moment I said, 'OK.'"
His vision was to see it restored to something, perhaps a local coffee house or bistro. Tom spent a year going door to door to local businesses, coffee roasters and restaurants, attempting to share his concept. But no one was willing to sign a lease.
"Old buildings take a lot of money," says Tiffany. "We'll probably be close to a million and a half into it by the time we are done.  It would be cheaper to tear it down and build something new.  I always tell people jokingly, this is a philanthropic endeavor, not a money-making venture.  So, when you see Starbucks, we're not a part of that, we're just landlords."
Without a lease the Schraders couldn't get the loan to do the work.
"Once Tom exhausted 'Olympia-local' he started to look a little broader," says Tiffany, "and Starbucks is a fabulous local company out of Seattle. He talked to them, and boy, they were on board from the beginning. They loved the vision of the old grange; they loved keeping a lot of the original pieces. They came up with the drawing. When we went to Seattle and I saw the drawings I teared up, it was so beautiful, they literally had his vision."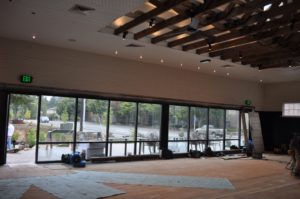 Over the past year Tom worked with the city of Tumwater and property neighbors to make it work. One thing that was particularly important to Tom was to have the site zoned for limited use commercial. The limited zoning will help preserve the location from one day becoming a gas station, bar or corner grocery.
Restoration Challenges
"One of the biggest challenges is taking a 1908 building and retrofitting it to house modern heating and air conditioning systems," says Tiffany. "Then the lighting, over 100 lights were added while striving to keep the historical essence. Then there is the plumbing.  It would have been simpler to tear it down and build a mock grange right here. But that wasn't Tom's heart or passion."
Tom put on a new metal roof, and at that point, he pushed for skylights, which exposed the original rafters and created a new, yet old, architectural element.  The maple floor was pulled up to expose the old fir floors. The basement was full of junk, but amongst that they discovered historical items that the Schraders hope Starbucks will use in their decor. Items like the original light-up dance sign that tells what dance will be up next, old bottles and dance tickets.
The Schraders have also used local vendors to work on the site like Venables Pest.  "One of the things we do at Venables," says Steve Venables, "besides protecting health, is preserving wood. The old grange was being renovated and he called me to look at some issues.  If you look at the building now, Tom has done a beautiful job."
On the exterior Tom built an addition for the drive-through window. Every detail of this addition was carefully thought out to match the grange era. One of the windows is original and came from the basement.  The siding was specially milled to match the original siding. The rounded gutters and downspouts were selected for authenticity.
One thing that is missing is historic photographs.
"We haven't had very many people come forward with history," says Tiffany. "There have been a few old stories relayed from the community about going to prom there, or 'I had an aerobics class there, or a concert in the 80's'. But we haven't seen any old pictures. And maybe that will come forth as the doors open."
Speaking of concerts, some notable Grunge Era bands once played at Chambers Prairie Grange like Mudhoney and Fugazi.
Looking around one can still feel the old grange. And as a result of the Shrader's efforts as well as their partnership with Starbucks the old grange will be around for many years to come.