Over the last two years, first through sixth grade students of Olympia Regional Learning Academy (ORLA) Montessori have participated in an educational water quality pilot program with the City of Olympia. The four-week program incorporated elements of the Drain Rangers curriculum, provided by Puget Sound Starts Here, and had a classroom component as well as outdoor, hands-on field sessions.
Susan McCleary, senior program specialist at the City of Olympia, says the goal of this project was to show students the relationship between ecology, clean water, and stormwater runoff, while simultaneously aiming to help students connect science and engineering with natural processes. Faculty at ORLA worked in collaboration with a wide variety of community members and City of Olympia representatives in order to teach students about the impacts of stormwater pollution on their watershed as well as how ORLA's campus design reduces those impacts.
The month-long project involved students applying an engineering design process by exploring and comparing possible solutions to improve the quality of stormwater runoff in their community. Students learned about watersheds, mapped a portion of their school campus, and used the engineering design process to develop, implement, and test a plan to improve stormwater runoff by reducing the pollution in the water. For the culminating activity, students created an outreach project where they informed the community of polluted stormwater runoff and steps that could be taken to improve water quality.
The unveiling of the student-created Stormwater Interpretive Map and Student Self-Guided Tour took place on Tuesday, June 19, at the ORLA school campus. Jeremy Graham, storm and service water quality planner at the City of Olympia, says the event was a huge success, with parents and community members coming to show support, along with superintendent Patrick Murphy and members from the Olympia School District Board of Directors.
"I could tell the kids were into it because it was 95 degrees that day and they all made it to the very end and were so excited to share their projects," Graham says. "The kids really researched, developed, and led this capstone event."
The environmental pilot project was made possible by a grant from the Pacific Northwest Clean Water Association (PNCWA) Adopt-a-School program to help fund program activities. PNCWA is an association of water environment professionals who support student education and career-building efforts in the stormwater and wastewater fields.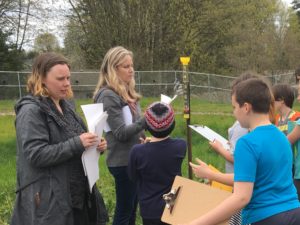 McCleary says the idea for the pilot program all started with a bio retention effectiveness study at the local schools. She says the Drain Rangers program is designed for schools that are working to become Low Impact Development (LID) approved, but ORLA is unique in that the school is already LID approved and currently retains all of its stormwater onsite.
"This allowed us to modify the curriculum to show students how their bioretention facilities work and why they're important," McCleary says. "When schools become LID approved, they're not only helping the environment, but they save money by getting a lower fee for their stormwater rate."
While the environmental pilot project has so far been well received by ORLA, both McCleary and Graham say there is still much to learn about this program in order to make it the most effective for teachers and students alike.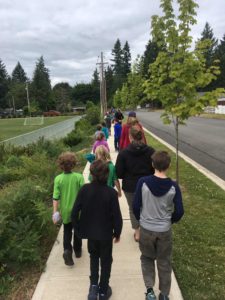 "We are understanding in that it takes a lot of time for teachers to learn and implement a new curriculum," McCleary says. "We want to look at the lessons we learned this year and reevaluate in hopes of moving forward."
McCleary says now is the best time for kids to be introduced to topics like stormwater, engineering, ecology, and water quality, and exploring them as potential career paths.
"Seventy-five percent of the toxic chemicals reaching Puget Sound are carried via stormwater runoff," she says. "There are so many job opportunities surrounding these issues, and there's never been more of a need."