Robert Hipp, M.D., has been a practicing surgeon since 1973 and has been bringing top-notch care and a wealth of professional expertise to Capital Medical Center (CMC) for 33 years. A doctor with a unique, well-rounded set of specialties and a true love for his craft and patients has already left an indelible mark and legacy in Olympia.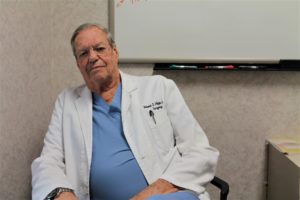 Hipp grew up an only child to two parents on the north shore of Long Island in New York. His father was an ophthalmologist and his mother was a legal secretary before becoming a full-time mother.
Hipp attended Columbia University in New York City for his undergraduate degree before acceptance into Albany Medical College and graduating in 1966, followed by a one-year internship at Albany Medical Center. Hipp had already been accepted to a residency at Virginia Mason Medical Center in Seattle, but in 1967, Hipp became one of the 2.2 million American men who were drafted during the Vietnam War era between 1964 and 1973.
Hipp is brief when describing his experience in Vietnam. "What can I say, it was an experience alright, it was a war," he says. "It wasn't very pleasant, but I learned a lot about the army and military medicine." He spent one year in Vietnam as a flight surgeon – the first half learning how to fly combat helicopters and the remaining time flying reconnaissance aircrafts over warzones. Because all draftees were required by law to serve in the Army for two years, Hipp spent his second year in San Francisco before finally returning to his residency in Seattle.
This was Hipp's first time in the Pacific Northwest and says he fell in love with the area. Upon finishing his residency in 1973, he was offered a position at Memorial Clinic in Olympia and began his medical practice in vascular and thoracic surgery.
A Beginning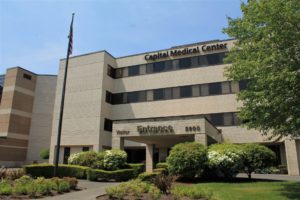 Olympia turned out to be more than just a new home. Hipp ended up meeting his wife, Diana, who was working as a scrub technician at Providence St. Peter Hospital and they were married in 1984. After years spent building a big family and a well-respected career, Hipp decided a break was overdue and he and his wife embarked on a lifelong dream of sailing in the Florida Keys. "We set off with my youngest son who was still at home and relocated to Marathon, Florida, in 1995," he says. "It was a good time for us to go. Sailing can be strenuous and we wanted to do this while we were still young and could enjoy."
But the short time away ended up being enough, and Hipp made the decision to come back to medicine at CMC in 1997. CMC had two pulmonologists at the time but no chest surgeons, which was Hipp's specialty, so he decided it was the right opportunity for him to return.
That same year, fellow vascular surgeon Dr. David Deitz invited Hipp to join him at his private practice, South Sound Surgical Associates. Deitz has known Hipp since 1990 when they first worked together at Memorial Clinic and has nothing but respect for his longtime friend and colleague. "He was a great mentor for me who helped me with difficult cases," Deitz says. "He was the consummate surgeon in town, one of the few who could do everything, from general to thoracic and vascular. You don't find doctors with that range of expertise anymore."
A Passion for Care
While Hipp stopped performing surgery in the early 2000s, his workload and commitment to medicine has hardly slowed. Along with assisting his partners with surgery, Hipp is on the Board of Trustees at CMC, and served as the physician adviser and chair of the Quality Improvement Council and the Physician Leadership Group. Deitz says many of the hours Hipp puts in are voluntary. "He does it because I think he has a strong belief in delivering quality health care and making sure it's delivered in west Olympia," he says. "All of us at CMC sure appreciate what he's doing and continues to do."
Hipp may downplay his gifts and selfless commitment to the hospital, but his colleagues surely understand and appreciate what he brings. Kathleen Boswell-Gregg is the chief quality cfficer at CMC and has worked with Hipp for six years. She says she calls upon Hipp's expertise on a weekly basis as he is responsible for reviewing clinical care of other physicians within the organization, and assists her with adoption of policies and execution of new physician practices.
"I tap in to his years of experience and his vast knowledge of medicine to assist me in combing through medical records and helping me to maintain a high level of safe, quality care for our patients," Boswell-Gregg says. "I also consider Dr. Hipp a dear friend and can always count on him for words of wisdom, sage advice, and a few bad jokes."
Lazette Wiley, director of medical staff services at CMC, says Hipp is caring, personable, and willing to assist his colleagues with surgical expertise and professional or personal concerns. Wiley has worked with Hipp for 16 years, and says he has many interests, including reading about history and telling stories about his sailing adventures, but has one interest that may surprise people – his fondness for cats. Hipp and his wife volunteer weekly at Kitten Rescue, a non-profit rescue and adoption organization for cats, and have rescued several kittens over the years.
Going on 82-years-old, Hipp currently lives in Belfair with his wife and enjoys spending time with his five children and several grandchildren, most of whom live in the area.
For more information about his legacy of care, visit the Capital Medical Center website.
Sponsored