"Once, in a house on Egypt Street, there lived a rabbit made almost entirely of china. But how did such a thing come to be? Did the rabbit belong in this fine house? Was this the rabbit's home? Ah. Now that is an interesting question." 
Such begins Olympia Family Theater's newest show, The Miraculous Journey of Edward Tulane. The show, opening March 16, is based on the children's novel of the same name written by well-known author Kate DiCamillo, who also wrote Because of Winn-Dixie.

Olympia Family Theater (OFT) is a community theater in downtown Olympia founded in 2006 by current Artistic Director Jen Ryle, and community actor, director and theater instructor Samantha Chandler. All shows, workshops and camps that OFT creates are made with families and children in mind. In addition to their yearly "Mainstage Stories", OFT offers several types of shows and educational programs.
The Miraculous Journey of Edward Tulane was adapted for the stage by Dwayne Hartford and is being directed by Kathy Dorgan who teaches theater at Olympia High School. Dorgan has worked with the Theater before, directing both Orphan Train and Mercy Watson, as well as serving on the OFT Board of Directors.
"Jen Ryle asked if I would be interested [in directing], gave me the script to read and once I read it, I was hooked. I just love the story and the language and I never pass up an opportunity to work with Jen and OFT," she says. Fans of DiCamillo's work will appreciate how closely the script follows the book, which has been a focus for the actors.
This is not the first time Olympia Family Theater has produced a show based off of well-loved stories. They also performed Busytown about the widely known Richard Scarry characters as well as a musical adaptation (adapted by Ted Ryle) of Ellen Jackson's picture book Cinder Edna, which will be returning to OFT's stage as the last show of the season.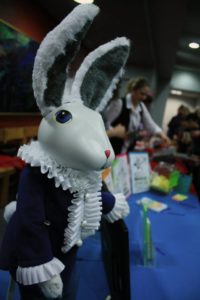 While the character of Edward Tulane is not a puppet, he isn't a human either. Edward Tulane is a china rabbit whose inner thoughts are voiced by the always entertaining OFT regular Ted Ryle. "There are five dolls, plus two more outfits, because you really need eight different looks for him," Jen Ryle states. The "china" dolls are actually made out of mostly lightweight plastic that was 3D printed specially for Olympia Family Theater's production. Jen Ryle hopes the theater will be able to rent the dolls out to other productions in the future.
At the beginning of the show, a young girl names the rabbit Edward, but as he is found by other characters throughout his life, Edward becomes whoever someone needs him to be. The characters interacting with Edward never hear his thoughts or see his persona (Ted Ryle). Instead, they speak and feel connected to him, but he never responds in a way they can hear. "Edward goes through such a story arch. He's just vain and self-centered in the beginning and by the end, he is in awe of the world around him and the people. He really understands love. He has come through all this pain and suffering and then he is loved and he feels love. It's just extremely moving," says Ryle.
"I think it would help audience members to know that the whole story spans a long time (20 years at least) and that the actors play a variety of characters in the "episodes" of Edward's journey," Dorgan shares.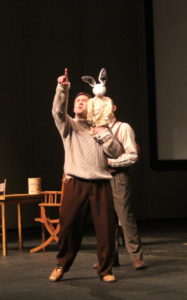 The cast of  Edward Tulane is made up of four adult actors and one child actor. For fans who have been attending OFT shows for a while, these faces will be familiar. Kate Ayers, Carolyn Willems Van Dijk, Jason Haws, Tess Haw, and Ted Ryle are the all-star team expertly portraying Edward Tulane's tale of love and loss. Jason and Tess Haws are a dynamic father-daughter duo from the Olympia area. "He [Jason] is actually playing her [Tess's] brother in the play, but it's just so tender and so sweet," Ryle says of the pair. Jason is also a teacher at Marshall Middle School.

"I heard about the play from reading about another theater doing it and then, before I ordered the script, I read the book. I hadn't read it before and I just thought, 'it's so beautiful, oh my gosh.' And then I read the script. It's really good as well. I just love the way he [the playwright] seamlessly keeps the life of Edward rolling at these different locations," Jn Ryle says of how she chose to add Edward Tulane into their season. "In my opinion, it's one of the best shows we've ever done."
"I like the material that Jen chooses," Dorgan states. "It's family appropriate and literature based which are two great and necessary things in a community. And, at OFT, family theatre doesn't mean it's watered down. The stories can be powerful, entertaining and rich with theatrical opportunity."
The small cast, musical interludes (characters playing the guitar, harmonica or singing), and heartfelt story make for a loving, community feel that audiences will connect with. Just as Edward Tulane, who is seemingly only a doll, connects with so many people and helps them to heal, this show will mean different things to all audience members.
Like the princess in this play who "shone as bright as the stars on a moonless night," The Miraculous Journey of Edward Tulane at the Olympia Family Theater is a beacon of love and hope for our community.
The Miraculous Journey of Edward Tulane
Olympia Family Theater
612 4th Ave E in Olympia
March 16-April 1 on weekends (see website for showtimes and dates)
Adults: $19, Student/Senior/Military: $16, Youth: $13, with a Pay-What-You-Can Performance on March 22
Recommended for all ages